I love a good vampire novel.
Now, wait—that statement has some major caveats.
First, I like my vampires sexy—don't we all?—but, there has to be some emotion to the sexiness. The tale can't just be blood sucking and sex all the time or the characters fall flat on the page.
Second, I want the story to have something different. Vampires have been around for a while, so the tale has to have a unique element or I'm over it.
Third, and perhaps most importantly, I like my vampire stories to be fun.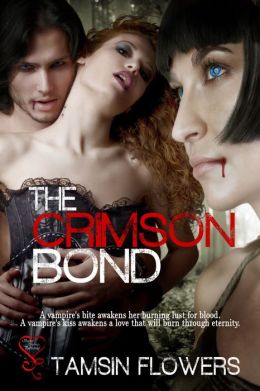 Well…allow me to introduce you to The Crimson Bond by Tamsin Flowers. About six months ago, Ms. Flowers tickled me with her super sexy zombie collection, Zombie Erotoclypse—and she's done it again with The Crimson Bond! The story is about a girl named Willow who happens to be rather smitten with her college professor, Etienne Corbeau. He's hot. He's mysterious. And oh, by the way—he's a married vampire. His wife Elouise also intrigues Willow, and in a smokin' hot scene in which Etienne gets a little too taken with his student, he almost kills her in his feed…and Elouise must turn Willow to save her life. The result is what makes this tale different: the three of them are immediately joined in a triple—or crimson—bond.
However, this bond is complicated. Willow wants both of the vampires, and both of them want her. At the same time, they don't want the other around. Jealousy ensues. Lots of hot sex in every pairing imaginable fires up the page. And all of it takes place in a sensational romp of a tale written in Tamsin Flowers's lighthearted, sweet and sexy prose, with characters you can actually engage with. You can't help but wonder how Willow will fare between these two lusty, possessive, and deliciously gorgeous vampires, while also rooting all of them on.
In short? The tale is exactly what I look for in a vampire book—it is unique, sexy, and fun.
The second book in this series, The Scarlet Bond, is set for release this summer. I have a feeling it will be just as delightful, so if you haven't read the first one yet…
You better get on it!
XX,
Jade