The clock is ticking!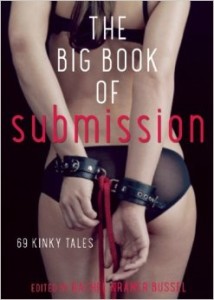 In a few weeks, The Big Book of Submission: 69 Kinky Tales will be out from Cleis Press! This anthology is edited by the fabulous Rachel Kramer Bussel, and the official release date isn't until July 15th…
But I'm such a damn tease sometimes, I figured this time I'd give you a little peek. 😉
So, here it is…an excerpt of my story, "Others":
On her 35th birthday, Carley found herself ass-up in the Kink Club.
Jeremy took her here for any big celebration—her birthday or his, a promotion, and even the time they made it safely through a pregnancy scare. He was a masterful lover, and though she would love him till death did them part, sometimes things just needed a little extra kick.
At the Kink, Jeremy became a different man. He wasn't her tender, lovemaking husband; here he was a passionate commander. Carley always followed his instructions, losing herself in the orders to touch him, suck him, or even spread her lips wide as he fucked her senseless in front of the other attendees. And of course, there was the time at his birthday three months ago, when he chose another woman and told Carley if she had any hope of him sticking his cock deep inside her, she better make out with her.
And she had.
So before Jeremy had left her here—tenderly caressing her cheek, then slamming his hand against her bottom to demand that she bend until her skirt crept high over her ass and the cold air tickled her damp, hot cunt—she thought the next natural step would be for him to ask her to really play with a woman. And while she wasn't much into girls, the way Jeremy would pump her for hours after made compliance an easy option.
But now she waited…
*
I hope you enjoyed the sneak peek! Just a little while longer and the book will be out, so while you're waiting, please be sure to follow the Tumblr page, follow news about the book on Twitter, and mark it as to-read on Goodreads. And of course, pre-order your copy of The Big Book of Submission: 69 Kinky Stories at any of the places below!
Thanks for reading. 🙂
XX,
Jade
Pre-order your copy at: