Today, I am delighted to host the next stop on The Ultimate Guide to Sexual Fantasy blog tour! And, not only do I get to tell you about this incredibly hot book from Violet Blue (and it's hot, folks), but I'm quite thrilled to announce that this stop has a game and giveaway involved! That's right—if you win, you will get your very own copy of this delicious book! Wow!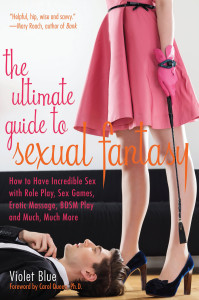 So, first, let me tell you a bit about The Ultimate Guide to Sexual Fantasy: How to Have Incredible Sex with Role Play, Sex Games, Erotic Massage, BDSM Play and Much, Much More. This book is filled with Violet Blue's comprehensive expertise on all things fantasy, from role play to threesomes, to striptease, clubs, and public encounters. On top of all sorts of fantastic advice and handy resources, the book is packed with erotic stories to help you explore your fantasies—by none other than Alison Tyler. Talk about a sexy deal!
Before we launch the game, here's the official blurb:
Join the legions of couples and singles who are making their hottest sexual fantasies come true. Whether you're looking for an endless supply of fantasy ideas or expert advice for a playful, imaginative sex life, this information-packed book will tell you exactly what you need to know. Forbes web-celeb Violet Blue has compiled comprehensive lists of the most popular fantasies and fetishes, complete with suggestions for props, toys, and costumes (and where to buy them). Blue takes a nuanced approach to helping you decide just how far to take your fantasies. Whatever your desires, The Ultimate Guide to Sexual Fantasy: How to Have Incredible Sex with Role Play, Sex Games, Erotic Massage, BDSM Play and Much, Much More will help you create the scenarios of your wildest dreams.
Discover how to:
Uncover your lover's secret fantasies
Role-play without feeling silly
Navigate your first threesome—where DOES that sixth arm go?
Have sex in public
Create thrilling S/M scenarios
Strip, lap dance, and talk dirty
The book is available at:        Cleis Press                Amazon
Sounds like a fabulous book, doesn't it? And though there were many more fantastic fantasies and ideas contained within than are listed above, there was one section that really caught my eye—that is, an entire chapter on sex games. See, I'm a bit of a playful person (shocker, I know), and a few years back I had a lover with whom I played many a sexual game. A particular favorite involved a bottle of wine, a few naughty promises, and a round of sexy mad libs.
Here's what happened: I wrote him a story about what I thought would be fun for us to do on our next encounter…but I left a whole lot of blanks in it. I sent this story to him with instructions—he needed to find words to fill in the blanks, and once he did, I would show up with the wine so we could finish the story.
Suffice it to say, he had some pretty good word choices to help out. 😉
Now, years later, I'm turning this game on its head—and giving you an opportunity to win with it. I'm hoping you'll play, because if you win, you will get your hot little hands on your very own copy of The Ultimate Guide to Sexual Fantasy. Score!
Here's how to play: I've written a sexy flash story of about 300 words…but oopsy, I seem to have omitted several of them! I'll need you to fill in all the blanks below, as specified (please get as dirty as you'd like, but be sure to use a noun for a noun, and a color for a color, and a piece of furniture for a piece of furniture, etc.). Once you've picked your words/phrases, all you need to do to enter is comment below with the following:
Name
Email address
Your choices for the blanks.
Your deadline is 4 p.m. PST on Wednesday, July 23rd. That's ten whole days for you to get crafty with your word choices!
After the deadline, I'll print out all the entries and draw a winner—and on Thursday, July 24th, the winning set of responses will be posted in the story right here on this blog. I can't wait to see what you come up with—and how this story turns out! How crazy and kinky can we get together, people? (And will it make any sense?!) 😉
All right, ready to get your game on? Here are the blanks you need to fill:
[method of restraint, preferably as a past tense verb]
[type of furniture]
[color]
[small and light inanimate noun]
[type of cording or long strand]
[pet name]
[adverb to describe fucking]
[body part—um, ideally not a bony one]
[type of sound made by a person during sex]
[adverb]
[a verb bodies do]
[verb to describe crash, ending in –ed]
[verb requiring contact with something else]
[another sound made by a person during sex]
Oh, I can't wait. Please be sure to post your entry in the comments below with your name and email addy so I can contact you if you win. And don't forget, you have until 4 p.m. (PST) on Wednesday the 23rd!
This will be so fun! 🙂
XX,
Jade
Violet Blue is the best-selling author of numerous sex-instruction books, including The Ultimate Guide to Cunnilingus and The Ultimate Guide to Fellatio. She also writes about erotica, pornography, and sexual pleasure and health for magazines such as O: The Oprah Magazine, Newsweek, Cosmopolitan, Esquire, Glamour, Maxim, Marie Claire, Men's Health, Penthouse, Redbook, and more. She lives in San Francisco. Find her online at tinynibbles.com and on Twitter @VioletBlue.