Exciting news, everyone! Today I have a special guest—the wonderful A.M. Hartnett!
A.M. Hartnett and I have been chattering for a few months now, and she's someone I look up to in the erotica world—she's cool, she's clever, and she's a damn good writer. She's also sassy and funny as all hell, which basically wins me right over. 🙂
A.M. is on a wild tour right now for not one, but THREE books, and I'm delighted she's here to talk with us about all of them. The first book is a standalone erotic romance called Uncover Me, for which she's shared a smokin' hot blurb, and the other books form the first two-thirds of her Carried Away series. Lucky for us, I managed to wrangle her into an interview to ask a few questions about the books, her process, and some other nifty facts about her.
Thanks for coming by today, A.M.!
So, let's start with Uncover Me, which was just released last month. I love that the book has such a fun exhibitionist premise. Carrie Thorn is an exhibitionist with a capital E—she likes to take naughty photos and post them on a blog. What inspired her character?
One word: Tumblr. As I mentioned at my post over at Mischief, I had been alerted to the existence of Tumblr's sex blog community by Rachel Kramer Bussel and became an instant fan. My favourites are the ones of real people showing off, and that's where Carrie came from.
Tell us more about Carrie's blog—is she no holds barred or constantly getting wilder with her pics? How did you come up with such an idea? (It's fabulous.)
When we first meet Carrie, it's a solo project. She likes frilly things and showing off her body, occasionally bringing toys into the mix. As the first line says, she doesn't consider it porn. I wouldn't say she'd consider it art or photography, either. That's pretty reflective about my feeling about the sex blogs I follow. Yes, they're visually stimulating, but oftentimes they're more erotic than in-your-face and she's doing it because it turns her on to do it. She likes the idea of her readers getting horny while they look at her pictures.
What is Carrie's favorite photo posted on her blog?
I think if you were to ask Carrie, she would never be able to come up with one single picture, though after she meets Brendan she'd probably give the gold star to the picture that brought her to his blog
'You weren't completely naked. Your bra was pushed down to your ribs and your panties were twisted around your knees. You had your hand between your legs. It was like you were waiting for someone. I got so hard thinking about what came next I unzipped right there in my office and jerked off.' He shook himself and looked at her. His smile turned mischievous. 'You're blushing.'
'Of course.'
Hot. Brendan sounds like the perfect partner for Carrie's kink. Can you tell us a little about the moment they meet (without giving it all away, of course)?
They have two meetings: the online meeting and then the face to face. Carrie indulges in her kink at work one day and accidentally gets a shot of a local landmark in the background. Oops. Brendan recognizes it immediately and sends her a hello, along with a naughty offering of his own, and manages to convince her to meet him somewhere public. It's pretty unnerving for Carrie – she knows right from the start that Brendan is interested in being more than friends, and already knows her most intimate secret. As he points out after some back and forth, they've met for sex.
Now I'm curious…if Carrie met Brendan while speed dating, would she find him as intriguing as she does when he finds out her secret?
Probably not. Brendan is good looking, and she might take a second look, but as she puts it :
Close up, she could see the lines around his mouth and a few flecks of grey in his hair. He was about her age, maybe a couple of years older, and definitely someone she would have given a second glance if they had passed one another on the street.
She's never look at him and think, 'This is the man who will breathe life back into me," because before Brendan, she refuses to think that way about any man.
Thanks for sharing about Uncover Me! But, I also want to know more about the Carried Away series. In the first book, the protagonist, Grace, is all about misbehaving around the office—until she finds out that her boss, Taureau, has been watching her on hidden cameras. He asks her to give him a show and she says yes—what about him makes her willing to do it?
She definitely likes to hear him talk lol. As soon as he makes his presence known, he uses the only thing in his arsenal, his voice, to twist her into knots. Aside from the sexy voice, he also manages to convey a potent amount of confidence for someone who has been scarred physically and emotionally, and at the same time Grace recognizes his loneliness: he's reaching out not just because he liked to watch her but because he likes her and wants to get to know her at a safe distance.
'You're not married.' It was a statement, not a question.
She shrugged. 'I prefer my independence.'
'As do I. Some people just don't get it, do they? Like the mother you were talking to earlier. She doesn't understand why someone would choose to be alone.'
'I don't –' She caught herself before she could tell him she didn't choose to be alone. She simply was alone, because that was the life she had made. She had very few regrets, and when she did they were fleeting.
'I have people in my life like that,' he said, and laughed. It was a cynical sound he seemed to cover up after a moment. 'Though I suppose it would be absurd to compare our situations, wouldn't it? There's a big difference between thriving on constant activity like you do and . . . well, me. Still, there's something to be said for solitude, isn't there, Miss Neely?'
I'm a sucker for a good voice, so this is right up my alley. 🙂 I'm also tickled that Taureau sends a stand-in man while he's away (Grace is one lucky girl). Can you tell us more about Simon? Has he always been such a great…um…assist for his boss?
Oh, Simon. Le sigh. He's the guy who made the series a series. I couldn't just let him get away. *I* wanted to know more. There's so much going on with Simon that the reader won't get more than a hint at until the final book when I tell his story. He's Taureau's oldest friend in addition to being his stand-in (in and out of Grace's bed) and seems content to do so, but there's so much more to him than I show in the first two books.
Love that! Also, I noticed this series has alternate POVs in each book—but at the same location. Did you plan this from the start? I remember seeing on Facebook that you weren't originally planning a series—what made you choose this route rather than a progression?
The Deep End, the first book, was supposed to be a one-shot deal. Grace and Taureau's story began and ended in that book, but as I was writing Quinn and Molly's story next, guess who crashed the party? Simon Reeve. Rather than chase him off, I just let him in on the fun (and what fun it is …)
So, in short, I chased Simon through three books. I grabbed him and shook him and asked "WHO ARE YOOOOOUUU AND WHAT DO YOU WANT WITH MEEEEE?" Apparently the answer is that he wanted his happy ending, too.
Apparently! So…what was the most exciting part of writing this series?
Definitely revisiting old characters. The thrill started when Simon appeared in Holding My Breath, and continued as I said hello to Taureau and Grace again in Breaking Through. The latter was quite special, as I was able to delve a little deeper into Taureau and Simon's bromance and look at how they supported one another beyond what Grace observes in The Deep End. As well, readers get a glimpse of where Quinn and Molly ended up after their HEA.
Of all of these characters, who was your favorite to write, and why?
While Simon is my special little pet, Jacques was definitely my favourite to write. For one, I had no idea who he was when I started The Deep End, I only knew that I was writing a book and also the most alpha male I'd ever conceived. I discovered how strong he was and how sensitive he could be. It was so interesting to watch him through Grace's eyes and watch him struggle and conquer over and over again, and coming back to him in Breaking Through to see how he's doing was a treat for me.
I heard you had awesome photos for real places in The Deep End. When can we see them?
The Deep End takes place in the fictional Convent House, not far from Shediac, New Brunswick. Technically 😉 I picked this location primarily because I love driving through it, but as for the actual Convent House, it's a few hours away in Avondale, Nova Scotia, and it's really The Mission House. Check out this link to see the inspiration the hideaway Jacques brings to when their digital affair ends and things get physical between them.
That is gorgeous! Wow! Okay…now I think it's time for everyone to learn a little more about you! Let's talk process—do you tend to work on one story at a time, or do you have your hands dirtied (heh) with many projects all at once?
If I'm not contracted on anything, I'm usually plotting about five potential projects, but once I settle on something and it's on, it's on. I don't write linear, but I wouldn't say I'm all over the place, either. I kind of look upon my writing process as a jigsaw puzzle: I work in chunks until I get a tidy square to work in, and then I just put the picture together wherever I see a connection.
And the ever-important writer drink question: coffee or something stronger while you work?
No coffee while writing. The only time I do coffee these days is first thing in the morning (and you will pry my morning coffee from my cold, dead hands). While I'm writing, it's going to be good old black tea.
You just won a ticket to fly wherever you want to write for a month, all expenses paid! Where do you go?
Nope, nope, nope, nope. No writing on vacation. This is one of my rules: if I go away, all work ceases. Why waste a perfectly good vacation on work? So give me your money and send me to the south of France, and damn well expect me to come back with a tan and a twenty year-old toy boy named Pascal.
Please be sure to tell me all about that. In the meantime, what are you reading right now, and what do you prefer to read?
I'm on a non-fiction kick right now, which is the first time this has happened in a long time. I'm reading all about the public enemies of the depression era South & Midwest – Bonnie and Clyde, Dillinger, Pretty Boy Floyd, etc. I also just finished the absolutely wonderful Alias Hook by Lisa Jensen, about Captain Hook in Neverland. Highly recommended!
I never know what's going to catch my eye, or what's going to surprise me, so I'll pretty much give anything a shot.
Fair enough. Now, final question—because I'm a fiend—what's your favorite candy?
Reese's Peanut Butter cups (do people actually pick something other than Reese when asked this question?). Actually, put peanut butter and chocolate together in any scenario and I'm happy. Ice cream? Bring it. Cheesecake? Oh yeah. Slathered all over Nick Youngquest's naked body? Come to meeeee.
*Snort.* Okay, do you all see why I love A.M. Hartnett? I'm just so happy to have had her here. And now, she's passed along a sexy excerpt and blurb for Uncover Me!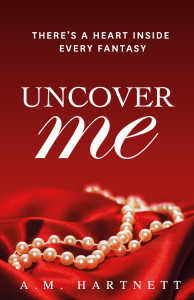 Excerpt
Fuckable, he'd said.
She felt fuckable. The insides of her thighs were slicker than ever and her clit throbbed with need. She wanted to bring the house down with him pounding her.
Once inside she led the way, following the orange glow to her bedroom where she had left the light on. He nudged her over the threshold and, as she shrugged out of her coat, she heard the click of the bedroom door locking.
Such a strange thing to do, she thought, and then she realised that the small sound represented her willing captivity. The closed door barred them from the outside world. In this room, in this tidy little box with its white walls and splashes of colour, with the imposing bed beckoning her, she was his fantasy and he was hers.
She turned and found Brendan leaning against the door. His dark eyes glittered beneath his heavy lids. 'Take it all off. Slowly.'
'No cameras?'
'Maybe later. Right now I don't particularly feel like sharing.' He reached up and loosened his tie. 'Strip.'
Carrie turned her back on him. The descent of her zipper from the middle of her back to her ass seemed to take for ever. Goose flesh rose as she wriggled out of it. Behind her came the sinful whisper of his clothes being peeled away from his body, then the crinkle of a condom wrapper.
The urge to turn around and look at him made her ache as she unhooked her bra. She tossed it aside and placed her hands on her hips, waiting.
He came up behind her and from the corner of her eye she saw the flash of red. He had her paddle in his hand. She suppressed a shudder.
'I want you on the bench at the end of the bed. On your knees, grasping the footboard. Show me your ass.'
'Brendan?'
He scraped his teeth against the curve of her shoulder. 'Carrie.'
'Remember what I said about pain.'
'I remember.' His fingertips dug in. 'But you want a little, don't you? You bought this. I won't hurt you. Trust me. Go on.'
Trust me.
In her head, she heard his voice chant this over and over as she did what she had been told.
*
Blurb
There's a heart inside every fantasy.
The photos are becoming a compulsion for Carrie. As soon as she wakes up, she feels the need to engage with the readers of her erotic website, Dirty Pictures. No matter how hard she tries to focus on her real life the need is always there. The high is knowing that men desire her.
One day a comment on her erotic website makes Carrie go cold: one of her readers, Brendan, has recognised a landmark in the window of one of her pictures. Brendan knows where to find her and has sent a tantalising private message. His invitation to play was so tempting in no time at all, in a variety of settings, their sensual adventures become wild. Her sexual and emotional reawakening reaches peaks she never imagined possible.
But Carrie finds it difficult to treat their relationship as casual. Terrified of heartbreak, she breaks off her affair with Brendan. Her previous relationship left her in tatters and she's too scared to take such a chance again. Brendan endured a broken marriage so she's not alone in her confusion and reticence. But can Carrie ever hope to be more than his fantasy girl?
Buy Links
The Deep End (Book 1 of the Carried Away Series)
Holding My Breath ( Book 2 of the Carried Away Series)
Want to know more about AM Hartnett?
You can find her at : www.amhartnett.com
Thanks so much for joining us and sharing, Annemarie! I encourage everyone to check out all three of these books!
XX,
Jade