Okay guys, you may have noticed I've been banging on and on about Alison Tyler over here lately. First, our Pillow Talk group reviewed her delicious novelette, Those Boys. Then, I excitedly hosted a stop on her Those Boys tour. And next week, I'll be reviewing a couple of her simply incredible books. So, just to clear up any confusion, this is all happening because
I'm a diehard Alison Tyler fan.

That's why today's news is so fantastic. I've been waiting to tell you this for what seems like a lifetime, but it really hasn't been all that long. It's just been that exhilarating that keeping my lips sealed has been intense!
So…here it is: I'm delighted to announce that I have a story in both of Alison Tyler's hot upcoming anthologies, Just for Him and Just for Her! Hurray!
To celebrate, how about a double cover reveal? Here's the cover for Just for Him, which includes my story "73A":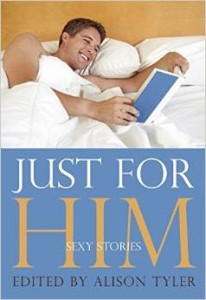 And here's the cover for Just for Her, in which you'll find "The Other Prom":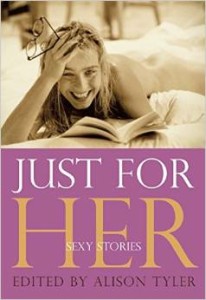 Ooooooh! Sexy new covers!
While I'm brimming with squeals (seriously, be thankful you're there and not here), I have to give you a little back story on both of these. See, I'd written a few things. Rachel Kramer Bussel had already popped my cherry with The Big Book of Orgasms and that was like 80 times the thrill of the double corkscrew on the Demon rollercoaster at Great America, but now I was really fucking excited to be doing this erotica writing thing, for real. And all the while, I kept stalking Alison Tyler's site. She had some crazy good stuff out and I'd basically worshipped her since I read "It's Not the Weather" in another gorgeous Rachel Kramer Bussel anthology, Bedding Down. So I just kept thinking, I must get into an Alison Tyler anthology.
It was kind of like eyeing a pair of super tall strappy stiletto heels knowing that one day, you must have those shoes, and when you do, they're going to feel SO good. Of course, you're eyeing the shoes having no idea if you can even stand in them, but dammit, you're going to try.
So one day, I notice that Alison Tyler has a call for not one, but two second person anthologies—one aimed at him, and another aimed at her. She'd done something similar before with Thomas Roche and it was sexy, so I was intrigued. Plus, I love second person. But the call was over in…
*Record screech.* (That's literally what happened in my head.)
One week! She'd actually extended the deadline for a week, and by the time I saw it, there were only six days left.
Still, I had to write something for the Just for Him call. I had to!
I couldn't start writing for two days because my schedule was nuts, but on that second day, this random idea clanked me in the head like a 2' x 4'. I barely made it through my work day before I got home and went for it, because this is the line I had stuck in my head:
You're working on my fence right now, and all I can think about is sucking your cock.
Naturally, from that, "73A" was born!
The next day, I was all set to send "73A" off and call it done…but then, randomly, some other 2' x 4' came flying at my head, and I knew I had to write another piece for Just for Her. (If we're running with the shoe analogy, this is where I'd say, "Why buy one pair when you can buy two?") By the end of the day, I had "The Other Prom"…and lo and behold, Ms. Tyler ended up saying yes to both. Wow! On top of that, it needs to be stated that she wrote me such sweet acceptance notes, I drove my friends nuts with my giddiness. (I know, crazy, right? Me?! Excitable?)
Anyway, that's my back story for "73A" and "The Other Prom." I'm thrilled to be included in both Alison Tyler anthologies, which are set to release in early 2015. I'm going to save excerpts for later, but in the meantime, you can pre-order Just for Him and Just for Her right now on Amazon. I expect they're going to be really damn good!
As for me, I'm off to go dance around again.
I might even do it in a pair of strappy stilettos.
XX,
Jade