Great news! Hungry for More: Romantic Fantasies for Women is out now on paperback through Amazon!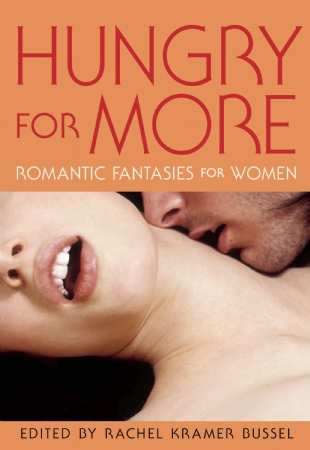 I am quite excited about this anthology, one of the first from Cleis Press's new Tempted Romance line. And as our fabulous editor, Rachel Kramer Bussel, says: "I don't think the cover accurately conveys just how perfectly daring and wondrously taboo these stories are." The line-up is exquisite, and the stories are definitely going to break some boundaries…which means you can bet it's going to be a hot one!
So today, I've got two goodies to share with you. First, Rachel Kramer Bussel is running a killer opportunity to win if you prefer the Kindle edition, which is scheduled to release August 12th—if you pre-order it, you could win a $100 Amazon gift card! Wow! Details about this easy contest can be found on the book's Tumblr page right here.
The second goodie is in celebration of the paperback edition being out and available right now on Amazon. That is…it's time for an excerpt of my story, "The Sleeper's Beauty"!
"The Sleeper's Beauty" is about a woman who's never fully understood why her friends are so darn excited over anal sex when she's had some less-than-stellar experiences—but she wants to more than anything. And one night, her curiosity piqued, she finds herself in just the right circumstances…
Excerpt of "The Sleeper's Beauty":
Tonight, Carrie decided, things were going to be different. She was determined to make it happen. She couldn't take one more Friends episode thinking about the hard slide of his dick all the way up inside her until she cried like the girls said she would, and she'd be damned if a fear of a little ass play was going to keep her from knowing all the pleasures she could have.
Knowing Andrew would catch onto her eager glances and deter her yet again, Carrie made him his favorite meal—a pot roast slow-cooked in his preferred beer and sided by a lump of mashed potatoes and two glasses of wine. He'd devoured the dish with that twinkle in his eye that managed to say "You're wonderful" and "I love you" all at once. After dinner, she walked him to the bed and stripped off her clothes, running her hands all over herself in the most provocative ways she could think of until he chuckled and pulled her down on top of him.
"What is with you, lately?" he said. He wrapped his hands around to cup her ass, then tugged her against the bulge in his boxer briefs. "I mean, seriously. You're talking anal and attempting strip teases. Settle down, Carrie."
She sighed, helping his motion with a long grind that made him groan. "I'm trying something new here. I'm adding spice! Is it really that bad?"
"God, no. But you don't have to do these things you don't want to do." Andrew took her hands between his and lifted them to his lips so he could kiss her fingertips. Then he shifted his hips up and rubbed against her. "I love having sex with you as is. And I'm tired, hon. Let's just do it normal."
Carrie snatched back her hands. "I want to try something new! What kind of man complains about getting what he's been asking for? Suck it up and enjoy it already!"
With that she scooted low on his legs, running her kisses like she usually did all over his belly and chest. Andrew clicked his tongue, the belittling sound urging her on, and Carrie grumbled before yanking off his underwear. She admired his cock at full alert, then wrapped her mouth around his crown.
"Oh, babe," he uttered. "That's perfect. Just perfect."
Carrie worked his shaft, running her tongue along the base as she knew he liked, then teasing his balls with both of her hands. This was only a precursor in her mind, because she'd already grown wet at the thought of what was to come.
And dammit, she was ready.
Carrie licked and sucked her husband, running her mouth along his length while sneaking one hand back to touch herself. He was too preoccupied to notice, and when she slid her finger inside her slick opening, images of him filling her special, secret hole crept through her head…
***
Please be sure to order your copy of Hungry for More at any of the locations below…the paperback is available now on Amazon, and everywhere else (with the Kindle version) on August 12th. And don't forget your chance to win through Rachel Kramer Bussel if you prefer the Kindle version!
In the meantime, I hope you enjoyed the sneak peek!
XX,
Jade
ORDER YOUR COPY AT: