I have five bookcases in my house.
Three of them are massive things that cover the wall opposite the desk in my office. While they do have some other items in them (a shelf half full of my niece's toys, two shelves of office supplies, and a shelf of sewing stuff, for example), they are getting increasingly full. This is where I keep many of the books I've read, with a special shelf just for erotica. I also have a shelf for my writing—a growing collection of erotica anthologies I've been published in (a mighty exciting section for me, I have to say), and binders housing drafts of some of the things I've written over the years.
In the living room, I have a small but stuffed case that is instantly viewable when you walk in my house. This one includes all my favorites: Anne Rice's Mayfair Witch series, Carol Goodman's The Lake of Dead Languages, Ellen Hopkins's Crank, Margaret Atwood's The Robber Bride, and many, many more.
And then in my bedroom, there is the To Read bookcase—a live and growing thing, always overflowing with more and more books despite my repeated and short-lived ban on buying more until I finish what I have. My acupuncturist explained to me that this sort of looming bookcase is bad for my bedroom feng shui, as it might "stress me out" when I try to sleep.
I told her my feng shui could suck it.
So, why am I bringing this up? Well, I love books. I've been a reader since three (says my mum), and I remember my parents encouraging me over the years to come outside and play, but I'd insist that I just needed to finish one more chapter or that I couldn't because the good part was happening right then. I can't even tell you how many trips I was dragged on, in which I refused to play on the beach / eat / "be a good girl" who talked to family when I could just as easily stay inside reading one more book.
I know I am not alone in this obsession love. Cleis Press just started a Pinterest board of "shelfies"—pictures of people's bookcases with Cleis anthos on the shelves. I love it! Plus, book lovers are all over Pinterest. Tumblr. Hell, EVERYWHERE. We're a pretty cool tribe, if you ask me.
Which is why today I thought I'd show off my book porn. I know it's not erotica, but hell, it's still sexy. 😉 I have two pics for you—one is that wild beast of a To Read bookcase, which I finally organized again just for your viewing pleasure: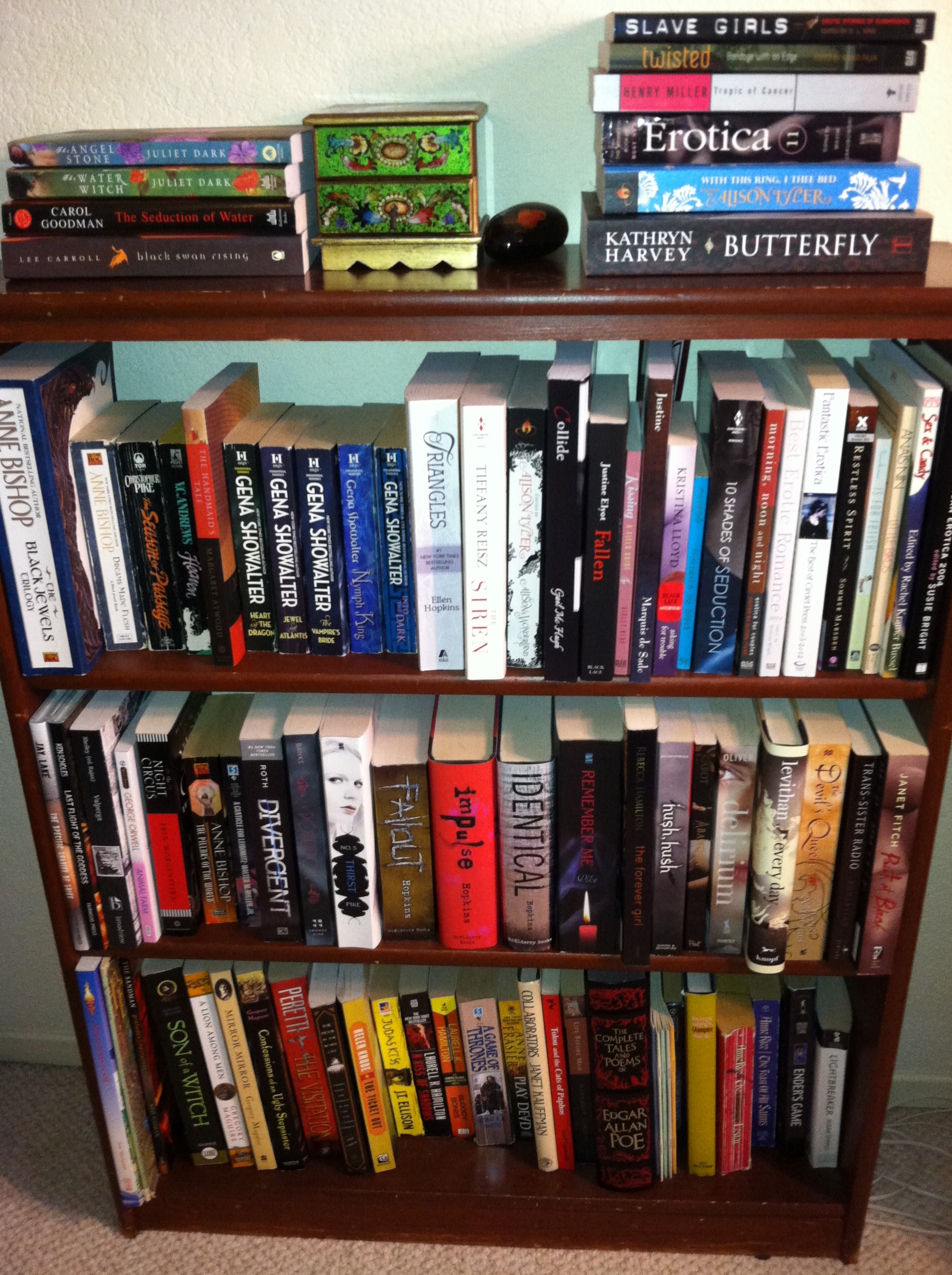 I don't often reread books these days, but there are a few of them scattered in here—primarily in the top left corner, up to The Handmaid's Tale. The tippity top is the overflow, a combo of erotica and contemporary spec fic, some of which I'm getting close to shifting to my nightstand (aka: reading). The top shelf is mostly erotica (sexxxxxyyyyyyy). The middle shelf is a mix of my favorite non-erotica reads: spec fic, YA, and then some other dramatic stuff for kicks. And the bottom has been dubbed "Hodge Podge Shelf." 🙂
Then there's what I'm reading now/just about to read. Here is a pic of my nightstand, which is currently running a pretty high stack: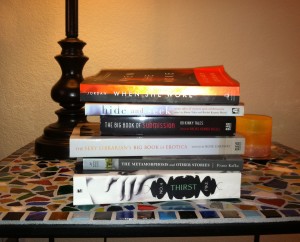 I used to only read one book at a time, but clearly I've given that up. So, here, you'll notice the YA on the bottom, a series I shamelessly dip into periodically from Christopher Pike. The top book, When She Woke by Hillary Jordan, is a fabulous dystopian future version of The Scarlet Letter—think Margaret Atwood meets Ray Bradbury and you've nailed it. I'm just about done with that one, and ready to delve into my next non-erotica read…which is a reread of The Metamorphosis (because why not?). And then there are a few delicious Cleis reads: Hide and Seek from Alison Tyler and Rachel Kramer Bussel, The Sexy Librarian's Big Book of Erotica from Rose Caraway, and of course my contributor copy of The Big Book of Submission edited by Rachel Kramer Bussel. I tend to read several anthologies at a time, simply because I like jumping around with short stories—but I never skip a story. It's a habit. I may read five up front and then put the anthology aside for a couple months, but I don't skip any. I'm loyal like that. 🙂 Oh, and let's not even mention the bounty of anthologies (and other books) I've stored up in my Kindle…
So what about you? What are you reading? Do you stick with erotica, or read something else? Are you a monogamist with your books, or more of a poly reader?
I'd love to know.
XX,
Jade