Got your attention, now, didn't I? 😉 Well, good—because today I'm hosting the next stop on Alison Tyler's Wrapped Around Your Finger tour!
Alison Tyler is a brilliant author of many stories, but her Submission series is simply unbeatable. In case you missed the first two books, Dark Secret Love and The Delicious Torment, I reviewed the pair of them right here. I'm bouncing off the walls to read the third, as I'm sure you are, too—and so it is with great pleasure that I turn the floor over to Ms. Tyler, so that she can tease us with her thoughts on fantasy as well as a seriously dirty, smokin' hot excerpt. *Wipes brow.* It's good, guys, so good!
Now there's only one question—are you ready?
I sure hope so.
Here's Alison!
***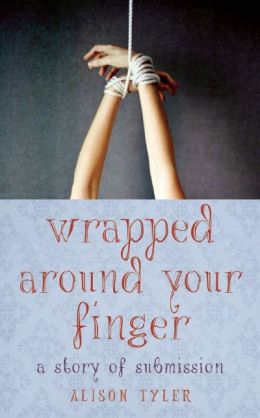 Step into My Fantasy
The word "fantasy" appears in 1,192 files on my computer.
The word "fantasies" appears in 1117.
I don't know why I like to check things like that, but I do. ("Bondage" appears in 892 files. "Spanking" appears in 1218. Just in case—like me—you were curious.)
But back to fantasies, daydreams, mental vacations—whatever you want to call the activity—I am a goner. I see a woman pass me on the street, and immediately I fantasize about who might be waiting for her at home. I entertain myself by describing what her bedroom looks like. Even the books she might have on her bedside table. All day long, I write little stories for so many people I pass in my life.
For strangers I run into on a regular basis, I continually build on the fantasy. There's a vampire I watch at my favorite coffee shop, and a silver fox I'm writing a shifter tale about.
Fantasies are an important theme for the characters in my fiction, as well. How could this not be so? If I am a 24/7 walking fantasy-mill, then it goes to figure that the people I create would share this characteristic with me.
Here's a snip from Wrapped Around Your Finger:
"I know you want to," Jack said. "I'm only going to make your deepest, darkest fantasies come true."
"What fantasies?" I had to ask. What did Jack think my fantasies were?
"We'll have the big back room at the restaurant," Jack said. "When we arrive, you'll strip down and get on your knees. I want you to service each man there."
"Service?"
"With your mouth, baby. With your mouth. I want you to suck them all until they're rock hard and ready. Your mouth is so sublime. I feel guilty that I've been so greedy with you. I should have been sharing this whole time. When the men experience that wet heat on their Johnsons, well. There's no saying what will happen. I'll have to take charge, to make sure they go slow. Then we'll really see what you're good for."
Was Jack fucking with me? I couldn't find my voice, couldn't figure out where to look. Jack's eyes were giving me no clear message. I sensed no level of teasing now. I stared down at the plate.
"And then?" I managed to ask, directing my query more to my food than to Jack.
"You want me to spell out everything, don't you?"
I nodded. I could feel the throb in my sex. My clit was swollen, my pussy sodden. I wouldn't have thought that those words would have turned me on so much. But Jack was spelling out desires I had never confronted in the past.
"We'll spread you out on the table, and we'll go to work. One man will eat your cunt while you suck another cock. We'll get you so you don't know if you're coming or going. You won't know which way is up. By the end, Sam, you'll be this mess of longing, and we'll take you exactly where you need to go."
Where? I wanted to cry out. Where do I need to go, Jack?
"You'll have a man in your pussy, a man in your ass and one in your mouth. You can do that, can't you, Sam? You can take three at a time. I'm sure you can. Ultimately, you should be able to take more. A cock in each fist, perhaps. But tomorrow, there will only be three. You'd do that for me, wouldn't you?"
I didn't know how to respond. Was this one more of Jack's tests, the type that had no correct answer? If I said I'd do what he wanted, then I was as good as stamping the word HARLOT on my passport. If I declined, if I lied and said his story hadn't turned me on, then I'd be denying one of Jack's commands. Plus, all he'd have to do is touch me between my legs to know the truth.
"Look at you," Jack said lovingly. "You're a mess already."
***
Oh. My. God. YES!
Was that not the hottest excerpt ever? I'm telling you, this third installment is going to be incredible! Be sure to grab your copy on Amazon right now!
As for me—off to read more! 🙂
XX,
Jade
Alison Tyler has been called "a trollop with a laptop" by the East Bay Express, "a literary siren" by Good Vibrations, and "a hell of a writer" by Violet Blue. She is the editor of more than seventy-five anthologies for publishers including Pretty Things Press, Cleis, Plume, and Harlequin. Her novels include Dark Secret Love, The Delicious Torment and Wrapped Around Your Finger, which is the third in the "Submission Series" published by Cleis Press. Visit her at alisontyler.blogspot.com and follow her at twitter.com/alisontyler.