I love to write poetry, and always have. Somewhere along the way, my poems switched gears and became erotic in nature, and eventually, I started showing them to more people. You may recall two of my poems appearing over The Erotic Woman—the first was "Power" and the second "Pink." (Advisory: NSFW images for both links.)
So, shortly after I submitted "Awake the Nymph" to Vanillerotica, Tamsin Flowers, Malin James and I had our next Pillow Talk Secrets episode. Tamsin issued a challenge: the three of us were to write an erotic poem by our next Secrets session on October 8th. I eagerly accepted. But, since I already write erotic poetry, I thought I'd add an extra challenge for myself.
I'm calling it the 7-Day Poem Challenge. That is, for the next seven days, I will write a poem each day and post it here for you to see. This month has been impossibly complicated (which I'll get to in a later post), so a little poetry to keep my writing flowing is helpful for me. And, hopefully in the process, you'll enjoy it too!
Today's poem is called "Morning Desire." In truth, I wrote the first two lines with a magnetic poetry kit some ten years ago; these lines are still the first two lines of some other short poem hanging in my kitchen, albeit a much tamer thing. I think I like this one better. 🙂
So, without further ado, here it is…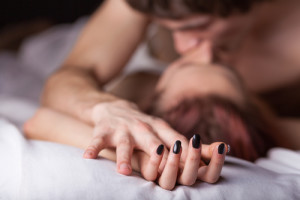 MORNING DESIRE
by
Jade A. Waters
Desire felt like morning,
Sun caressing the world
Spreading tender waves that
Envelop me, encircle you.
Your hands trace down my back—
Neck to ass, hip to hip
You tug me closer
Ever closer,
Breathe a husky whisper
With lips soft, damp
And hungry,
Like me.
"Good morning."
The words float between us,
Your body presses to mine
Your cock solid, seeking.
Your hand slips between warm thighs—
Testing and teasing,
Stroking with a sigh.
When I arch for you,
You sink inside
Teeth bared, sharp
On my shoulder;
In need.
Whimpers spill from my lips
Your thrusts remind me
Wake me
Loving and deep.
We shudder and moan—
Trembling, crying out
Surrendering to this morning desire.
The sunlight peeks
Through the blinds
Caressing skin, warming us.
We catch our breaths
Now one.
*
I hope you enjoyed "Morning Desire," the first of my seven poems for the 7-Day Poem Challenge!
See you tomorrow with more…
XX,
Jade