It is finally October.
*Breathes enormous sigh of relief.*
To be clear, September was probably the most brutal month I've had in years. I had a gazillion things going on (no, really, a gazillion), and I felt more challenged than the proverbial hamster on a wheel. See, I was a runner on a treadmill asked to juggle fireballs, kittens, and jello with one hand tied behind my back, wearing a blindfold and chewing gum while also singing Christmas carols. It was nuts! My day job went full-tilt chaos; I had so many events scheduled I turned insomniac again; I had a jury duty run that, to be honest, was extremely emotional and brought up some old "stuff" for me (fortunately, I was dismissed after two days); and on top of all that, I wasn't getting my words in. I'm an extremely fast writer, but when you don't have the time, you don't have the words. I also try not to write when I haven't been sleeping, because bad things happen—I get forgetful. Plot points disappear. Characters lose important traits. Dialogue gets painful. And on and on…I mean heck, even outside the writing, I was so tired I had two conversations with a friend in one day and completely forgot it was her birthday. OMG. I don't do that, like, ever—I'm the Keeper of the Birthdays! (Fortunately, she's not a big birthday person. She laughed the whole thing off and told me to get some sleep.)
So all stressful things aside, here's the deal—I'm generally a super optimist. I admit, I struggled to hang on to that as the month continued, and I had to keep reminding myself what a certain family member of mine always says: "How do you eat the elephant, honey? One bite at a time."
So I kept repeating that to myself…
One bite.
One bite.
One bite.
Come here, Bertha baby, you're mine.
In truth, some of this figurative elephant eating was pretty kick-ass, and since there was so much goodness, I'm going to list it out for you:
♦ I got to join Rose Caraway in a bunch of readings for The Sexy Librarian's Big Book of Erotica. It needs to be said I love reading out loud, plus, I got to read my girl Tamsin Flowers's delightful story, "POW! It's Shibari Girl!" Great story, great events, AND, as it turns out, reading with Rose is better than ice cream with brownies and fudge sauce on top. It's so much fucking fun! It doesn't hurt that she and her fabulous husband, Big Daddy, are like the nicest, sweetest people on the planet, so every event I attended and participated in was fantastic!
♦ I hung out with other amazing people at all these events, too! Of course there was the lovely Malin James (whom I'm so close to I'm convinced she is my twin separated at birth), the sassy and delightful social media guru Eva Gantz, and the charming and sweet Sinclair Sexsmith. I had so many incredible conversations with each of them!
♦ Malin James and I went to one of Rose Caraway's events as viewers, and we ended up having drinks with Rose, Big Daddy, and the legend that is Rachel Kramer Bussel. Guys, seriously—I had drinks with Rose, Big Daddy, Rachel KB, and Malin! Holy smokes!
♦ I finished my edits for Coming Together: Among the Stars, a sci-fi erotica anthology edited by Lynn Townsend and coming soon to benefit International Still's Disease Foundation. I'll have details on the book and my story, "The Joy Ride," in the near future!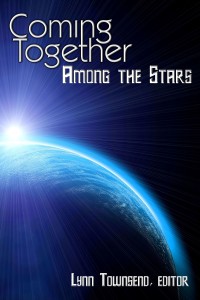 ♦ I joined a randy group of wild writers for an upcoming anthology called Chemical (Se)X. Details forthcoming, but for now I'll just say chocolate and sex.
♦ I got to support my graphic memoirist friend, MariNaomi, in the release of her new book in San Francisco! Mari is a personal friend and mentor in many ways, so I loved seeing her celebrate the release of her book. So proud!
♦ I celebrated my soon-to-arrive niecey #2 or nephew #1 (to be determined!) at a baby shower. (I love being an auntie.) 🙂
♦ I wrote several erotic poems inspired by the challenge Tamsin Flowers issued at our last Pillow Talk Secrets session. This was fun and fabulous; I got to stir up my poetry roots while getting in some smutty words in seriously short time increments—and I even started a page for it! This was the bulk of the writing I did all month. You know what? It wasn't a ton, but it still felt like a win. And speaking of wins…
♦ I shared more fabulous moments with my Pillow Talk girls. Malin James and Tamsin Flowers are, quite simply, the loveliest. I'm a happy camper having the both of them in my life. (MUAH to you both!)
♦ And then there was the ginormous feat…I completely transferred my website to a self-hosted space. This involved a whole heck of a lot of design and setup work behind the scenes that could not have been possible without my awesome teacher, DomSigns. When his dreamy wife, Molly Moore, initially offered to help, I had no idea what I was in for—namely, a bevy of delightful Skype sessions that resulted in (a) me learning a ton and (b) us laughing a lot (mostly at naughty jokes). I can now proudly say that this site is damn near done and censorship free. There are a few other little things I have planned and/or need to fix, but holy torpedo, Batman, transfer complete!
So basically, despite all the chaos, I came out smiling. I may be ragged and tired, but I'm happy and have time again—which means I can get back to the book I had half-written before The Attack of September. Yeah!
Now, I just have one more thing to say:
October, baby—you're my bitch.
XX,
Jade