Hey everyone! Welcome back to our next round of Pillow Talk Secrets. Malin James, Tamsin Flowers, and I have so much love to share with you! Today, the lovely Malin leads the discussion about our influences—erotic and otherwise. We had a lot to say about authors and titles that inspired us. We hope you enjoy the conversation, and please join us at the end to share your loves, too.
As usual, I'll be posting a segment of our post here with a link to read more at the end, or, you can hop right on over to the Pillow Talk site to read this Secrets in its entirety.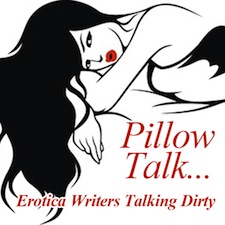 Thanks for joining us!
XX,
Jade
Pillow Talk Secrets
Malin: Hello ladies! How are you doing today?
Jade: Hi you! Just lovely. How about the two of you?
Tamsin: Hello lovelies, I'm just fine thank you!
M: Excellent! We've all been so busy, I'm glad we're getting to chat today. I've been looking forward to this topic since we decided on it a few weeks ago. We're talking about our writerly, and readerly, influences. Shall we jump right in?
J: I love this topic. Let's dive in!
T: Ah – I have to say, I've not been so sure…you both know but the readers might not, that I actually wrote my first published erotic story before I'd really even read any! So, I can't claim to be well read and I think I'm playing catch up with you two!
J: To be honest, I hadn't read all that much erotica before I started, either. In fact, I wrote my first piece when I was like 16. I'd only read a handful of stories by then.
M: Same here. While I read erotica, my real influences fall outside of the genre… So, in that case, if we're all influenced by work outside the genre, let's start with non-erotic fiction. Without thinking too hard, which books or authors come to mind?
T: I just have one go-to writer – John Irving. Well, obviously there are others, which I'll come on to but for me, he's a genius. The characters he creates literally stay with you for years, and they're all totally individual and intriguing. And he's one of the very few writers that can have you crying with laughter on one page and then sobbing your heart out on the next. His talent is extraordinary and he has a lot in common with another of my favorites, Charles Dickens. They both write long, involved, complicated stories which you can really sink your teeth into.
M: Ahhhh! John Irving is wonderful. Which of his titles is your favorite?
T: The first Irving I read, and still one of my favorites was A Son of the Circus. And then of course, Owen Meany – the nativity scene is my favorite all time scene in any book.
J: So, nobody smack me, but I never read John Irving. Or much Dickens, for that matter, so I'm impressed.
T: Oh, missy, get to the library now!!!
M: I'm sorry – my geek is getting activated. I'm going all single-minded! Tamsin, for Dickens, if you could only pick one Dickens ever to have read, which would it be?
T: Dickens? Bleak House. Oh, and Great Expectations!
M: I love Bleak House! I'm going to admit something here – Bleak House is actually one of the books I had in mind when I started conceiving of The Briary, (my WIP). That and a couple of Wilkie Collins novels and Dracula. Always Bram Stoker's Dracula.
J: Yes to Bram Stoker's Dracula. Wow, I loved that one. I read it in high school and couldn't put it down.
T: God yes! And, of course, as a woman who's written two vampire novels, Stoker is an inspiration. And Collins too!
M: Oh, I love Wilkie Collins! The Woman in White is still a big favorite! Jade what about you? What's stayed with you?
J: See, I was all caught up in Margaret Atwood and a few too many rounds of Jane Eyre, (I read that about 12 times by age 10). Plus, I tended to read a lot of more contemporary authors – Anne Rice was one, but more Carol Goodman (LOVE that woman), and Anne Bishop on the spec fic side. Oh and V.C. Andrews. But weren't we all influenced by V.C. Andrews?