Hurray! Coming Together: Among the Stars is officially out today!
I'm so thrilled "The Joy Ride" is a part of this anthology, both because I love a good venture into spec fic AND because this hot little collection is for a good cause—all proceeds benefit the International Still's Disease Foundation. Fantastic!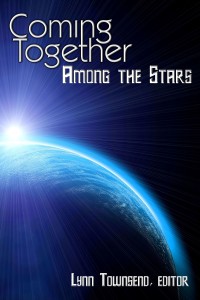 In honor of release day, I thought I'd share some backstory as well as an excerpt. Let's start with the backstory—"The Joy Ride" is a particularly special piece for me. The original version was actually one I wrote while I was in the process of deciding to do this erotica thing for real. Sure, I'd penned a piece here and there, but it wasn't clear to me—yet—that erotica was what really spoke to me.
So there it was 2012, and I'd ended up at a Fantasy and Sci-Fi writing conference where, during the course of the weekend, we were supposed to write a flash story inspired by the line, "On Thursday, she pressed the button." I opted to write a story about a woman fed up with her ex-husband and job, who then spotted a button in her hotel room labeled Press for a good time. And when the woman pressed the button, two hot alien creatures arrived and took her away on their space ship. The story was sassy and silly, but somewhere in the course of it all, one of the aliens mentioned that usually only men press the button.
My critique group got a big kick out of this line, since I'd already written a rather titillating piece about a stripper werewolf. Someone asked about the lives of the aliens, and the next thing I knew, I was on the airplane flying home, drafting an early version of "The Joy Ride"—this time told from the alien captain's point of view and, unbeknownst to me, lighting the first spark in my head toward taking my erotica writing more seriously.
Two years later, the wonderful Lynn Townsend had a call for Coming Together: Among the Stars. I dusted off the old story, changed a few [major] things, and poof! There it was: the little story that first kicked my naughty brain into full gear, revised and ready to jump aboard this fabulous charity anthology!
So, enough of the behind-the-scenes stuff. I'd say it's time for an excerpt, wouldn't you? "The Joy Ride" follows Captain Ronat and Co-Captain Loul, two alien creatures who have been orbiting the Earth as part of a 30-year penalty for galaxy back taxes, until one day they pick up an Earthling couple.
Excerpt:
The man cowered as Ronat walked to him. Ronat didn't touch him, but he did lay his hand on the grey surface behind Bill's head. The solid panel evaporated into one huge window, giving the man a close-up view of the Galaxy.
"What the fuck?"
"It's exactly what you think it is."
"But…we were just…how is this…?" Bill put his hands on the window and stuck his forehead so close against it his breath fogged the glass. The light of distant planets twinkled and blinked, brightening his face until his sharp frown began to dissolve. "Is it really…?"
Ronat nodded. "It is, my friend. Welcome to the Galaxy."
Bill kept his palms on the window, mesmerized by the view. When Ronat placed his hand on Bill's shoulder, he didn't pull away. Instead, he met Ronat's eyes with a flash of longing in his own. It didn't hurt that the chemistry between humans and his kind created a state of heightened arousal for both parties, which is why the Earth leaders had allowed them to occupy the Galaxy in exchange for hotel service so long ago.
"I feel like I should tell you to take your hand off me, but it's strange…I don't want to," Bill said.
"It's okay. It's natural between our kinds."
He gulped. "What is your kind?"
"We're from Tetro, part of an ancient race in the Galaxy."
Bill drew his hand from the window. "Why are you here?"
"Long story," Ronat said. "Don't worry about it."
"I don't understand."
"You don't need to. All you need to know is that you're here, in flight, and anything you want can be yours."
Bill stared.
"Anything," he repeated.
Bill raked his gaze over Ronat's scaly flesh and crisscrossing straps, then down his silver pants. He seemed most captivated by his moon boots, and while he focused on them, Ronat moved closer. He could smell Bill's sweat under his button-up shirt, a residual pungency of long hours at the office mixed with the essence of Earthling arousal.
"I don't know that I'm into that," Bill said. "I'm married."
As if on cue, Andrea let out a moan that lasted for a solid minute.
Bill whispered, "Can I see her?"
"Sure. But you have to know that she's in the middle of—"
"I want to see her. I want to see it."
Well, well, well.
Ronat ran his pinky on the wall in the shape of a hexagon, then tapped three times. The eye scan appeared and he lined his retina up with the infrared beam, blinking fast so that his third lid retracted before the scan ray hit. A click sounded and the wall vanished, opening the hull of the ship to the room where Loul and Andrea fucked like Earth dogs.
Bill exhaled heavily. His wife was oblivious to his presence, but Loul glanced over. Naked and glistening, he pummeled Andrea from behind, bringing groans of pleasure from her throat as she clawed backward to reach his dark, scaled ass.
"Oh my gawd!" she cried. "Oh…my…gawwwwddddd."
"Oh my," Bill muttered. His eyes widened as he watched her, her tits bouncing all over the place. The smell of Andrea's juices permeated the air and wafted into Ronat's nose, sending a tingle through his body.
He crept behind Bill. "What do you think?"
Andrea answered for him "Yes, yes! Give it to me!"
Loul weaved his hands in Andrea's tousled red hair, then angled back enough so both Ronat and Bill could see the flexing of his abs as he glided repeatedly inside her.
Bill gasped.
"It's hot, isn't it?" Ronat grasped Bill's shoulders, massaging them while the man's breath grew more ragged. His own cock lurched at the sight, making his silver pants incredibly uncomfortable. "Do you want to join?"
"I can't. She's obviously—"
"Oh, she wants it, Bill. Look at her." Ronat leaned into his ear, his lips lightly grazing the man's lobe. "Your wife is an animal." When Bill didn't speak, he shouted across the room. "Hey Loul! Can we join?"
Loul paused mid-thrust and Andrea tossed up her head, her face glistening with the sweat of wild sex. She registered the view of her husband for a second, her eyes spreading in surprise.
"Bill! Oh no, I didn't know that you… I'm so sor—"
Loul drove himself all the way into her and she belted another cry. "Don't you dare be sorry," he said, pumping her a few times into incoherence. "You both came here for a good time!"
Bill's face softened. There really was no way for this to go poorly. The only question was how Bill would insert himself into the scene.
With his next words, he made Ronat a proud accomplice.
"Don't be sorry, sweetheart," Bill said. "You are so hot right now. Can we join in?"
Loul threw back his head, gripping the sides of Andrea's waist for one final shove inside her. "Fuck, yes!"
When Andrea wailed in pleasure, Bill stripped off his clothes in less than thirty seconds, piling his slacks, tie, button-up shirt, boxers and undershirt on the floor. Then, wearing nothing but his socks and a cock at full mast, he peered between Ronat and his spasming wife.
"Are you coming, too?" he said.
*
I hope you enjoyed the excerpt!
"The Joy Ride" is part of Coming Together: Among the Stars, edited by Lynn Townsend, and with so many other fabulous erotic sci-fi authors included in this one, I'm sure it's going to be a treat.
Please pick up your copy on Amazon—every book purchased helps support the International Still's Disease Foundation!
Thank you for reading and supporting the cause!
XX,
Jade