Fifty, Fifty, Fifty. It's all everyone has been talking about. Hell, Malin James and I even talked about it in audio for you a couple days ago.
However, I think it's safe to say that many are looking for another glimpse into BDSM. Maybe some different writers, new viewpoints, or a more realistic taste of the lifestyle in some smoking literary form…yes?
Well, I've got news for you: the phenomenal D.L. King has curated a sampler collection of the best BDSM erotica and erotic romance out there—and it's free!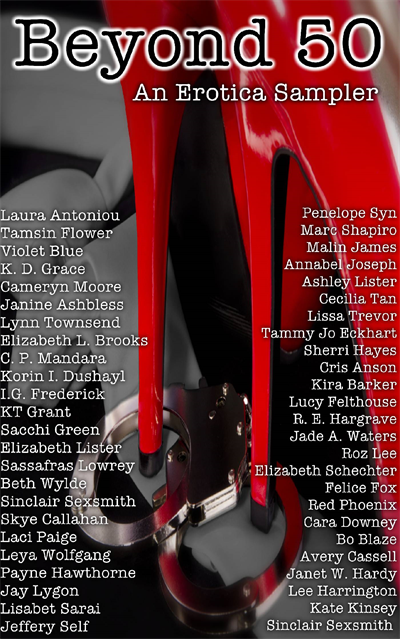 Beyond 50 includes work from many stellar names in the industry, including Violet Blue, Sinclair Sexsmith, Laura Antoniou, Cecilia Tan, Janine Ashbless, and many, many more. It's also got samples from my lovely Pillow Talk colleagues—Malin James and Tamsin Flowers—and I'm tickled to have a piece included in here, too!
The best part? This book is entirely free to download, and you can do so right here.
Need more convincing?
Here's the blurb:
Can't get enough Fifty Shades of Grey? The authors in Beyond 50 have come together to give you 50 FREE samples of their erotic musings.
Millions of readers around the world are caught up in the magic and romance of power and surrender, role-playing and kinky passions. Or, as some call it, BDSM.
But did you know there's a wealth of BDSM themed-literature and media available now and coming soon, just waiting for you to discover?
Sensual romances. Gritty thrillers. Spellbinding fantasy. Darkly passionate suspense and horror. Dramatic historical adventures. Edgy erotica. Gorgeous art and photographs. Honest memoirs. From short stories to long novels, from subtle and light to explicit and nasty. Even helpful and sexy non-fiction to help bring your more risqué thoughts to life!
No matter what your interest, there's a world of other authors ready to give your imagination a tasty turn. Whether you want only one style and theme or care to delve into a whole universe of passion, romance, danger and delight, you can find something just to your taste. All sexual identities and orientations and any match-up between them can be found in some of these scorching pages, and some you've never even heard of. Take the plunge and explore. Taste and nibble and maybe find so many more colors to paint your dreams and desires.
Laura Antoniou • D. L. King • Tamsin Flowers • Violet Blue • K. D. Grace • Cameryn Moore • Janine Ashbless •
Lynn Townsend and Elizabeth L. Brooks • C. P. Mandara • Korin I. Dushayl • I.G. Frederick • Sacchi Green • Elizabeth Lister • Sassafras Lowrey • Beth Wylde • Sinclair Sexsmith • Skye Callahan • Laci Paige • Leya Wolfgang • Payne Hawthorne • Jay Lygon • Lisabet Sarai • Penelope Syn • Malin James • Annabel Joseph • Cecilia Tan •
Tammy Jo Eckhart • Sherri Hayes • Cris Anson • Kira Barker • Lucy Felthouse • R. E. Hargrave • Jade A. Waters • Roz Lee • Elizabeth Schechter • Felice Fox • Red Phoenix • Cara Downey • Bo Blaze • Avery Cassell • Janet W. Hardy • Lee Harrington • Kate Kinsey • Sinclair Sexsmith
Be sure to get your taste of steamy BDSM erotica from all of these great authors! You can download it free from any of the following:
We are all so thrilled to be offering this sampler to you, absolutely free! Thank you for checking it out!
XX,
Jade