I don't do many reviews on this blog for several reasons, the biggest being that I'm inundated with technical reading for my day job. So, while I do occasionally squeeze in a book for pleasure, reading one for review is often a juggling act beyond my capacity. The benefit of this unfortunate fact, however, is that I am able to save this space for reviews of things I truly enjoy, books and stories that speak to me on a level I'd relish sharing with others. This is why today, I'm delighted to tell you about Rachel Kramer Bussel's Sex and Cupcakes.
Rachel Kramer Bussel is a well-known erotica name, but she's also a woman in the genre I've looked up to for years. She's rocked my world with stories I'd read long before she accepted my first ever published piece (when she left me squealing, of course), and after that, too—both as a writer with a delicious imagination and an editor with a detailed eye and well-pinned finger on the pulse of our crazy market. It's this latter piece Ms. Bussel takes a bit further than others, and that I most admire; she is virtually everywhere with articles, commentary, and reflections on sex and its various forms of cultural impact. Her words hit right on the mark for me, as she's got a strong opinion paired with a knack for examining all sides of the issue—which is precisely why I bought Sex and Cupcakes, and why I enjoyed it so much!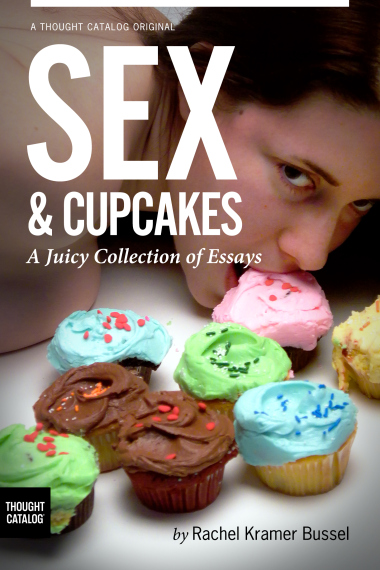 This collection of nine essays showcases some of Ms. Bussel's best commentary while also examining our sexual culture. Pieces such as "I'm Pro-Choice and I Fuck" and "Monogamishmash"—like many of the essays in the book—are thoughtful explorations of what our labels mean, and perhaps more importantly, what they don't mean, that simultaneously share personal anecdotes and revelations. It's clear Ms. Bussel doesn't intend to throw out opinions and jam them into the minds of those she's writing for; hers is a style full of sophisticated writing and opinion, but with a welcoming approach to every other person's desire, style, and kink, too. She speaks in "Sorry, But I'm Not a Sexpert" about her sex writing not equating to acting as a sex educator. While I agree this is true, it's her openness on the page that focuses readers on the idea that things aren't always what they seem, and which teaches them—albeit indirectly—that in exploring our own sexuality, there is no need to push our wants, kinks, and desires onto others. This open-mindedness is a repeating theme throughout Sex and Cupcakes, and the primary reason her essays held such intrigue.
I am not, in general, a nonfiction reader, but getting an inside peek on the thoughts of one of my idols made this collection even more enjoyable for me. Whether it be Ms. Bussel's striking and blunt words throughout "My Boyfriend's Fat," or her personal confessions on fantasy versus reality in "Champagne Sex," each essay struck a different and pleasant chord. My personal favorites were "I Have Trouble with Orgasms" and "Sex and Cupcakes." The former is a smart, important read for most women, a sort of battle cry for the sentiment of "lacking" some feel or are made to feel when this, in truth, is a pretty normal occurrence for many, while the titular piece is a brief memoir exploring the author's relationship with both sides of her life as erotica writer and cupcake blogger. It was this piece that resonated for me the most, both in my own sensation of having two lives and the perception that goes with each (erotica writer life and "normal" life), and her comments on society's tendency towards slut-shaming in the name of feminism while still condemning those who choose to speak their erotic truths. I'd say overall, this piece was about balance; so it would seem that as far apart as they sound—the sweetness of cupcakes and the delicious explorations of all things sex—Rachel Kramer Bussel shows us they are a pairing quite meant to go together.
I highly recommend you pick up your copy of Sex and Cupcakes on Amazon.
XX,
Jade