The most exciting thing happened earlier this week—the lovely Rose Caraway of The Kiss Me Quick's Erotica Podcast had me up to her studio to record an interview! Wow!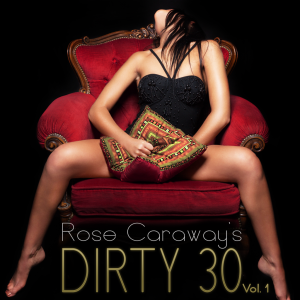 Rose Caraway is the editor of The Sexy Librarian's Dirty 30, a collection in which I am lucky enough to have two stories, "The Bells" and "The Doll." To celebrate the release of this book, Rose has been interviewing the contributors on her "Inside the Erotica Author's Studio" series. The whole idea is to introduce you to each of us while finding out more about us and our stories. I could not be more thrilled to be a part of this book, and now to have had the privilege of talking with Rose in her actual studio—well, let's just say the whole experience has completely boggled my mind.
We had such a great conversation about all sorts of things—you'll find out about my tendency to try just about anything, how I write, thoughts on my stories, my experience with having an agent, and even an interesting date accident I almost had. Rose is positively one of the sweetest people on the planet, as is the amazing Big Daddy, so this interview made me feel right at home in their studio!
If you'd like to check it out, you can do so right here with the player below. Or, if you'd like to read Rose's show notes alongside the interview, you can click on over to The KMQ's. Either way, I hope you enjoy listening to us as much as I enjoyed my time hanging at The KMQ's!
Also, don't forget to check out The Sexy Librarian's Dirty 30 in audiobook or ebook format. And if you'd like to hear some of my previous work narrated on The Kiss Me Quick's, check out my story "Soundscapes," or a poem, "Owned." It's been a privilege working with The KMQ's, and now to be interviewed by them!
Thanks so much for joining us!
XX,
Jade
N.B. You can now listen to "The Doll" narrated by the fabulous Rose Caraway right here!