Great news—Best Erotic Romance 2015 is officially out today, and I'm tickled to have "Fertile" included in this hot anthology from Cleis Press! This one is edited by Kristina Wright, an amazing author and editor. I've been mesmerized by her stories and anthologies for so long, I damn near fell out of my chair when she accepted "Fertile" for this book. Talk about a huge honor!
So, to commemorate release day, I thought I'd share a brief behind-the-scenes and excerpt.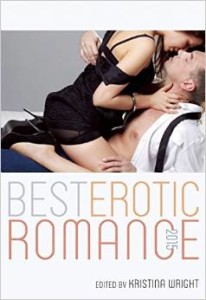 As is usually the case for me, this story came to life with a spontaneous line that popped into my head…at the gym, no less. I was in a dim room at a gym while I worked it on a spin bike. I wasn't in a class or anything—but suffice it to say I was torturing the crap out of myself (I was a fitness junkie back then), and, standing on those pedals, sweating like a fiend, it happened.
Wham!
"The bitch is in heat."
As usual, I had no idea where this line came from. But as I pumped it on that bike for the remaining 20 minutes—because I couldn't very well stop my workout to write this stuff down—I sorted out a loose sketch of a wife very much desperate to have a second child with her affectionate, loving, and extraordinarily patient husband.
And from that, "Fertile" was born!
To be clear, the line The bitch is in heat does appear in the story, but you'll have to read it to find it where. 😉 For now, though…
Read an excerpt of "Fertile":
"I'm sorry for teasing you, but you can't pressure me like that. You can't treat me like I'm your sperm donor, babe. It's the most cliché bullshit in the world."
"I don't…." She really didn't, but the pained look on his face made her cringe. His hands, meanwhile, were making it impossible to have this conversation. Her hormones had become a raging inferno that made nothing but his touch important at this moment.
"You do." Jerry crept his fingers further, straight toward her aching entrance. Tiny tendrils of heat burned down her thighs as he snuck one finger inside and barely tickled her with the end of it.
"Jerry," she whispered. She wanted his whole finger, his whole hand, and then, the hard bulge she knew he'd formed in his pants. He'd always been ready to go at a moment's notice, making his extended delay to give in so much more frustrating.
Instead of answering, Jerry pressed his mouth over her, on top of his splayed fingers. His breath came through the fabric like a gust of hot wind, sending goose bumps over her chest. He paused, his mouth so dangerously close she was ready to tear off her own panties if he didn't soon.
Jerry pulled back. "I know I've been bugging you for months, partly because you get so flustered, but also because you've badgered me."
"Because—"
He cupped his mouth over her and she moaned.
"I know why. And I did want what you want. I do want it, but dammit, Sheila, treat me like your husband." He grabbed the top of her panties and shook his head. "Like you want me because I'm a man, not a machine." He inched the elastic waistband down over her hips and Sheila pressed her hands to her face. Embarrassment burned in her cheeks and down through to her core, and when he just kept staring at her, she trembled. "Do you understand what I'm saying?"
She wanted to believe she couldn't understand much of anything with her sex exposed to the cold air of the room, but watching Jerry—this beautiful man, the father to their child, the one who had worked so hard so she could stay at home with Daniela like she'd always wanted—she could see why he'd teased, and why he'd pulled away for so long.
"I'm sorry," she said.
"I am, too." Jerry nodded, then let her panties drop to the floor.
Sheila sucked in a breath and lay still. The hormones pummeling her nerves demanded she pay attention, but she wasn't about to ignore Jerry's frustration. Not with his eyebrows knitted together and his lip caught between his teeth as he pondered his next move.
"Jerry?"
He didn't say anything, then reached up to grasp her hips. He laid his mouth over her, this time covering her completely.
"Oh god."
Jerry flicked his tongue over her clit. "Do you want more?" he asked.
Sheila forced her head up. "Do you have to ask?"
He slicked his finger from her swollen nub to the base of her slit. "Tell me, then." When he drew his finger over her, his expression softened. "I love the way you look right now, but I need to know you want it."
"Yes, yes, I want it," Sheila said. "I do."
*
I hope you enjoyed it and thank you for reading!
This edition of Kristina Wright's Best Erotic Romance 2015 is sure to be a sexy one—and you can pick up your copy right here!
XX,
Jade