Fall is fast approaching, and it's about this time each year that I remember my eight-year run at the seven-weekend experience that is Northern Renaissance Faire. This adventure was one I didn't care for much initially—I'd been dragged out at 19 by a boyfriend who claimed he needed my presence to avoid cheating, if that explains anything at all—but eventually, I found the place to be a festival of fun, filled with colors, costumes, music, and joy. At night, after all the patrons went home, I started to understand it could become a veritable haven of sexual and emotional adventures I'd ultimately have, and have mentioned here on one occasion before. Still, I didn't feel truly in place there until my fifth year, when I came out to Faire single for the first time. By then I was freer, ready to play and laugh, and to embrace the delights that came into my world.
One of these was a beautiful young woman I'll call Emma. She was bawdy, silly, and flirtatious, like me—but bolder in a raunchier way, louder in a nurturing way, and sexy in a different way, sporting the biggest brown eyes over a bed of freckles I'd ever seen. These eyes seduced you with the suggestion that she would be the most playful person you'd ever met, which would turn out to be true. This was evident in our meeting, too—where she wore pink velvet hot pants and halter she'd been parading around after hours, and I'd been dancing in my own black velvet mini dress—when we had a near collision on the way to a dinner table because we were distracted by our efforts to whistle at one another. In a matter of hours, Emma and I became smitten with each other—never quite enough to take it anywhere, but to enjoy holding hands, kissing lips, and slipping fingers up one another's skirts to fondle each other's thighs as we set out to hunt what we loved best: someone to flirt with, in tandem and shamelessly, while we stirred up as much trouble along the way as we could.
One night, though, the energy shifted; it turned out Emma had met a man, and so our mission this evening was for her to introduce him to me. We found him waiting behind a booth—where I soon discovered I was to embark on one of the most memorable relationships of my life.
This man, John, brought out a serious adoration from Emma I hadn't yet seen. Even then it was clear that these two could well end up together for life, because John was, in many ways, her male counterpart—bawdy, flirty, and smiling like he lived with a laugh on his lips at all times. But despite the connection fast growing between them, Emma surprised me after layering his face with kisses. She curled her hands around him from behind and looked right at me while whispering loudly in his ear.
"This is Jade. She's my friend," she said. "But I think you two should play."
Now, Emma and I had been flirting with so many people for so long with no intent behind a thing we said that this struck me hard and fast. And though John wasn't my usual type (for I definitely had one at the time), when he kissed her palms and untangled himself from her arms, then started to circle me—right there in front of her—I sucked in a breath. This feeling wasn't at all subdued when Emma pressed her palms against her cheeks as though she realized she'd done something particularly clever, a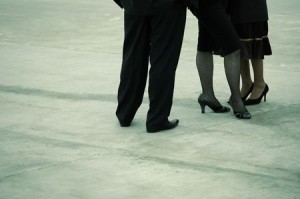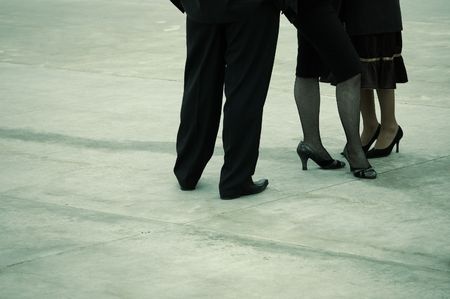 nd while John kept circling me, round and round, I caught his eye, and he smiled before catching hers.
"I think you're right, Emma," he'd said.
And the nod that had come from me was quick and effortless.
Most of my life, I've frowned upon labels because I like to try so many different things on—but if I had to tag myself, I'd go with straight, monogamous, open-minded and playful, and above all, flirt. This is part of why I think so fondly of the love affair the three of us formed in that moment; I still have trouble describing it in any sort of specific way, because there isn't a label that truly fits and it's not anything I've felt since. I guess, in a fashion, what we became was the couple and the coquette—them firmly together, and me acting as the flirt who moved between and with them in varying ways.
In the early nights, the three of us would drink and dine together before cuddling on an air mattress by a dim lamp, where we affectionately established our entanglement as the two of them kissed and John rubbed my shoulders. Emma and I knew we didn't want to share a bed, but we liked to kiss and flirt, or trace the contours of each other's bodies when either of us donned a sexy dress. John and I liked to grope and tease one another, and sometimes, Emma liked to watch. All of us agreed we would never work in a threesome, because none of us wanted to share to that degree. So it was determined that, until they grew serious, we would all continue and encourage our separate bonds, however they may happen.
There were many moments between us, but one of the most memorable was the night the three of us had been running around for well over an hour, Emma holding my hand and John cupping my ass, until Emma gave a firm nod in the dark. She took us both into her arms in a great big hug, then whispered, "I really need to visit that other booth across the way. Hmm, I wonder what might happen if you two ran off together?" She pecked me on the lips, then kissed John long and hard, and nearly sang as she danced away, "I'll be back here in about 15…"
And off John and I slipped, into the nooks and crannies of Faire. There was an excitement in him taking my hand by Emma's suggestion, leading me into a darkened booth, and backing me against a wall to slam his lips on mine like we'd stolen this tryst—though it was freely given for us to share. In this moment, it was just the two of us, John running his hands along my fishnets, biting my earlobe, whispering how he'd fuck me, rough and hard, over and over, everywhere he could find to take me out there. We'd never actually do that, but it was the fantasy that filled our heads as he dragged his fingernails up my thighs. I still remember the sound of my fishnets tearing in the still of the night, and the feel of his fingers sneaking under my panties before he growled against my mouth. And for what couldn't have been more than ten minutes, we stood there, clinging to one another, groping, kissing madly, until the melodic sound of Emma's voice summoned us back, and we tripped innocently out to meet the wink she gave us. Then she wrapped her arms around me, lifted my skirt, and trailed her own hands along my fishnets, giggling to find them ripped. She flashed me the wickedest smile before jumping into John's arms and giving him the deepest, sexiest kiss…and then we continued on as though we were just three friends, frolicking about for the evening.
Of course, as Emma and John grew more serious, those incidents grew farther between—but the dynamic became sexy in a new way. Sometimes, the two of them liked to claim me as their own, purposely making a scene of their antics with me. Emma would stand on one side, John on the other, and while she affectionately groped my breast and weaved her arm around my waist, John would cross an arm over hers at my back, and use his other one to reach up my skirt. We delighted in the wide-eyed stares we got from this, with John seeing how high he could lift the fabric for whoever watched before I'd turn pink and Emma would burst into laughter. But the second we were out of sight we'd roll together into a huddle, kissing and grabbing through our costumes until we broke away with excited gasps.
As crazy as it may sound, that's where we liked it to stop. It satisfied all of us in different ways—me running off to find my own lover for the night, them heading back to their tent to be together. They often called me their "little aphrodisiac," which suited our bond—and though our friends shook their heads and inquired often, trying to understand what it was we shared, we laughed at the need for an explanation of what we got so well. I think that's the simple truth of many great relationships—they may not make sense to anyone else, but to the parties involved, they really are pure magic.
Over the coming years, our love affair didn't end so much as it morphed once more. We all grew away from Faire; Emma and John moved in together and she started a business, and I found a new hobby that took up my once Faire-filled weekend time. I was delighted to attend their wedding a couple years later, where at an open mic for reception speeches I playfully—yet respectfully—honored the "most beautiful, fun, and wonderful couple ever known on this planet." Which, in truth, I still think they are.
These days, Emma and John are settled and happy, with one gorgeous daughter and another little one on the way. I see them every few years, and when I do, they both cast me those smiles of theirs, full of so much life and joy. We talk mostly of now—careers, children, hobbies, and such. But occasionally, we let one another know with the coy winks of our eyes and the tame but reminiscent squeezes we share that, despite the changes that life brings in the ever-shifting seasons, none of us have forgotten the very special love affair between the couple and the coquette.