Hi everyone!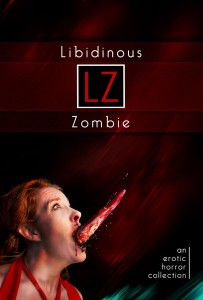 A couple weeks ago, the wonderful Rose Caraway released her dream project, Libidinous Zombie, out into the world. As I mentioned in my post on the book, this anthology is a tremendous one, both for its roster of talent (editor included!), and for its exploration of the erotic horror convention. I am still so grateful Rose invited me to join the project, and then that she and the awesome Big Daddy were so excited about my contribution, "The Lucky One."
As if all that wasn't enough of a thrill ride, Rose invited me to join The Sexy Librarian's Podcast today. She's interviewing all the authors in this book, and I'm delighted to have gotten to share more of the backstory for "The Lucky One" in the process. In the interview, Rose asked me a little about my new book deal and karaoke antics, so, if you'd like to find out more, please hop on over and check out the interview right here.
If you haven't already started listening to The Sexy Librarian Podcast, or Rose's main podcast, The Kiss Me Quick's, be sure to check them out! I have no doubt you'll enjoy every word.
Thank you so much for listening!
XX,
Jade
N.B. You can also catch my last interview with Rose about my contribution to The Sexy Librarian's Dirty 30 right here, or listen to my stories, "The Doll" and "Soundscapes," as featured on The Kiss Me Quick's Podcast. All podcasts are free for your ears! 🙂