There is something extraordinary about hearing one's own stories read aloud. It's an opportunity not just to know that your story has been read and heard, but to understand how a reader might translate what you've written. In grasping that—for just a second—you can almost relax into your words, listening to them as though they're not your own, potentially savoring them in a different way than what was experienced when you had the pleasure of writing them.
That's why today, I'm tickled to share that the fabulous Rose Caraway has once again honored me with a narration of one of my stories. This time, she's featured "Ophelia the Second" on The Kiss Me Quick's Erotica Podcast, and she does a tremendous job of it, too. This particular story is part of Best Women's Erotica of the Year, Volume 1—and while I had the opportunity to read it live myself back in January, hearing it performed by the incredible Rose has made it twice as special for me. Extra bonus: Big Daddy's sexy ass intro totally made me blush. 🙂
So, I invite you to please hop on over to The Kiss Me Quick's to listen to "Ophelia the Second" with your own ears. It's a sweet little erotic romance that's got a lot of my theatre background worked in, and it still makes me smile. If you'd like to know more about the spark that ignited "Ophelia the Second," please feel free to check out my Q&A with our incredibly talented editor, Rachel Kramer Bussel. You can also grab your copy of Best Women's Erotica of the Year, Volume 1 right here.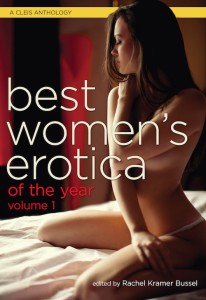 And finally—since I know you'll love Rose's rendition of this story—please indulge yourself in more of her fantastic readings of my work. Rose has honored me with previous readings of "The Doll," "The Flogger," and "Soundscapes"—an exclusive for The Kiss Me Quick's Podcast.
Oh, and that delicious podcast? It's something you should regularly indulge yourself in, too. 😉
Happy listening!
XX,
Jade