Hi everyone! Today is a special day—it's the release day for Best Women's Erotica of the Year, Volume 2…a fantastic anthology edited by Rachel Kramer Bussel! I have been fortunate to work with Rachel on a number of occasions, which is why I couldn't be happier to have her over for an exclusive interview today. Yes!
Since I've long admired Rachel's work in both editing and writing, I had a lot of fun picking her brain on the Best Women's Erotica of the Year series and much, much more. The anthology itself is bound to be another hit, so you'll definitely want to grab your copy on Amazon in either print or ebook form. You can also find out more about it on the Best Women's Erotica of the Year site. And, bonus, we'll be doing a reading to celebrate its release on January 31, 2017 at Skylight Books in L.A. I'll be reading an excerpt from my story in BWE Volume 1 alongside some wonderful authors with stories in Volume 2—you won't want to miss that, so be sure to check out the events page and mark your calendars!
For now, I hope you enjoy all the details I got from Rachel about her work, her books, and her style. I know I did!
Welcome Rachel! I'm so excited to have you here today, and to get to ask you a bunch of questions about your work. Thank you for joining me! I hope it's okay—I'm going to dive right in with my first question…
What would you say is the main thing you look for when selecting stories for an anthology?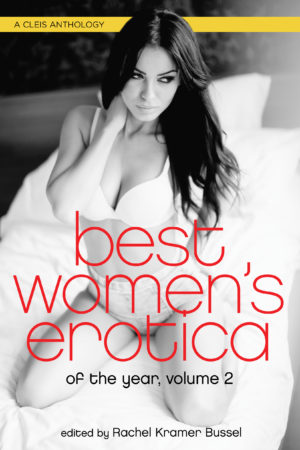 Variety. I consider each story individually and gravitate toward the ones that grab me, the ones that are different from others I've read, that I think my readers will like, and then I make sure they all work together to create a diverse, varied whole. Something I tell my erotica writing students is that I want to know why the people in the story are having sex, and why now. I want to feel that immediacy and urgency in every story. I never want to feel like the characters are just going through the motions; I want to get to know them, not just their sexual desires, but them as people and how their history informs their sexuality.
So it's tough to point to any one aspect, but I like having a mix of settings, eras, writing styles and of course a wide range of characters when it comes to sexuality, sexual orientation, race, age, country of origin, location (I appreciate stories that aren't all set in big cities, and where the action doesn't always take place in a bedroom) etc. I also look for different points of views and tenses, because I think that makes for a more pleasant reading experience. So that's a lot to balance and not something I can always control for as an editor, but I try my best. I'm planning a slight twist for the call for submissions for Volume 4, which I'll be posting in 2017, which will have some sub-themes that I think could make for really interesting plotlines.
Ooh, that's interesting. I can't wait to hear more on that! Speaking of…now that you are editor of the Best Women's Erotica of the Year series, what would you say is different about working on this series than other anthologies? How?
Knowing that I have several volumes behind me and right now two more ahead of me (Volumes 3 and 4) is a wonderful gift, because I know that each time I have the opportunity to reach more readers and more writers from around the world. Picking up a series that's been edited incredibly well by two previous editors is a challenge but one I am honored to get to play a role in. I try to build a sense of community among all the BWE authors and also try to keep the books different so that readers who enjoyed one will also enjoy the others and never be bored. In general, I try to push myself with each anthology I edit to find new ways of reaching audiences and seeking out new writers, and I've been doing my best to do that with this series. I hope to publish work by authors from countries that haven't previously been represented going forward. Otherwise, as an editor I often have to simply wait and see what kinds of stories arrive in my inbox and that helps dictate what kind of tone each anthology will have. I also can incorporate feedback from readers into how I shape and craft future volumes, which I can't do with one-off anthologies.
You know, I love reading your stories in the anthologies you've curated. Do you usually write your piece at the time of posting the call, or after you see the selection of stories you have for the anthology?
In the past, I've done it both ways. Sometimes if I found I didn't get a certain type of element, I would try to fill it in. Or in the case of Come Again: Sex Toy Erotica, where I wanted each story's sex toy to be different, I wrote about a set of metal claws, since they have always fascinated me and nobody else had covered it. One thing I've changed with the Best Women's Erotica of the Year series I'm editing is in order to make room for more authors' voices, I've kept each book limited to those who weren't published in the previous BWE of the Year books, which includes me, so Best Women's Erotica of the Year, Volume 2 is the first anthology I've edited that doesn't include my own fiction. I think that's fitting and am very proud to be moving into more of a curatorial role. Any plotlines and scenarios I had wanted to include in a given volume but didn't get to due to space or lack of story submissions, I try to make up for in the next volume.
That's a clever approach. What is your favorite step or part of being an editor? Why?
For me the best part of being an editor is getting to work with hundreds of authors from around the world, all of whom are writing the kinds of pieces I could sit in front of my computer for thousands of hours and never come up with. I especially publishing writing by authors who are new to the genre because that's where I was not that long ago and an editor taking a chance on my work was such a wonderful opportunity and I'm thrilled to be able to pay that forward.
And what about the hardest part?
Sending rejections. When I finally quit editing anthologies, it will be a huge relief to no longer have to send rejection letters, which, even though they are part of the job, always make me feel like a horrible monstrous person. I know I'm not and I know by the numbers, there simply isn't any way to include all the stories that are submitted to any given anthology even if I loved each and every one, but it still is an awful feeling because I know everyone worked diligently on their stories. I'm heartened though by the fact that a writer who believes in their work will take a rejection as an opportunity to find another home for their words and so far I've been lucky enough to always have a new anthology to edit. I try to point to a new call for submissions of mine when I do send rejections to encourage authors to keep submitting.
That's fair. And authors should keep submitting, too—rejection is just part of the deal. I'm curious about another thing I imagine is an editor woe: what is your least favorite grammatical error (or the most annoying one to you) to catch and/or fix in stories? Has this changed for you over time, aka are there grammatical things that have stopped "bugging" you over the years? 
Probably the most challenging to fix is when the tense changes throughout the story. I've done it so I know how annoying it is to redo, and I also know that sometimes an author can see a story existing in multiple tenses, and eventually you just have to pick one.
Eek. I've done that myself in the past! Okay, another question—what is your most favorite story that you've put in an anthology, of all time? (Or, if you'd rather not specify a story, how about a theme or subject that came up in an anthology?)
It's hard to say because I have so many to choose from but I especially love stories that surprise me. One story I have read at numerous readings and truly adore for its ingenuity is "Remote Control" by Logan Zachary from The Big Book of Orgasms. It's the perfect combination of sexy and funny and makes any reader wonder just what they would do if they were handed the title object. That's a lot to do in less than 1,200 words but he somehow did it. You can listen to it on The Kiss Me Quick's Podcast, read by Rose Caraway, who narrated the audiobook. I also have a soft spot for "Daddy's Girl" by Teresa Noelle Roberts in Spanked: Red-Cheeked Erotica. It's such a vivid and hot story about role-playing, and what I especially love is that it makes it perfectly clear that they are indeed engaging in beloved roles that turn them on. She manages to mix the fantasy and reality elements of the story so it doesn't lose any of its hotness but makes that delineation clear. I'd love to publish more edgy stories like that in my anthologies.
One of the things I've long admired about you is your desire to include as many new authors as possible in your anthologies. (Heck, this is how my first published piece, "The Flogger," happened in The Big Book of Orgasms, and I can't say thank you enough!) What is something you're looking for in a new author for future anthologies?
Mainly I'm just looking for fresh ideas or new insights into sexual desire, passion, love and lust, and how those all fit in with the rest of our lives and what's going on in the world. There really isn't any one specific thing, though I am always pleased when authors approach a subject, even if it's one that's been written about plenty, and finds a way to make it feel as if it's brand new. I'm often far more interested in the psychological twists and turns sex can take than a recitation of the physical machinations of sex, so that's something I'm always interested in. Beyond that, I just look for pieces I think my readers will marvel over and want to reread again and again.
That's a good plan. Now, when you're writing, do you find that your editor side kicks in and causes you to edit while you draft? Or, are you able to separate your two roles and write freely before you edit?
Usually if my editor side kicks in when I'm writing, it's a sign that I'm approaching a given piece incorrectly. I do my best to let go and simply write until I feel I'm at a natural stopping point, and then go back and edit later.
Smart. Okay, here's an off the cuff one: you are given the choice of editing or writing, for the rest of your life. Only one. Which do you choose? Why?
I'd have to say writer because I started writing (outside of erotica) far before I ever considered being an editor. But I would certainly miss the joy of working with other writers if I couldn't do it anymore.
We would miss that, too! I wonder…some writers revisit themes, or particular scenes that keep coming back in their work. Do you have such a repeated element in yours (that you recognize)?
I'm probably the opposite in that the part of writing I like the most is creating a new piece, whether that's fiction or non-fiction.
So then, would you ever write a sequel to one of your stories, and if so, which one? Why would you like to bring it back?
I've long wanted to write a sequel to my oral sex restaurant story "Secret Service" from Best Women's Erotica 2010 edited by Violet Blue, looking at the fellatio equivalent to my cunnilingus restaurant. I think it would be a fun twist on a story that already took its origin from a real-life Brooklyn restaurant that sold cocaine in the back.
Sexy. I am looking forward to this sequel! But let's say you weren't in the word industry. What would your next career be?
Maybe a bingo caller, because I love playing bingo, but I'm not sure if that would ruin the fun for me.
I like it. That's fun. 🙂 Which leads to a fun last question…you can go anywhere, free of charge, for as long as you want. What would be the most romantic and/or dream place for you to write?
I love hotels, so probably any really luxurious hotel where I could get anything I needed at the press of a button.
Fabulous. Thank you so much for being here, Rachel!
And there you have it! A peek inside the brilliant mind of Rachel Kramer Bussel. Don't forget to pick up your copy of Best Women's Erotica of the Year, Volume 2 on Amazon, and we hope to see you at the reading on January 31st!
A giant thank you to Rachel for joining me today!