Happy 2017, everyone!
It's a new year, which means all sorts of fun new things are happening. Woo hoo! As you may have heard, my debut erotic romance novel, The Assignment, released back in December—it's been very exciting! But, thankfully, the wild release ride isn't over yet. I'm thrilled to share not only that Lessons in Control book two, The Discipline, is out in a couple short months on March 13th and ready to pre-order now, but that we have an official back cover blurb to go with its sexy ass front cover. Score!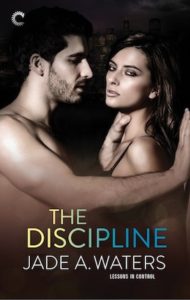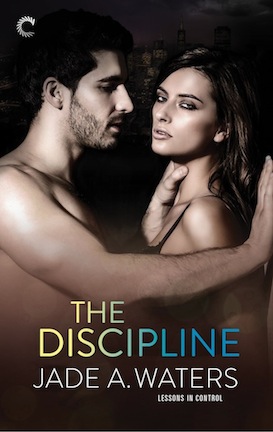 In just a moment, you'll find some enticing information about what's ahead in book two for dear Maya Clery and her romantic lead, Dean Sova…but don't forget to read on after, since I have some nifty events to remind you of, too.
For now, let me introduce you to The Discipline…
How far would you go to fulfill a fantasy? 
Maya Clery has taken risks before. Her relationship with Dean Sova started out as a risk—a series of sexual assignments, each hotter, wilder, more intense than the last. Exploring her submissive side with a powerful, trustworthy Dominant has been everything she hoped for, everything she needed.
Dean pushes Maya to her limits—it's one of the things she loves most about him. But as they push the boundaries outside their sex life, meeting friends and family members, Maya realizes there's still much she doesn't know about the man with whom she's sharing her bed.
And when a fantasy simmering between them becomes their latest challenge, past secrets begin to reveal weaknesses in their relationship that neither is ready to face.
Book two of Lessons in Control  
This book is approximately 78,000 words
One-click with confidence. This title is part of the Carina Press Romance Promise: all the romance you're looking for with an HEA/HFN. It's a promise! Find out more at CarinaPress.com/RomancePromise
Oh, man-o. Are you excited? I'm excited. I have had so much fun writing Maya and Dean's journey, so I can't wait for the second installment of their story to make its way into your hands. And, though you can preorder the book now, there's still a little time to kill before you'll have it delivered. Fortunately, I have two sexy and free reading events I hope you'll join me at this month to tide you over!
The first is just around the corner on January 24th, in Oakland, California. It's the Dirty Old Women Read Erotica event at Octopus Literary Salon at 2101 Webster Street (at 22nd). I'm delighted to be one of the two featured readers there that night! The event starts at 7:30 p.m. with an open mic, and then both Zoe Kat and I will be reading some sexiness to you from 8 to 9. I'll be reading a smoking hot excerpt from The Assignment, and I'll also have some swag from the book for those who attend. I sure hope you join us!
Then, one week later on January 31st, I'll be down in L.A. with the fabulous Rachel Kramer Bussel as well as authors Jocelyn Bringas and Melina Greenport to celebrate the just released Best Women's Erotica of the Year, Volume 2. We'll be reading at Skylight Books L.A. at 1818 N. Vermont Avenue starting at 7:30 pm, with excerpts from both volumes out so far. I'll be taking you on an erotic, romantic, Shakespearean inspired journey with a snippet from my contribution to Volume 1, "Ophelia the Second." This story is one that's still quite dear to me, so I do hope you'll make it out to visit and enjoy the free reading. And if you miss the earlier Dirty Old Women reading, don't worry—I'll have some swag from The Assignment for you to grab there, as well. I look forward to seeing you at both events, so please come out, hear some sexy words, and say hi!
Until these awesome readings, please be sure to pick up your copy of The Assignment if you haven't already done so, and also pre-order your copy of The Discipline today. The final book, The Reward, will be out not all that far away in June…so you'll want to be read up and ready for when that time arrives!
Please check out the Lessons In Control page for all buy links and info for The Assignment, and you can pre-order your copy of The Discipline at:
Amazon US   Amazon UK   Carina Press   Barnes & Noble   Google Play   iBooks   Kobo
Thanks so much for joining in and reading, and I look forward to seeing you in Oakland and L.A. soon!
XX,
Jade