Hurray! It's here! Today is the release day for The Discipline, book 2 of my Lessons In Control series!
Holy moly, I'm so excited for you to be able to read this book. This whole series has been a whirlwind and a total dream to work on, too, which is why today I'm thrilled to be celebrating the release of the next stage in Maya and Dean's D/s journey. And in my humble opinion, every good celebration needs some prizes, yes? So, I'm not only going to tell you about the book and share a sexy excerpt, but I also have two—2!—opportunities for you to win some goodies! Yesssss!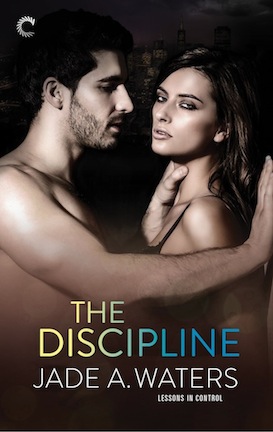 First, I want to tell you about the making of The Discipline. As some of you who follow along are aware, I had some big life and health things come up in the making of book 2 that seriously knocked me on my ass. This founded a bit of a joke with pals—wow, was The Discipline taking more discipline than I could fathom. It was a rocky road, complete with more drafts than I'd ever imagined doing before, and between my tremendously fabulous beta readers—Malin James, Tamsin Flowers, and Michael Knight—as well as my kick ass, amazing editor, Rhonda Stapleton, that manuscript got worked like a good little submissive [manuscript] should. 🙂 The first version I wrote is nothing like what it turned out to be, but in the end, I was quite pleased. Honestly, until I turned in edits on book 3, The Reward, just a few weeks ago, I was pretty convinced book 2 was my favorite installment. (Naturally, I think the series just got better though. Stay tuned for more on book 3, out in June!)
But, moving on, I'm sure you don't want to hear me blather about the making of. You want to know about the book itself—and I am delighted to tell you more about The Discipline! Having established their D/s relationship in The Assignment, Maya and Dean are now continuing on their sexy, explorative path with bigger, sexier adventures (hint: discipline!). Their relationship is also growing, meaning that while they're working on all their kinks (heh), they're also working on their budding romance. The Discipline sees them through sexier times, wilder exploration, hotter fantasies, and the reveal of some past secrets in Dean's life that definitely challenges them in their dynamic. Mmmm…so much fun! But of course, you'll have to read the book to know what I'm talking about. For now, let me share a smokin' excerpt. Then, we'll get to two awesome contest opportunities. Sound good?
Let's kick off with an excerpt from The Discipline:
Dean seized my waist and whirled me around, using his body to steer me to the bed as a gasp fell from my lips. The front of my thighs met the mattress, the feel of his chest on my back sending tingles through my limbs. Dean played his fingers over my stomach and clasped the silky fabric of my shirt against me. I ached to be naked with him in an instant.
Especially knowing that what was in the bag would please him as much as it would.
"Well?" Dean pressed his mouth against the side of my face, and I heard the speeding of his breath when I lifted the bag. My fingers trembled while I loosened the ties that cinched the top of it together. I wanted to make a show of it, so rather than turning the bag upside down to dump the contents over the bedspread, I reached inside to pull one item out at a time.
First, I held up the coil of rope he'd left at my place.
"Say it."
"Rope, for you to tie me up with."
He reached out a hand to fondle the strands with me before I tossed the coil of rope onto the comforter. "A perfect pick. I'd brought some, just in case, but I prefer this one against your skin. You look delectable in burgundy." His low voice and blatant words made my pussy swell. He'd told me that before, when I was tied up, but it never stopped exciting me. "Keep going."
I slipped my hand back in the bag as Dean brushed aside my hair, layering soft kisses across the nape of my neck. He slid his fingers up the center of my shirt, and I grabbed the vibrator I used often on my own to hold it up in front of us. Dean growled in my ear when I said, "And my vibrator…"
"You want to be teased, don't you?"
"Yes." My cheeks warmed while I set the vibrator down and Dean started to unbutton my shirt. He arched up his hips, his cock digging into my ass, but I kept going. I held up the bottle of lube that had made its way into our repertoire numerous times already, be it for endless rounds of fucking or the bit of anal play we sometimes liked to add to the fun. I purred, "Also, I want to be fucked. A lot. And…everywhere."
"Christ, Maya." Dean spun me around to face him, sucking me up in a fevered kiss while I clung to the cinch sack. But I broke away and held up a hand to stop him.
"Wait. I'm not done," I whispered.
The brightness of his eyes nearly doubled at my insistence. Inside the bag, I thumbed the toy I'd brought that could rock both our worlds. Dean gripped my lower back as I wrestled the flogger up between us, and holding it up made me more aware of its texture and the anticipation blazing within me.
Dean's smile spread in an intoxicating mix of happy and seductive. He stared at it, then me. "You brought it."
"I did."
"Does that mean…?"
"It does. At some point this weekend, I want you to use it on me." A hypnotic jolt struck me when I said it, the hair lifting on the back of my neck. The prospect, his expression—all of it had my nerves prickling with desire.
Dean pressed his body tighter to mine. "You saying that makes it even hotter."
"Does it?"
"Yes. Oh, yes."
He didn't say anything more while I swung the flogger beside us, the suede leather strands creating a subtle swish in the room. Dean lowered his mouth to mine again, his hands coming up between us to finish unfastening my shirt buttons down to my waist as I tossed the flogger aside. His tongue was wild, his fingers quick to untuck my shirt from my slacks. But he didn't help it off or attempt to unhook my bra, instead sweeping his palms over my waist and drawing tingles into my belly before he started trailing his tongue down the center of my chest. Once he dropped to his knees in front of me, I sucked in a breath.
"I cannot wait to use everything that you brought with you. Everything I brought, too." He curved his hands over my hips and guided me back until my legs met the foot of the bed. As he kept his eyes on me, he undid the button of my pants and teased down my zipper. "Such excellent choices, birthday girl. I think you deserve something special for that."
His eyes sparkled at the hook of his fingertips under the waist of my slacks to work them down around my ankles. I moved to step out of them, but Dean held them in place with a firm grip over the mass of fabric and my ankles.
"Keep your legs together."
He broke the drag of his fingers over my hips to urge my hands behind my back. I laced them together, and he returned to his main focus with an abrupt snag of the crotch of my panties. Playfully, he breathed over my already heated sex, never touching me with his mouth while he gazed up at me. My heart picked up the rhythm of a snare drum, but my legs were pressed too tightly together for the delightful trail of his fingers up the seam formed between them. I quivered when Dean stroked the tiny patch of flesh he'd exposed for what felt like an eternity, stirring up my wetness with a touch so light I almost didn't feel it.
*
Oh, yeah. I love that part of the book. It just gets better and better, too, so you'll definitely want to read the whole thing.
However, now it's time for two opportunities to win!
First is a chance to win an epub copy of book 1, The Assignment, so that you can read it before you launch your reading of book 2. Entry is easy: simply leave a comment below that (1) tells me your favorite type of discipline (woo-ha!) or, if you're shier and/or more private about such things and/or just don't feel like answering that question, then instead (2) tell me why you'd like to read book 1, The Assignment. That's it! That's all. Every comment entered by 11:59 pm PST today, March 6, 2017 will be eligible to win the copy of The Assignment, and I will raffle off entries and notify the lucky winner tomorrow, March 7th. Please be sure you register your name and email when you leave your comment so that I can contact you if you win!
Now for giveaway two: a swag goodie bag for early buyers of The Discipline! This one is also easy—anyone who purchases The Discipline and/or pays for a pre-ordered copy during the book's first three days of release (so by 11:59 pm PST March 9th, 2017) and forwards me their receipt at jade@jadeawaters.com before Saturday, March 11th, 2017 will be eligible to win:
Lessons In Control swag: a sexy LIC series bookmark, postcard, and fridge magnet for The Assignment
An Amazon gift card for $25
And, a personal note from me
Doesn't that sound fun? I sure hope you're intrigued. If so, please be sure to purchase your copy of The Discipline by the deadline and forward me your receipt before the weekend so that you'll be entered to win. You can pick up The Discipline on Amazon or at any of the buy links below. If you are a newsletter subscriber and dove in for the early purchase deal offered there, you will automatically be entered into this chance to win, too! (If you aren't, please sign up—lots of goodies happen there.) I will be running the raffle for this one over the weekend and contacting the lucky winner the week of Monday, March 13th in order to send along prizes. Thank you for picking up your copy of the book and for reading, too!
I really appreciate your support and am so pumped to offer up these goodies for loyal readers like you. Thanks for entering!
The Discipline Blurb:
How far would you go to fulfill a fantasy?
Maya Clery has taken risks before. Her relationship with Dean Sova started out as a risk—a series of sexual assignments, each hotter, wilder, more intense than the last. Exploring her submissive side with a powerful, trustworthy Dominant has been everything she hoped for, everything she needed.
Dean pushes Maya to her limits—it's one of the things she loves most about him. But as they push the boundaries outside their sex life, meeting friends and family members, Maya realizes there's still much she doesn't know about the man with whom she's sharing her bed.
And when a fantasy simmering between them becomes their latest challenge, past secrets begin to reveal weaknesses in their relationship that neither is ready to face.
Book two of Lessons in Control 
This book is approximately 78,000 words
One-click with confidence. This title is part of the Carina Press Romance Promise: all the romance you're looking for with an HEA/HFN. It's a promise! Find out more at CarinaPress.com/RomancePromise
Carina Press acknowledges the editorial services of Rhonda Edits, LLC
Pick up your copy of The Discipline, eISBN: 9781459294318:
Amazon US   Amazon UK   Carina Press   Barnes & Noble   Google Play   iBooks   Kobo
And happy reading to all!
XX,
Jade