The Discipline, book two of the Lessons In Control series, is available now. Read on for an excerpt!
How far would you go to fulfill a fantasy?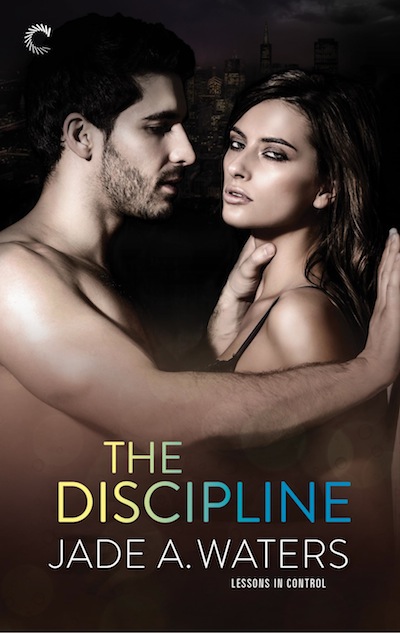 Maya Clery has taken risks before. Her relationship with Dean Sova started out as a risk—a series of sexual assignments, each hotter, wilder, more intense than the last. Exploring her submissive side with a powerful, trustworthy Dominant has been everything she hoped for, everything she needed.
Dean pushes Maya to her limits—it's one of the things she loves most about him. But as they push the boundaries outside their sex life, meeting friends and family members, Maya realizes there's still much she doesn't know about the man with whom she's sharing her bed.
And when a fantasy simmering between them becomes their latest challenge, past secrets begin to reveal weaknesses in their relationship that neither is ready to face.
Book two of Lessons in Control 
This book is approximately 78,000 words
One-click with confidence. This title is part of the Carina Press Romance Promise: all the romance you're looking for with an HEA/HFN. It's a promise! Find out more at CarinaPress.com/RomancePromise.
Carina Press acknowledges the editorial services of Rhonda Edits, LLC
Pick up your copy of The Discipline today:
Check out an excerpt of The Discipline:
Dean seized my waist and whirled me around, using his body to steer me to the bed as a gasp fell from my lips. The front of my thighs met the mattress, the feel of his chest on my back sending tingles through my limbs. Dean played his fingers over my stomach and clasped the silky fabric of my shirt against me. I ached to be naked with him in an instant.
Especially knowing that what was in the bag would please him as much as it would.
"Well?" Dean pressed his mouth against the side of my face, and I heard the speeding of his breath when I lifted the bag. My fingers trembled while I loosened the ties that cinched the top of it together. I wanted to make a show of it, so rather than turning the bag upside down to dump the contents over the bedspread, I reached inside to pull one item out at a time.
First, I held up the coil of rope he'd left at my place.
"Say it."
"Rope, for you to tie me up with."
He reached out a hand to fondle the strands with me before I tossed the coil of rope onto the comforter. "A perfect pick. I'd brought some, just in case, but I prefer this one against your skin. You look delectable in burgundy." His low voice and blatant words made my pussy swell. He'd told me that before, when I was tied up, but it never stopped exciting me. "Keep going."
I slipped my hand back in the bag as Dean brushed aside my hair, layering soft kisses across the nape of my neck. He slid his fingers up the center of my shirt, and I grabbed the vibrator I used often on my own to hold it up in front of us. Dean growled in my ear when I said, "And my vibrator…"
"You want to be teased, don't you?"
"Yes." My cheeks warmed while I set the vibrator down and Dean started to unbutton my shirt. He arched up his hips, his cock digging into my ass, but I kept going. I held up the bottle of lube that had made its way into our repertoire numerous times already, be it for endless rounds of fucking or the bit of anal play we sometimes liked to add to the fun. I purred, "Also, I want to be fucked. A lot. And…everywhere."
"Christ, Maya." Dean spun me around to face him, sucking me up in a fevered kiss while I clung to the cinch sack. But I broke away and held up a hand to stop him.
"Wait. I'm not done," I whispered.
The brightness of his eyes nearly doubled at my insistence. Inside the bag, I thumbed the toy I'd brought that could rock both our worlds. Dean gripped my lower back as I wrestled the flogger up between us, and holding it up made me more aware of its texture and the anticipation blazing within me.
Dean's smile spread in an intoxicating mix of happy and seductive. He stared at it, then me. "You brought it."
"I did."
"Does that mean…?"
"It does. At some point this weekend, I want you to use it on me." A hypnotic jolt struck me when I said it, the hair lifting on the back of my neck. The prospect, his expression—all of it had my nerves prickling with desire.
Dean pressed his body tighter to mine. "You saying that makes it even hotter."
"Does it?"
"Yes. Oh, yes."
He didn't say anything more while I swung the flogger beside us, the suede leather strands creating a subtle swish in the room. Dean lowered his mouth to mine again, his hands coming up between us to finish unfastening my shirt buttons down to my waist as I tossed the flogger aside. His tongue was wild, his fingers quick to untuck my shirt from my slacks. But he didn't help it off or attempt to unhook my bra, instead sweeping his palms over my waist and drawing tingles into my belly before he started trailing his tongue down the center of my chest. Once he dropped to his knees in front of me, I sucked in a breath.
"I cannot wait to use everything that you brought with you. Everything I brought, too." He curved his hands over my hips and guided me back until my legs met the foot of the bed. As he kept his eyes on me, he undid the button of my pants and teased down my zipper. "Such excellent choices, birthday girl. I think you deserve something special for that."
His eyes sparkled at the hook of his fingertips under the waist of my slacks to work them down around my ankles. I moved to step out of them, but Dean held them in place with a firm grip over the mass of fabric and my ankles.
"Keep your legs together."
He broke the drag of his fingers over my hips to urge my hands behind my back. I laced them together, and he returned to his main focus with an abrupt snag of the crotch of my panties. Playfully, he breathed over my already heated sex, never touching me with his mouth while he gazed up at me. My heart picked up the rhythm of a snare drum, but my legs were pressed too tightly together for the delightful trail of his fingers up the seam formed between them. I quivered when Dean stroked the tiny patch of flesh he'd exposed for what felt like an eternity, stirring up my wetness with a touch so light I almost didn't feel it.
*