Edited by Rachel Kramer Bussel
"The Swap" is part of this spicy new anthology from Cleis Press. Read on for an excerpt!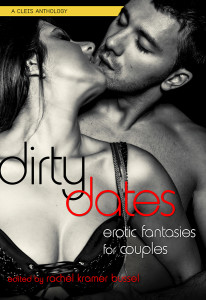 What happens when date night involves a blindfold, a corset, handcuffs, or a spanking? The couples in Dirty Dates combine kink and romance in this collection of erotic stories that provides plenty of ideas for your next sexy outing. Your 50th date can be even hotter than the first ones if you play by the rule of Rachel Kramer Bussel, which means NO rules at all except for an emphasis on pure pleasure. Rachel Kramer Bussel has quickly become America's favorite erotic writer with dozens of best-selling books, awards, and deeply satisfied readers to her credit. Dirty Dates is a delectable collection of stories redolent with romance featuring two people in lust. From first dates to long-term lovers to hook-ups and missed connections, the common theme is coming together in every sense of the word!
Read an excerpt of "The Swap":
"Glad you're home, honey," she said.
Alex set his bag on their drop table and gave her a quick look over. She was still in her own work clothes, and he pinched his eyebrows together in confusion. "I half expected you to be in some sort of getup when I got here," he said.
"Oh, I'm not done." She walked over to him. As usual, he wrapped his arms around her for a big kiss. And, also as usual, the way he twirled his tongue with hers sent tingles across her arms and made her instantly eager to strip down and comply with his every whim.
But not as usual, Serena squeezed his hip and pulled away.
"Assuming you're still okay with the plan," she said, winking, "I would suggest you take off your clothes."
Alex chuckled. "Here?"
"Yes, here," she said. She never giggled at Alex's requests—at least, not since they'd grown more serious about this whole kinky bondage game they loved to play—and she expected the same right back. "My turn. My rules." She bit her lip, enjoying the harsh tone she used to command him and the way he started the tiniest amount as she did it. "Now," she snapped.
Alex unbuttoned his shirt. When he tugged it from his chest and dropped his trousers to the floor, Serena nodded in approval. The bulge in his boxer briefs told her he liked the game, so she stepped close enough for her chest to almost touch his and tilted her lips up toward his face.
"If you kiss me, I'll touch you," she said. It was one of his famous lines, and she delivered it with the same punch of temptation he did when he had her bound and whimpering beneath him.
Alex kissed her hard, and Serena cupped his dick through his underwear. He groaned against her mouth, then shifted his hips so he could rub more closely against her palm.
"Nope," she said, yanking her hand away. "That's not what I said. Now I guess I'll have to tie you down."
Alex's expression told her everything she wanted to know—how curious he was, how aroused he felt, and how surprised he was at the way she'd already flipped their roles around. She rubbed the thick wedge of his cock through the fabric again and he lurched in her hand.
"Jesus, I want you," he moaned.
"Soon. Here's what I want you to do, Alex." She leaned up to his ear, her heart racing as she ordered him around. This was so different, so much fun—never mind exciting, since her panties were already drenched with the images of what she had planned. "You're going to take off your underwear and close your eyes. I'm going to blindfold you and take you to the bedroom. Are you okay with this so far?"
Alex was good about asking her if she was all right with each stage of their bondage games, and she wanted him just as comfortable. So when he nodded and closed his eyes, she grabbed the blindfold she'd left on the coffee table and returned to find him rock hard. Serena gave a quiet gasp at the sight—Alex naked was always a treat, and here he was: submissive, eyes closed, and ready for her to play with—but she shook it off. She would have her way with him soon enough.
"Good boy," she said, reaching up to blindfold him. She made sure to accidentally rub her hips against his crotch as she tied the fabric over his face, which sent the heat right between her legs. Serena reminded herself that as much as she wanted to bend over and have him fuck her right here in the living room, she had to carry out her plan. It was her one chance.
She took his wrists. "Follow me."
"Yes ma'am." Alex let her guide him around the corner and down the hall, and Serena enjoyed the rush of control. They got all the way to the bedroom where she made him stand in the middle of the carpet, then she wrapped the cuffs around his ankles and wrists, snugging the buckles against his skin.
"How are you?" she asked. She grinned at her boyfriend wearing nothing but cuffs. She'd been like this for him so many times, but this reversal was giving her chills.
"I'm good so far," he said, shaking his wrists about. He reached out for her but she dodged.
"Alex! Stand still," she said. When he pouted, she gave his thigh a smack.
"Tease," he muttered.
"Shh," she snapped. "Hold still."
Quickly, she grabbed each of the four carabiners and locked him into place.
***