Out now from Stupid Fish Productions
"The Lucky One" is part of Rose Caraway's psychologically thrilling erotic horror anthology, Libidinous Zombie!
Read on for an excerpt…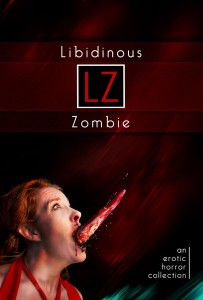 This book is erotic. This book is horrifying. This book is cunning.
This book is edgy, seductive, violent, fiendish, indecent, and unfair.
This collection is a work of fiction. Consider yourself trigger warned.
Read an excerpt of "The Lucky One":
I swiped at a bead of sweat rolling down my cheek, surprised that what should have been such a ridiculou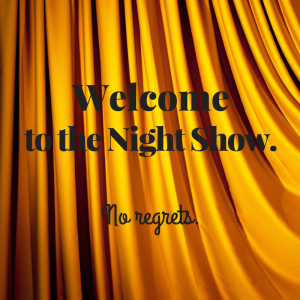 s act was so clearly turning me on. But then, nothing in this show had been what it seemed—it kept swinging from one extreme to another so fast, like that moment when the rollercoaster's about to drop—a blend of excitement andshit, get me off this ride.
The music's tempo changed again, and the dancers cruised off the stage, each of them picking an audience member to dance with. The buxom woman headed straight for Rusty. I'd never seen him beam so bright. He shot me a delirious grin once she drew him up from his chair, and as I cheered in encouragement, she led him onto the stage. I couldn't stop giggling as she laid him down and crawled all over him, sniffing at his neck, his chest, and his crotch like the wolf woman she was supposed to be. The whole audience was hollering and cheering, and clothes actually started coming off—not just with the dancers and their respective partners, but from random people in the audience. It was like the heat in the tent had made everyone crazy, or maybe it was the scent of the mist raining down on us.
I glanced up, curious, but a hand slipped under my chin.
"Hi there," Sergi said. His warm fingers and husky voice sent a pulse up my spine. I swallowed hard, because this close, I smelled on him what I'd noted earlier, but stronger. It was the scent of man, of sex.
Of desire.
I was fangirling. Hard.
"What's your name?" he said.
"Claudia," I whispered. Sergi straddled my knees, and the rollercoaster began again, trapping me between arousal and shock. The most delicious smile crossed his lips as he dragged his fingertips over his hips, then trailed them to the button of his leather pants and snapped them open.
I heard a groan from the stage and looked past Sergi's pelvis, spotting Rusty fully naked with the woman grinding all over him. Sergi steered my gaze back to him with the grasp he still had on my chin, and then he bent down so his face lined up with mine. "I wouldn't worry about him, Claudia." I tried to breathe, and he continued. "You're a pretty little thing, aren't you?"
He slid his hand into my hair, tugging it slightly, bringing a moan to my lips. When I cocked my head he flashed his smile again, and all I knew right then was him.
I've told you, I wish I could explain all this better. The way, out of nowhere, his body made me ache, or how the look in his eyes grabbed ahold of me, yanking something up from inside. Sergi leaned closer, tipping his lips toward mine, and my heart thumped in my chest.
"May I kiss you, Claudia?" he asked.
That voice filled my head, swimming in my thoughts, consuming every logical answer and leaving me with the one I muttered then.
"Yes."
Sergi ran his fingers down my neck and pressed his mouth to mine. Our kiss was deep and so hot, our lips parting wide as our tongues tangled. I gasped when he slipped his hand down and cupped my breast, but when he lifted me out of my chair I fell into him, feeling the steel of his chest, and the hardness of his cock through his pants. He scooped me into his arms and I didn't even protest, letting him carry me onto the stage not ten feet from Rusty and the other dancer, where they fucked hard and loud. It was strange to see Rusty like that, but my nipples tightened at the view, at the sounds, before Sergi laid me down and kissed me again. His hands ripped open my shirt. I touched his face as he gazed into my eyes, and tingles shot through my arms and legs.
I wanted him like I'd never wanted anyone in my life.
"This isn't a strip show," I murmured.
Sergi slid his hands between my thighs. He strummed me through the fabric, his words hot against my face.
"This isn't a strip show, no. Much, much better."
***
Order your copy on Amazon!