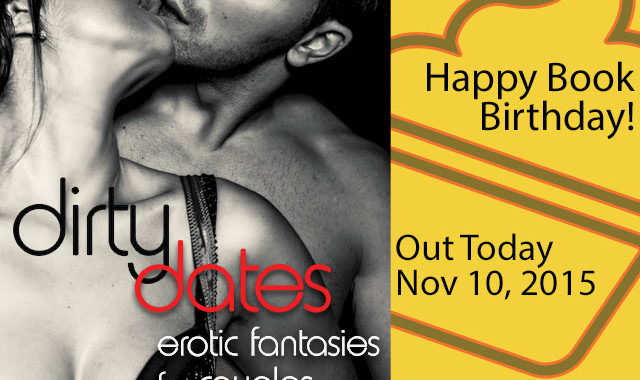 For most of my life, I've been one for the experience. Be it riding terrifying rollercoasters, practicing aerial acrobatics, going bungee jumping, working Renaissance Faire, or even just having sex in the snow on the side of a ski run, I love finding all sorts of adventures and giving them a whirl. Rose Caraway pretty much nailed it after interviewing me over at the KMQ's a few months back: I'm the type of gal who loves to try most everything—because it seems to me that if you've never tried it, you never really know what you like.
That's why I'm slightly blushing to tell you about "The Swap," out now in Rachel Kramer Bussel's Dirty Dates: Erotic Fantasies for Couples. Today is the book's official release day—and also Ms. Bussel's birthday—so to celebrate both, I'm sharing some backstory…and "The Swap" happens to have an adventurous, real life backstory. The piece is an older one the wonderful Ms. Bussel picked for the anthology, and while I can say wholeheartedly that this tale is a work of fiction, it's also one of the more reality based stories I've ever released into the world.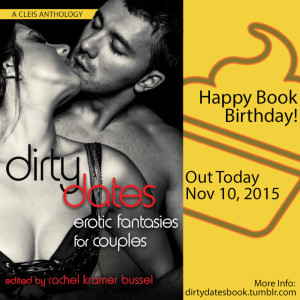 So let's start with the story itself…"The Swap" is about a young woman named Serena, whose boyfriend Alex almost always plays the dom when they're together. But for kicks, Serena's requested that her boyfriend let her try putting him in the submissive role for a change—and once he says yes, she takes her adventure quite seriously. Serena goes all out in preparation for this event, because she wants to fully appreciate not only the part she's playing, but everything it entails—which for her involves a specific dress, a vibrator, cuffs, eyelet screws, carabiners, a hell of a lot of chain, and a few holes drilled into the walls. And let's just say, the two of them end up having a very good time with her ingenuity.
All right, so now you're probably wondering—what's the real life adventure behind this?
Here's a hint: a scene involving five of the six items on Serena's shopping list. 😉
I reiterate, this story is a work of fiction. My experience played out much, much differently than Serena and Alex's (which is to say it didn't really get off the ground), and unfortunately, it also didn't turn out so well (not all people are as open to adventure as me, okay?). Nonetheless, some fifteen or so years later, I still keenly remember the fun in planning it out, including taking measurements of my room and roaming the aisles of the hardware shop for everything I could possibly need. So when I sat down to write "The Swap," I wanted to twist the events for a couple who thrived on the same philosophy I have: try everything at least once, or you'll never really know whether you like it.
Turns out, Serena and Alex really liked it.
Okay—time for an excerpt!
From "The Swap":
"Glad you're home, honey," she said.
Alex set his bag on their drop table and gave her a quick look over. She was still in her own work clothes, and he pinched his eyebrows together in confusion. "I half expected you to be in some sort of getup when I got here," he said.
"Oh, I'm not done." She walked over to him. As usual, he wrapped his arms around her for a big kiss. And, also as usual, the way he twirled his tongue with hers sent tingles across her arms and made her instantly eager to strip down and comply with his every whim.
But not as usual, Serena squeezed his hip and pulled away.
"Assuming you're still okay with the plan," she said, winking, "I would suggest you take off your clothes."
Alex chuckled. "Here?"
"Yes, here," she said. She never giggled at Alex's requests—at least, not since they'd grown more serious about this whole kinky bondage game they loved to play—and she expected the same right back. "My turn. My rules." She bit her lip, enjoying the harsh tone she used to command him and the way he started the tiniest amount as she did it. "Now," she snapped.
Alex unbuttoned his shirt. When he tugged it from his chest and dropped his trousers to the floor, Serena nodded in approval. The bulge in his boxer briefs told her he liked the game, so she stepped close enough for her chest to almost touch his and tilted her lips up toward his face.
"If you kiss me, I'll touch you," she said. It was one of his famous lines, and she delivered it with the same punch of temptation he did when he had her bound and whimpering beneath him.
Alex kissed her hard, and Serena cupped his dick through his underwear. He groaned against her mouth, then shifted his hips so he could rub more closely against her palm.
"Nope," she said, yanking her hand away. "That's not what I said. Now I guess I'll have to tie you down."
Alex's expression told her everything she wanted to know—how curious he was, how aroused he felt, and how surprised he was at the way she'd already flipped their roles around. She rubbed the thick wedge of his cock through the fabric again and he lurched in her hand.
"Jesus, I want you," he moaned.
"Soon. Here's what I want you to do, Alex." She leaned up to his ear, her heart racing as she ordered him around. This was so different, so much fun—never mind exciting, since her panties were already drenched with the images of what she had planned. "You're going to take off your underwear and close your eyes. I'm going to blindfold you and take you to the bedroom. Are you okay with this so far?"
Alex was good about asking her if she was all right with each stage of their bondage games, and she wanted him just as comfortable. So when he nodded and closed his eyes, she grabbed the blindfold she'd left on the coffee table and returned to find him rock hard. Serena gave a quiet gasp at the sight—Alex naked was always a treat, and here he was: submissive, eyes closed, and ready for her to play with—but she shook it off. She would have her way with him soon enough.
"Good boy," she said, reaching up to blindfold him. She made sure to accidentally rub her hips against his crotch as she tied the fabric over his face, which sent the heat right between her legs. Serena reminded herself that as much as she wanted to bend over and have him fuck her right here in the living room, she had to carry out her plan. It was her one chance.
She took his wrists. "Follow me."
"Yes ma'am." Alex let her guide him around the corner and down the hall, and Serena enjoyed the rush of control. They got all the way to the bedroom where she made him stand in the middle of the carpet, then she wrapped the cuffs around his ankles and wrists, snugging the buckles against his skin.
"How are you?" she asked. She grinned at her boyfriend wearing nothing but cuffs. She'd been like this for him so many times, but this reversal was giving her chills.
"I'm good so far," he said, shaking his wrists about. He reached out for her but she dodged.
"Alex! Stand still," she said. When he pouted, she gave his thigh a smack.
"Tease," he muttered.
"Shh," she snapped. "Hold still."
Quickly, she grabbed each of the four carabiners and locked him into place.
***
And…you will find the rest of this adventure tucked neatly into Dirty Dates!
I am so thrilled to be included in another of Rachel Kramer Bussel's anthologies, and honored to be in great company with a roster of amazing contributors. This is sure to be a delectable anthology full of hot erotic fantasies, so please pick up your copy on Amazon today!
Happy reading—and may your adventures be aplenty! 🙂
XX,
Jade