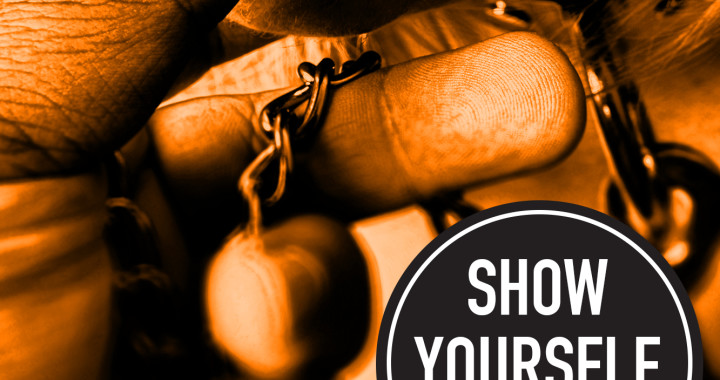 Hi everyone! I'm thrilled to welcome Xan West today, a writer who has long impressed me as one willing to take risks and walk the edge. Xan's fiction is always transgressive and bold, and, having had the opportunity to listen to a live reading, I can tell you Xan's words will make you sit up in your seat.
Xan's Show Yourself to Me is now out from Go Deeper Press—and I'm honored to be part of the blog tour for this collection. Xan is a writer who empowers with words and emotions that stand out in our genre, and this anthology is full of queer kink that explores power dynamics, consent, play, and community. The tour has been going on for a bit, so please be sure to check out the entire lineup of stops here, as well as Xan's thoughtful, informative postings at Kink Praxis.
For now, I'm going to turn the floor over to Xan to share not only an intense excerpt, but a musing on a kink involving one of my favorite things: boots.
Take it away, Xan!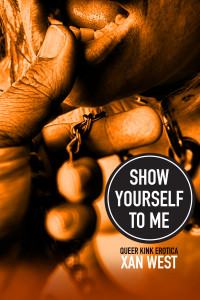 For the Love of Boots
By Xan West
Boots are one of my core kinks, and have been since the beginning. Boots are one of those kinks that can be really baffling to people, and bootlicking in particular is one of those things that lots of folks find deeply distasteful. One of my early online screen names was "bootlicker", and it consistently garnered me both puzzled and squicked reactions.
From the outside it can get immediately read as being about humiliation, and sometimes it is. But there are so many other flavors of bootlicking. It can be about worship, or sex, or begging, or love, or service, or fetish, or submission, or dedication, or stubborn will, or gender, or getting the best shine possible. Like most kink acts, what you bring to it is really where the juice is.
When I write boots into my stories, I attempt to illuminate boot play in its specificity, to give the reader a clear sense of why this character is doing it and what it means to them. In the story "My Will," a dominant chooses to kneel for the first time in fifteen years. He gave up submission after an abusive D/s relationship, and moved to the other side of the whip. He is drawn to submit to a man he trusts, who has offered a scene for his birthday, and rationalizes that it's not a forever choice, more like a vacation.
I'm going to share an excerpt with you, that shows what boots mean to him in this particular scene. As a heads up, this excerpt includes D/s, boot care, boot worship, cock torture, rough body play, face fucking, consensual non-consent, and humiliation play.
An Excerpt from "My Will"
When I knelt to do his boots, it was like coming home. I savored every second of it, taking my time brushing on the saddle soap, carefully cleaning every inch of them. I had not even done my own boots in many years, much less anyone else's. It was too dangerous, I had found: I got too trancey and submissive. I could let that happen in this space and time. I could let myself go there with this man I trusted immensely.
Flaming the polish was a delight. Bootblacking is such a sensual experience, and I wanted to take my time with it, relish every aspect. The scent of the polish, the dancing flames, the warmth of it on my fingers. The ritual was sacred, I knew that, each step vital to the whole. I applied two full coats of polish, shining it vigorously with the brush, pulling off my A-line shirt, ripping it in front of him, and using a piece of it to buff his boot. I lifted my gaze to meet his and asked permission. He stroked my cheek gently as he answered, and I closed my eyes so I might feel every millimeter of his hand on my skin.
I lick boots the old fashioned way: belly on the floor, as low as I can be. As I placed myself on the floor at his feet, I shivered. It felt so good to be here, to be worshipping the boots of this man I deeply respected. I was in his care, and he would be careful with me—I knew that. When I touched my lips reverently to his boot, I felt so full I could burst. This was exactly where I wanted to be. Tears fell onto the leather, and his boots soaked in their due. I could taste salt with the polish as I licked, pressing hard with my tongue, wanting him to feel it.
I had made myself forget what this tasted like, felt like. I concentrated hard on all of it, imprinting the memory of this lest it be the only time I would do it. His other boot came to rest on the back of my neck, and he used it to press my mouth down hard, groaning. He held me there for a good long time, his hand reaching down to stroke my hair, his bootheel digging into my shoulder. I didn't want it to end. Then he lifted his boot from my neck and pulled my head up, telling me not to forget that the other boot needed care, too.
As I cleaned and polished, his hand stayed on my neck, calmly stroking. At some point, his boot snaked between my thighs and dug into my cock. I held my breath, gritted my teeth, and did my damnedest to remain focused on polishing his boot, to give it just as much care as I had given its brother. It was hard. The heel digging into my cock felt amazingly delicious, flawlessly excruciating. It took all I had to finish, and I could not be quiet while doing it. Growling moans kept fighting their way past my lips.
I lay on the ground again, pressing my lips into his boot, and felt him resting the sole of the other one on my back, pressing it into my skin, my naked belly on the dirty floor. It was heaven, and I began to tremble. So much, so intense, so exactly what I had been yearning for.
He pulled me up to my knees, suddenly, by the hair, tugged out his cock, and thrust it down my throat. It was amazing. I went from fifteen years of nothing to a glorious cock deep in my throat. I was gagging on it, tears seeping from my eyes, aching for him to use my mouth in exactly the way he needed. His hands gripped the back of my neck, and he rammed his dick as deep as it could go, relentlessly, selfishly, purely focused on his own need, growling, until he came, forcing me to swallow it, holding my mouth on his cock as he thrust repeatedly, until every drop was gone.
He released my neck, and his boot pushed me into the floor until I had my head pressed down onto it, his boot kicking my ass, ramming between my legs, stomping my thighs. It was brutal and intense and completely unexpected. I began to shiver, to scream no, and all he said was that no was not a safe word, and I better take it for him. His boots flattened me, kept me in the place I desperately ached to be, the place I feared with all of my heart.
He showed me exactly how much I wanted to be under his boot, how much I loved it. He made me say it to him, tell him I loved being under his boot, repeatedly, as he kicked me, dug the heels into me, hurt me with his boots. When I finally said it the way he wanted to hear it, he rewarded me by forcing my mouth onto the filthy floor. He made me lick it, to show him how much I appreciated his attention, his dominion, his boots showing me exactly where I belonged and what I loved.
I sobbed as I licked that dirty cold floor, the taste bitter and perfect, and he groaned, telling me my tears turned him on, that the sight of me under his boots was making him hard again, that if I did a good job he just might fuck me. Soon, I was licking salty wetness along with the grime on the ground, and I knew that I wanted to please him more than anything in the world. He was good enough to see inside me and give me exactly what I desperately ached for, and all I wanted to do was bring him a small portion of ease or pleasure.
He lifted my head and inspected the section I had been cleaning with my tongue, saying gruffly that I had done a good job on the floor, and on his boots, and that he thought I had the makings of a good boy in me. The universe stopped for a moment. All I could hear was those words of praise, and they slithered their way inside a shriveled place in my chest and watered it, just a little.
***
About the Book:
In Show Yourself to Me: Queer Kink Erotica, Xan West introduces us to pretty boys and nervous boys, vulnerable tops and dominant sadists, good girls and fierce girls and scared little girls, mean Daddies and loving Daddies and Daddies that are terrifying in delicious ways.
Submissive queers go to alleys to suck cock, get bent over the bathroom sink by a handsome stranger, choose to face their fears, have their Daddy orchestrate a gang bang in the park, and get their dream gender-play scene—tied to a sling in an accessible dungeon.
Dominants find hope and take risks, fall hard and push edges, get fucked and devour the fear and tears that their sadist hearts desire.
Within these 24 stories, you will meet queers who build community together, who are careful about how they play with power, who care deeply about consent. You will meet trans and genderqueer folks who are hot for each other, who mentor each other, who do the kind of gender play that is only possible with other trans and genderqueer folks.
This is Show Yourself to Me. Get ready for a very wild ride.
Find Show Yourself to Me at…
***
Please be sure to check out Xan's next stop at Ashley Young's site tomorrow. And, don't forget to pick up your copy of Show Yourself to Me today!
XX,
Jade
About Xan: 
Xan West is the nom de plume of Corey Alexander, a recent transplant to Oakland from Brooklyn, who has been doing community kink education for over ten years. Xan has been published in over 35 erotica anthologies, including the Best S/M Erotica series, the Best Gay Erotica series, and the Best Lesbian Erotica series. Xan's story "First Time Since," won honorable mention for the 2008 National Leather Association John Preston Short Fiction Award. Xan's work has been described by reviewers as "offering the erotica equivalent of happy ever after" and as "some of the best transgressive erotic fiction to come along in recent years."
Xan refuses pronouns, twists barbed wire together with yearning, and tilts pain in many directions to catch the light. Xan adores vulnerable tops; strong, supportive bottoms; red meat; long winding conversations about power, privilege, and community; showtunes; and cool, dark, quiet rooms with comfortable beds. Find Xan's thoughts about the praxis of sex, kink, queerness, power, and writing at xanwest.wordpress.com.