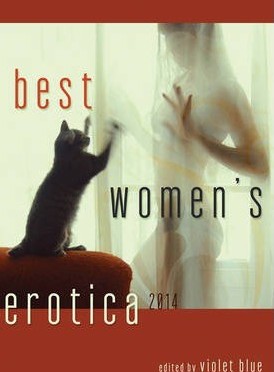 It's official! Best Women's Erotica 2014 is now out everywhere in both paperback and digital formats. I am incredibly honored to be part of this Cleis Press anthology edited by Violet Blue!
What better way to celebrate than by sharing the excerpt I've been teasing you with for weeks? 😉 Hope you enjoy it!
XX,
Jade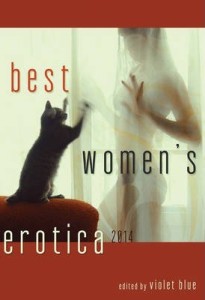 Excerpt of "Toys":
Jennifer thought her toy collection was a little excessive, but she couldn't help herself.
She'd amassed a bounty of equipment: dildos, vibrators, cuffs, whips, plugs, beads, and various other oddities—like the specialty pair of vibrating electric nipple clamps she'd stumbled upon on her last vacation out of the country—and all of them had added to her secretly adored stash. The dildos came in numerous shapes and sizes, ranging from the foot long Black Rock to the tiny purple Tipper. And the vibrators—well, Jennifer took great pride in those, each of them appropriate in different scenarios, depending on the strength of the vibe she needed.
Originally, her stash fit under some panties in a special closet drawer. Soon, though, it grew, because it seemed the longer she'd been away from sex, the hungrier she got for more toys. Buying them kept her warm and aching for more, and her collection now filled a small moving box in the back of her closet.
A four by four foot one, to be precise.
So, when Daniel rolled off Jennifer after their twelfth fuck—and she, again, hadn't come—she cast a frustrated glance at her closet while she worried that maybe she'd ruined herself with the toys.
"Did you?" Daniel panted, resting one hand on her stomach and the other on his withered shaft. He peered at her with a hopeful grin, and Jennifer felt a new burn of color washing aside the flush she'd earned from hours of fucking her new boyfriend.
"Well," she said, "not exactly."
"Damn." Daniel wedged himself against her. He was everything she sought in a bed buddy: his scent was pleasant, his eyes were warm, and his swimmer's body made her panties wet the second she'd noticed the hip bones showing over his trunks. He was so delightful she mentally kicked herself for the hours of howling orgasms she couldn't seem to have.
"Yeah. Kind of weird," she muttered. Jennifer pressed her lips on his—damn, he could kiss—but her body throbbed with hornier aspirations.
"Tell me what to do." Daniel slipped his arm beneath her so he could wrap her in a hug, then grazed her neck with his lips. "I want you to be having as much fun as I am—"
"Oh, I'm having fun. I'm just not…there."
She wanted to scream.
"Well, let's get you there." Daniel squeezed her tighter. "I really like you, Jennifer. I'm officially denying myself any more orgasms until you have one."
*
Best Women's Erotica 2014 is available at: