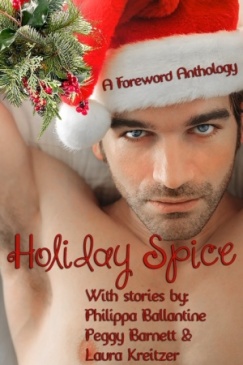 Hurray!
Just in time for you to kick your Christmas shopping in gear, I'm delighted to share that Holiday Spice, from Foreword Literary's imprint, Fast Foreword, is now out and available on Amazon right here!
What's more, Fast Foreword is offering you a very sexy Christmas deal—the entire anthology is only 99 cents if you buy it in November! That's right, less than one buck for this delicious holiday romance anthology with a scorching hot heat level. And since it's about to get cold outside, it's the perfect time to grab a collection of Christmas naughtiness to share with your special someone for extra holiday warmth. *Wink wink.* *Nudge nudge.*
The anthology will be up at other e-retailers in the near future, but you'll want to act quickly as the price goes up to $2.99 in December. I'd call that a sweet deal for you early bird shoppers. 😉
Holiday Spice includes stories by such authors as Philippa Ballantine, Peggy Barnett, and Laura Kreitzer, and—I'm excited to say—little ole me! The excerpt for "Office Santa" is below, and if you'd like to check out a full list of authors in the book you can do so right here. You can also add it to your Goodreads list here.
I already got my copy, and I can tell you this book is decked with holiday goodness. I hope you'll enjoy it, too.
Happy almost holidays, everyone!
XX,
Jade
Excerpt from "Office Santa":
Me and Office Santa—we go way back.
See, after seven years of organizing our annual holiday party, I've learned I have a real affinity for a gentleman in a Santa costume—which is saying a lot, since I love a man in a suit and tie, and the male partners around here look so delicious in their business wear it's a miracle we don't have a major sexual harassment problem. But Christ, put one of them in a fuzzy red suit with a squishy belly, a big black belt, matching boots, and that goddamn aphrodisiac of a hat, and I lose all semblance of self-control.
Part of the appeal is the man who dons the suit, of course. Last year, for example, it was David. He's one of the busiest partners, so watching him slow down to have a glass of wine with the rest of us—appreciating the season and wearing that fantastic red costume—actually made him approachable. I mean, he was always that way with me, but no one ever saw that. Ours was an affair composed of exactly three entanglements: the first on the break room table after the rest of the company had gone home, the second when I picked him up from the airport after a conference since the driver I'd arranged had neglected to show, and the third the time I took him home from the holiday party. He'd spent the night tumbling around my apartment—he was a little awkward with the suit dangling around his thighs because I wouldn't let him take it off. In return, I kept the sexy Mrs. Claus dress on and let him rip a hole in the crotch of my fishnets so he could get his hands on me. There's something to be said for a man wearing a Santa hat while under your skirt, shoving his tongue way up inside until you come to visions of sugarplums and all that, so it was a win-win for us both…
***
Don't forget to grab your copy of Holiday Spice before the deal ends!