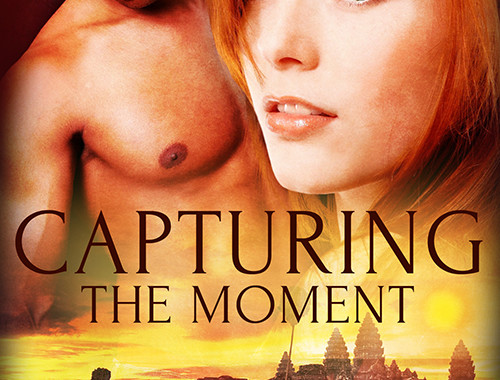 Hi everyone! I'm delighted to be hosting the lovely Delilah Night today, whose newest novella, Capturing the Moment, is now available with Totally Bound. And, I'm honored not only to be featuring an excerpt of Delilah's words—but to be hosting a contest. That's right…I said contest!
Before it's time to play, please read on to find out some of Delilah's inspiration involving the merging of music and story. It's good stuff!
Take it away, Delilah!
The Marriage of Music and Story
Thank you for the opportunity, Jade. I've really enjoyed getting to know you over the past year, and I'm eagerly awaiting your novel! I hope you and your readers enjoy this look at the making of my novella, Capturing the Moment. Please stick around for the giveaway!
***
Music was one of my earliest loves. I remember the excitement of buying Madonna's True Blue on cassette at the age of seven in 1986. I'd sing True Blue, Where's the Party, La Isla Bonita and the rest as I swung back and forth on the swings in my local park. Thirty years later, I still know all the words to every song on that tape.
I joined my school's chorus in sixth grade, and despite switching schools a number of times, music was the constant in my life. When I started a new school, my first (sometimes only) friends were ones I made in chorus, band, show choir, acapella chorus, or pep band.
Music is such a constant that I almost always write with my earbuds in. Sometimes I have specialized playlists for stories, but for the most part, I shuffle through music from every genre.
Capturing the Moment began with a moment—Meg turning to see that RJ has showed up, unwanted, at the ancient temple of Angkor Wat in Cambodia, and anger flooding her body. Why? What was their history?
I was fumbling my way through variations on the opening chapters of the story when the song Teardrops on My Guitar by Taylor Swift began to play.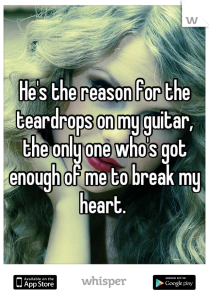 That lyric unlocked the story for me.
The story became so much easier to write after that (at least the first draft). I wrote the story of what happens after that moment in Cambodia. As I did, I also wrote the story of what had happened in the years before. I learned that Meg and RJ had been engaged, but that the engagement had been called off, and realized that they'd have to deal with their past if they were to have a chance at a future. However, my realization didn't mean that my characters wanted to deal with their past.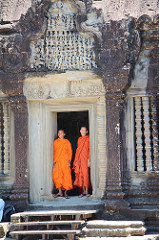 Exclusive Excerpt
(Context—RJ has asked Meg to spend the day with him. She's always been susceptible to his dimples.)
Meg took several deep breaths. "Ground rules."
"Do tell."
"Rule Number One is no sex."
He smirked. "You're awfully obsessed by the idea of having sex with me, Megan."
Her clit swelled in response.
You have no idea.
"No sex," she repeated.
"I'll cry manly tears into my pillow tonight, but fine. No sex." He held up his hands in a gesture of surrender. They were big, beautiful hands graced with dexterous fingers. Twelve years of piano lessons had given RJ magic hands. Meg remembered, vividly, what they felt like on her body.
"Secondly, I don't want to talk about the break-up. This is about not ruining my one day in Siem Reap. Not 'Let's talk about our feelings.'"
"At least let me apolo—"
She turned to walk away, but he grabbed her arm.
"You win. I won't bring it up," he said, obviously frustrated.
"Third, you carry everything. I might as well get a free pack mule out of this."
"Sure." He picked up her equipment and she could read the relief on his face.
"Finally, Rule Number Four is that we follow my agenda. No hijacking my game plan."
"I've been here a few days already. I can indulge you"—his eyes took a long, lingering inventory of her body—"in any manner you see fit."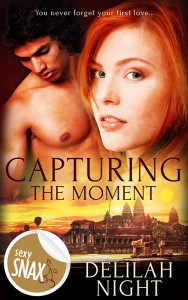 You never forget your first love…
Meg and RJ were passionately in love. But that was six years and a broken engagement ago.
Meg has only one day in Siem Reap, Cambodia, before she must leave for her sister's wedding in Bali. She fulfills her dream of taking a photograph of the sun rising behind Angkor Wat, one of the oldest temples in the world. But her joy is short-lived when she turns around to see RJ standing behind her.
RJ threw himself into work after Meg ended their relationship. He's built a successful business, but it's a hollow victory. He's come to Siem Reap to win back the woman he's never stopped loving. But first he has to convince her to spend the day with him.
Meg is as physically attracted to RJ as she ever was. Maybe the secret to finally getting over him is a one day only, no strings attached fling.
Can RJ win Meg back, or will she love him and leave him?
Capturing the Moment is now on sale exclusively at Totally Bound through April 26
Also available for Pre-Order at:
About Delilah Night…
After 30 years of snowy New England winters, Delilah Night moved to steamy southeast Asia. While she doesn't miss shovelling snow, she does miss shopping for bargains at Target.
In 2014, Delilah visited Cambodia for the first time and fell in love with Siem Reap. Many of her misadventures from that vacation (including the one with the monkey) made their way into this story.
Connect with Delilah on her blog (delilahnight.com), Twitter, or Facebook.
Contest—Win a free copy of Capturing the Moment!
What song has spoken to you when writing a story? Leave a comment and I'll pick a winner at random on Wednesday, April 13, 2016. Don't forget to leave your email so I can contact you.