Edited by Rose Caraway
"73A" is included in this new anthology, available in print, audio, and ebook form!
Read on for an excerpt…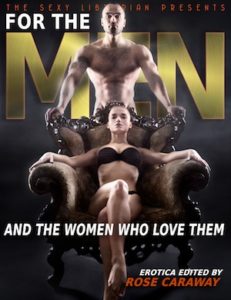 Rose Caraway presents an anthology intended for the fellas and the women who have an appetite for bold, adventurous erotic storytelling. Escape into the fantastic, the outlandish, and the literary. Get ready for a space pirate, a cowgirl, an anxious odd man out, an undercover agent, lonely ghosts, a taxi driver with an unexpected topsy-turvy fare, a burly biker who just wants to be cuddled, a bride-to-be with one last oat to sow, a mysterious hitchhiker, strangers and a spontaneous three-way, and a reluctant hitman. You will find these and many more audacious characters playing out intense encounters.
Read an excerpt of "73A":
You're working on my fence right now, and all I can think about is sucking your cock.
It's a startling urge, seeing as how I've known you as long as you've been working on my patio fence—two days, plus the last three hours you've been squatting and bending, rolling that brush over the slats as deliberately as I want you to spread your hands over my body—but once you turn and smile at me through the glass door, it's settled.
I check out your buddies, confirming both of them are hard at work, huffing and grunting on the far end of the enclosure. You gave one of them grief yesterday for not making enough love to his wife. Your logic was sound, and exactly the reason I called in sick today.
Well, it's only half the reason. The rest is that I've realized watching you and thinking all these thoughts has left a wet spot on my couch.
I get up to change and you notice. You pause midway through your roller stroke, a coat of white over the top of the slat but a dejected shade of primer on the bottom. You peer through the glass like you're probably not supposed to do on the job, but I don't mind. Your eyebrows weave together, curious, so I dip my shoulder and wave with only my fingers. Once out of view I strip off my clothes, swapping my bra for one with little coverage and extra lace, then I cover it with a half-buttoned blouse. My damp yoga pants are replaced with a short skirt, and I decide panties are useless before heading back to my seat on the couch.
The wet spot there is somehow exhilarating, and I add to it a pussy already drenched in longing for what you might do if I invite you in.
You've gotten distracted by the other two men in my absence, but I'm ready now. I slide my legs apart a few inches, providing you a clear view should you turn around and pay attention again. I lower my hand, caressing the short fuzz that covers my outer folds before circling my clit with my fingertips.
You laugh at your partners, then check on me. The smile you had when you turned falters—not in any sort of frown, but in a definite state of confusion. This makes me excited, and I nudge my legs farther apart so you can watch.
You're caught; you look back at them to check if they can see this, but the boys are preoccupied. Immediately, your eyes are on me. I sink into the couch, guiding my fingers over the pool of wetness between my thighs. I'm breathing heavy already, exhaling ragged sighs that I want you to amplify with your touch, but you can't hear me with the door closed. You can only watch as I flick my index finger over my clit a few times, ratcheting the quivering of my pussy up to a tremendous ache. With my other hand, I slip inside, fucking myself with one finger as I imagine what you'd feel like plunging into me…
***