Edited by Rachel Kramer Bussel
I am so excited to have "The Flogger" included in this delicious new anthology from Cleis Press. Read on for an excerpt!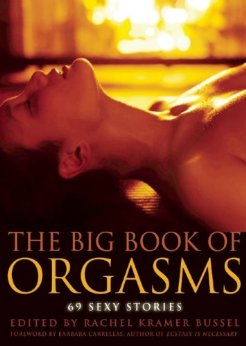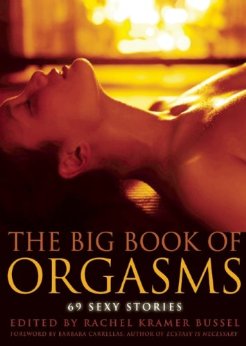 What happens when you bring together 69 authors sharing their hottest orgasm stories? If you have top notch erotica editor Rachel Kramer Bussel, you get The Big Book of Orgasms! This climactic collection captures top erotica writers serving up steamy scenarios all focused on The Big O. Whether getting off from exhibitionism, voyeurism, or a very special pair of blue jeans, the characters in The Big Book of Orgasms explore all sorts of ways they can come. Go "Under the Table" with Elizabeth Coldwell and cheer for "The Pink Team" by Kelly Rand. Discover the thrill of hot wax and even hotter sex; these short stories bring the heat on every page! With a foreword by Ecstasy is Necessary author Barbara Carrellas, these are climaxes you'll want to relive again and again.
Read an excerpt of "The Flogger":
Katie had bought the damn flogger thirteen years ago, in the final throes of a souring relationship. She'd thought she'd have plenty of opportunities to use the suede leather contraption. Instead, the thing had ended up in the closet, only used as a dust collector.
Then she met Julian. He was as proper as they came. His suit jackets were always pressed and his ties neatly tucked; he got his hair cut every three weeks; he meticulously folded his papers after he read them. Brilliant, handsome and patient, he never faulted her for her ways. Instead he picked up after her and the chaos that was her collection of art supplies, her endless piles of clothes and even her oft-wild hair—which is why she froze when she found him standing in their living room, holding the flogger perpendicular to his hips, as if measuring it against his semi-erect, naked penis.
"You never told me about this." Julian waved the flogger around, and it almost looked as if his shaft hardened.
She had to be imagining this.
"I did…once." It was five years ago, when they'd just started telling each other their fantasies—long before they'd moved in together. She'd hidden it in the back of the closet since she'd never imagined it as Julian's sort of thing.
His brow furrowed as he swung it, the tassels tapping his thighs.
"Hmm," he said, reasoning. "Well, I suppose you should come here. And take off your clothes."
***
You can read the scintillating Introduction and find out more

here

.