I have never been all that quiet about the origin of my stories. Many of them are purely fictional, or fantasies I've dreamed up, conscious or not—but a few are retellings of true events, actual encounters I've twisted to be better, or on occasion, semi-fictionalized redos of things I've been lucky enough to enjoy in real life.
Today, I'm delighted to tell you that Bondage Bites is officially out—it's a new title edited by the amazing Alison Tyler, and published by Cleis Press. To say I am over the moon to be in an Alison Tyler collection is a massive understatement…but to get to say I have three short shorts in this anthology—all connected to my personal life—basically has me giggling. Er, grinning. No, blushing.
Okay, maybe a combination of all three!
So, to celebrate the release of this hot anthology of super short stories, I will give you some dirt—that is, I'll share a snippet of all three stories, each with a taste of the reality that inspired them.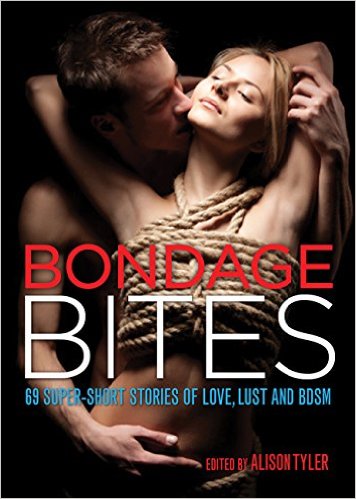 Here we go!
First, with the tamest personal connection of the three tales:
"The Gate"
A few years ago, I went on vacation to Italy. I traveled throughout the country, but I got particularly caught up during my stay in Tuscany, where I had a rental car to check out everything in the area I could. (This song came out during my stay, and it become my driving theme, if you're curious.) One night, while dining at this incredible family owned place in Poggibonsi, I spotted a rather magnificent storefront gate in an alleyway that got my gears turning. The waiter commented at one point that I had a nice blush on my face, and—based on the scene running through my head—I can't say I was all that surprised. So, after finishing dinner and taking a beautiful stroll under the moonlight, I went back to my villa and wrote out a snippet of the entire fantasy I'd envisioned and then sent it to my lover back home.
Once the vacation ended, I decided that wasn't enough. I needed to turn the whole thing into a full story, which soon became "The Gate"…
When you gestured back at the gate, I understood why you'd brought your backpack to dinner. The flush that spread through me couldn't be from the wine—not after only two sips—and I wanted to rush to feel the surprise you had in store. Still, I knew the longer we took, the quieter the alley would be.
We took forever, too. No one seemed to mind the leisurely American couple, or the way we didn't speak, just stared at one another with half-grins while you stroked my hand. When we finished, we wandered around the cobblestone center hand-in-hand. It wasn't until past one that you led me back to the gate.
"I haven't seen anyone for almost an hour. Are you ready, Mara?"
I nodded. My role now was to remain still, which is what I did as you removed the cuffs from your bag. I clenched my knees together, feeling a charge clamor up my thighs and straight into my pussy over the thought of being seen, and of what you would do to me once you bound me here.
You grinned under the street lamps as you fastened me to either side of the gate, and once I was secure, your hands roamed around my neck and down my back. Then you kissed me and lifted my skirt, stroking my thighs right there in public. You gripped me, kneaded me, your breath hot on my cheek. You took my gasp as an invitation and slipped your fingertips under my panties, nudging them aside so you could feel how wet I was for you—and moaning when you discovered my short curls soaked through.
I wanted you to touch me deeper, but you liked to string it out. You whispered, "How does it feel to be bound, my love?"
Strangely, I didn't take a picture of that gate—but I have never forgotten how gorgeous it was, or the way it felt to just sit there drinking wine in the pleasant breeze, dreaming up a scene that I later got to flesh out in a full tale.
Okay, next up:
"Safety Shears"
This one has a bit of a funny back story because, well, in truth…
Bondage accidents happen.
Lucky me, I happened to experience one such accident—which had my doctor and I exchanging some seriously hilarious emails for a solid week after it happened. The good news is that all was okay after a little stretch of time, and safety shears found their way into my closet for the next time. *Cough.*
Now, while I feel it's important to remind that fiction is not meant to be an instructional guide, I can't speak highly enough about owning a pair of shears.
And it's from that recommendation that "Safety Shears" was born:
"I think it's okay," she said, clenching a hand, then releasing it. She smiled at him. "You have the safety shears handy, right?"
He nodded, jumping off the bed to show her that he did indeed have them, right there on the nightstand. When he stood upright, the glow from her lamp cast the sexiest of shadows over his abdomen, enhancing the results of all the working out he'd done of late. He was such a pleasure to look at, the most handsome lover Julia had taken in years. And with the eager way he stared at her, he'd proven delightful in more ways than one.
"Of course. I wouldn't want to give you carpal tunnel. Or anything worse. Can you imagine?" Matthew chuckled and crawled between her thighs again, but now he grew serious, quiet. He admired his work. "Dear God, you're beautiful like this."
 Julia had only been cuffed before, but something about Matthew made her want to submit to his every whim. He'd spent the last twenty minutes binding her like a man possessed, stopping every so often to caress her face or brush back her hair. Twice he'd slipped a finger inside her, testing her and moaning at how her pussy flinched around him. "Please, Matthew, fuck me," she'd cried, and he'd hurried back to the business of tying her up. Now he ran his hands over her inner thighs and down to her ankles, fondling the rope that connected them to her wrists. Instead of the traditional hog or frog tie, he'd left her on her back with her legs splayed and her thighs free so he could more easily access her. And he did just that, tracing back from the ties and over her belly, then circling his fingers around her nipples and making her gasp.
"I need you," she whispered.
Ah, safety shears…
Okay, finally, it's time for what may be my most favorite (and definitely the most personal):
"In the Morning"
For this story, I opted to try something I'd never done before—I took an old lust letter I'd sent to a lover and converted it right into a story. 🙂 Not to worry, though! No boyfriends were harmed in the making of this story. I warned the recipient, way back then, that I'd probably end up doing this at some point—and he totally got a kick out of the idea. See, when we dated, we were supremely open to sharing fantasies, and if we weren't speaking them in bed, we were sharing them in emails, via text, or on the phone…. Some of them got acted out, and others didn't, but suffice it to say that "In the Morning" is a tale fully based off a real email I sent during our very memorable affair:
Somehow, he'd shifted my arms behind my back without me ever stirring. Now he patted my wrists in satisfaction with the knots he'd pinned me in, and I felt an immediate rush of warmth between my thighs.
"I told you what I expected in the morning, darling."
Without another word, Gabriel crawled off the bed and stepped behind me. He'd bound me so many times before, and every time, I felt this way—this desperate longing, this hunger for his touch. The heat from my pussy seared up through me, and suddenly I wanted nothing more than to feel him, to lose myself in the way we moved together.
"Come to me," he said.
I squirmed beneath the covers, my arms pinned too closely to my back for me to use them in any useful fashion. I managed to roll to my side and slide off the bed, landing on my knees directly in front of him. Gabriel was naked, his beautiful prick swollen and upright before my face.
"Show me how much you want me, Katharine."
I grinned. Even bound like this, that would be an easy feat—I always wanted him, each second of every day. I wiggled closer, my balance off with my hands bound, and then I took him in my mouth. I swallowed him, licked him, wanting to devour every inch of him, and dear God, he tasted so delicious on my tongue, so tantalizing when I couldn't grab onto him or stroke his length. He jumped and jerked between my lips and I moaned, because I still wanted him so much more…
And there you have it! A small sampling of three stories that are pretty damn connected to my real life. Please pick up a copy of Bondage Bites not only to read these stories in their entirety, but to check out all the fabulously hot bondage short-shorts you'll find within. Alison Tyler is a phenomenal editor, so this collection is, no doubt, going to be a huge hit. You can pick up a copy at Amazon and other retailers today, and I hope you enjoy what you find!
Thank you so much for reading!
XX,
Jade