I have loved skin writing for as long as I can remember.
When I was a young girl, I was the one constantly scolded by teachers and parents for inking up my skin. I'd spend half an hour drawing an elaborate sketch on my thigh beneath my shorts while I learned algebra, or I'd doodle all over my forearm while I gabbed on the phone. There was a combination of factors that appealed to me when I did it—from the glide of the pen over my skin to the unique words, image, or design I'd set out to put there for whomever to see. I liked the look of ink on skin, and the way people told me I wasn't supposed to do it. It was more appealing to me than a tattoo, because I could change it to fit my mood, and scrub it all away for a new blank canvas if I didn't want it to endure. Then, skin writing was just a thing I liked to try; but later, it would turn into a huge turn on for me.
When I was 18, I saw The Pillow Book at a small theatre in my hometown. It was the first erotic movie I ever saw, and everything about it excited me: a writer heroine, her discovery and search for sexual experiences, sexy images of flesh, calligraphy against skin, Ewan McGregor, full frontal male nudity, pure devotion, and a Romeo and Juliet style twist. I left the theatre moved by the story, but more by how exotic and erotic the look of all that calligraphy had appeared on the flesh. I'd had a tattoo in mind for a couple years by then—one I swore I'd get after the publication of my first book, which is indeed going to happen—but even that didn't strike me as much as this story's concept had. When Ewan McGregor ripped open his shirt and said, "Use my body like the pages of a book…of your book," I had a whole new notion of what skin writing could do. It was the using of someone's flesh in creation of a story to be read and understood—and I craved this, someone else using my skin like I had all those years.
The thought mostly buried itself over the next decade. I had a professional career and didn't usually have time to doodle on my skin, but sometimes, when I was bored, I'd Sharpie a word or symbol on the bottom of my foot. Later, this transformed into a love of henna. Whenever I could, I'd henna the entirety of a foot and all the way up my calf with some new design I liked. When I went on vacation, I'd mark up my hand with something to catch the eye. It still wasn't the same as what had roused me in that flick, though—it was done by me, for one, and the henna lacked the same appeal.
Of course, that didn't stop me from convincing an artist I dated in my late twenties from coming over to henna the entirety of my back. We'd shared a bottle of wine before I'd stripped down to my panties and stretched myself out on the living room floor. He'd squealed over the canvas of my back—literally squealed, because he was an exuberant, lively, playful man—and I clearly remember him sitting on my ass for a long time, waiting while he looked over my naked back and breathed these heavy, deep breaths.
"Anything? I can draw anything?"
"Yes, anything," I'd said. He'd stared over me for what felt like forever, then spent the next forty or so minutes dragging paintbrushes and fingers across my skin to create whatever henna design he had in mind. He told me how he was playing along with the lines of my back, and not only did I love that what he was drawing was a mystery I couldn't see, but that as he shifted on my ass to work, we both grew breathless until he called it done.
"Is it weird that I really want to fuck you right now?" he'd said. I'd shaken my head so fast, confessing I felt the same—and we'd fucked right there on the carpet, me flat on my belly and him trying his hardest not to wreck his design. Sadly, it rubbed off a little on his stomach (we might have gotten a bit into it), but nonetheless, I was still tickled to flash him what was left over the next few days.
After him, the urge quieted again. Henna seemed the answer, but my life was too busy to sit down for a session. Occasionally, I'd write memos with ink on my palm, even if I had a perfectly good post-it stack, or phone to jot a note in. Years later, though, I'd have the sexiest relationship of my life, where everything was an option, and want—pure want, desperate, vocal, speak it out loud want—was the name of the game.
I miss you, I'd told this lover via text. I want you, now.
I want you too. Now. Soon. How would you have me?
This picture is what I sent him in response.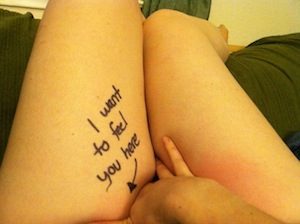 Needless to say, we found a way to get together soon after… But until then? I refused to wash off the words. I loved that I could pull down my pants in the bathroom at work and find that level of want scrawled on my thighs. That my chicken-scratch handwriting revealed my desperation on my very skin, and that he was making his greatest efforts to come strip me down to find it.
I told him later I wanted him to Sharpie all over me, call me names and scribe his lust for me on my flesh. He loved the idea, but our relationship was, unfortunately, fairly short-lived after that. So, I tucked the urge away for many more years.
I nearly forgot about it.
But one night, not all that many months ago, it flared up again. It was a coincidence with a friend, but it suited exactly what I'd always wanted—someone else writing on me, using my skin as he saw fit. We'd gone out to a party and both of us were dressed to the nines, and after a few drinks, he'd wanted to make a list but had no paper. I'd offered up a pen and the entirety of my thigh, and though he thought I was kidding, I soon arranged myself as best I could in the front seat of his car, the entire event furthered, somehow, by my efforts to not flash everything up the skirt of my sassy dress. There was something blissfully erotic in him gripping my leg, writing his message on my bare skin—especially as dressed up as I was. I remember holding my breath, because the combination of his own breath over my leg and the scratch of his pen turned me on more than I could ever admit to this friend. Well, that, and not knowing what it was he was writing in his hunch over my leg.
His scrawl ended up being a childish, silly note—but from that experience, I finally knew what about skin writing made me tick, and what elements, exactly, I was after: my skin, offered up for him to write whatever he pleased; him, shifting me about to scrawl on the curves of my body; that pen, marking me up in a gritty, vulgar way that completely contrasted how glammed up I was right then. And even though what he wrote ultimately irritated me, I still felt the burn of it when I tried to wash it away in the morning, and the memory of being used for whatever he wanted to write. That's what I loved the most.
Skin writing has so much potential to it, whether it is done in a beautiful way as in The Pillow Book, or in a purposefully crude way like that memorable note on my thigh.
Which is why one day, I hope I'll get all the elements just right—because it is truly a turn on for me.