It's almost here! Tomorrow is the official release day of my debut novel, The Assignment—and I couldn't be more thrilled!
As you may have c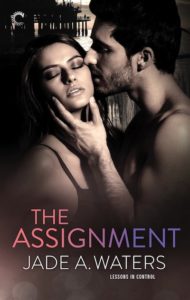 aught on, there have been a lot of events leading up to today. The blog tour kicked off about a week ago, and it will continue for almost two weeks more. Yes! You'll have plenty of opportunities to find out about the book through guest posts, behind-the-scenes reveals, interviews, and other ditties along the way. Tomorrow, in fact, I'm scheduled to be stopping at not one but THREE fabulous sites! That's right, you'll be able to find a smokin' hot excerpt of The Assignment at Rachel Kramer Bussel's Lusty Lady blog, a guest post I've written about BDSM over at Underneath the covers, and also a review of The Assignment at Books Reviews Etc. Whoa! Will that be triple the fun, or what?
Speaking of extra fun…in celebration of the release of The Assignment, I'm offering a special deal. Anyone who purchases my debut novel within the first three days it's available (so by 11:59 pm EST December 15, 2016), will get a free, never before published short story of mine. Hurray! I'm super excited to share it with you, too…all you need to do to get your hands on it is…
1. Buy your copy of The Assignment (by the above deadline) and
2. Email a copy of your receipt to me at jade@jadeawaters.com.
It's that easy! You can find the book at the following locations:
Amazon US     Amazon UK      Barnes & Noble      Google Play      iBooks      Kobo
Once you grab it, don't forget to email me your receipt. I'll be sending the story out to you by the end of the week.
Have you already pre-ordered the book? You are awesome—and it's no problem. Just email along your receipt showing you've made the purchase, and ta-da! This short story will be available to you, too. It's a thank you for your support!
In the meantime, please keep an eye on the Official Tour Post so you can follow along and check out all the stops. Don't forget to visit past stops, either—my favorite so far was a super fun interview with Rose Caraway (which included a sexy snippet read by me in-studio!). Good times! But there's definitely more to come…you won't want to miss a thing. 🙂
For now, thank you so much for joining me on this fantastic journey, and in advance for picking up your copy of The Assignment.
Happy reading to all!
XX,
Jade
PS Want my "autograph" for your ebook? Be sure to request one on Authorgraph if you do! 🙂