After last week's seriously nitty-gritty editing post—which, in all truth, resulted in me realizing it was time to take a break from the book and pass it on to betas…now…before I start going nuts—I've decided to lighten things up a bit over here.
Occasionally, I like to share a picture. I'm a pretty visual person—both in bed and out—but photos usually don't do much for me. There's a very large group of writers who use images as inspiration, and while I don't seem to have the capacity to do that, I enjoy a good image purely for its own value. Take the image I previously posted of the beautiful built man searching the sand for who knows what or the fabulous ass of the gentleman about to get it on with the Lady of the Perfectly Arched Feet—I could look at these over and over, and while they won't inspire any words beyond "DAMN" and "HOT," they still look deliciously good to me.
So today, I'm turning the tables around. Let's play a little game, shall we? I will post a picture, and I want YOU to tell me what comes to mind. Call it research. Or fun. Or just that I enjoy seeing how different people respond to images. I'm not even about to blast you with a super NSFW image, either; this one is really pretty tame. With images, I think it's often about the hint of something to come, the promise of what could be. I still haven't figured out exactly what in this one speaks to me (might be the lean?), but it's what I've got my eye on today.
Does it grab you?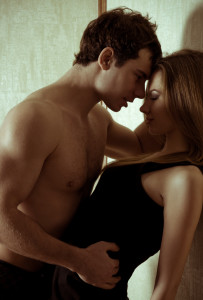 I do hope you'll play with me—I'm totally inviting you to talk dirty to me! Caption away, or share your thoughts. What do you see here? What does this image inspire in you?
I dare you to share. 😉
XX,
Jade