Ladies and gentlemen, I am so excited to share a visit with a very special guest today. As you are likely aware, the lovely Malin James and I are the best of friends—which is why I'm pleased as punch to have her here! If you have been under a rock, and somehow aren't aware of Malin's work, then please know you are definitely missing something. Fortunately, I'm going to let you in on her amazingness right here and now. See, here's Malin in a nutshell: her words are extraordinary, her style is exquisite, and most importantly, her mind is brilliant! Her stories range from erotic to literary, always exploring people, their place, culture, and, well, life and its many expressions, ins, and outs. No matter what Malin's written, it often gives you pause to think and reflect, think and reflect… It's fairly impossible for her work to not evoke something from deep within yourself. It's just that good.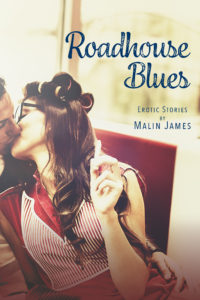 So, with all that in mind, today I am tickled to have her answering some questions about her writing as well as her brand new anthology, Roadhouse Blues! The book came out yesterday from Go Deeper Press, and I assure you, you're not going to want to miss it.
Before you order up this anthology (if you haven't already), please enjoy the clever mind of Malin James as she answers some burning questions I had about both Roadhouse Blues and her writing life…
An Interview with Malin James
Welcome Malin! I'm thrilled to have you here, so I'm going to dive right in… When you started Roadhouse Blues, did you have a particular vision in mind for where you wanted to go with it, or did it fall into place once you wrote a few stories?
The collection came together pretty organically. The first few stories set a tone, but the themes emerged slowly as the world developed. When I started, the only thing I knew for sure was that the stories would all be connected in some way. Having that relatively flexible structure as a foundation gave me a lot of room to explore.
What is your favorite story in the bunch and why?
That's hard…. I've been sitting with a few of these stories for over a decade, while others were immediate emotional catalysts, so there's a lot of feeling attached to all of them. That said, I think the two I feel closest to are "Krystal's Revenge Fuck" and "Marlboro Man." "Krystal" is audacious, angry and funny. It was so much fun to write. On the other side of the spectrum, "Marlboro Man" is the only story that has ever made me cry the keyboard. Both resonated with me in a very instinctual way. Writing them was like having a conversation with the characters.
Which story was the hardest for you to write? Can you give us a little insight into why you think this might be?
"Good Love" and "The Waitress" were definitely the hardest. "The Waitress" is about a woman confronting her abusive ex, and I drew on a lot of my own experiences for that. "Good Love" was even harder though—it's about starting to heal after sexual trauma. It came from a very personal place, and it took a long time and a lot of drafts to get right.
Of all the characters in this anthology, who would you most want to hang out with in person? Why?
I think I'd want to hang out with Sam from "Good Love." She has a deep well of compassion and quiet joy. I have a feeling that hanging out with her would be a really lovely experience. Also, Tom from "Marlboro Man." He's all kinds of tragic, but he has a really solid, good core. He strikes me as a great guy to grab a drink with. Plus, he's sexy. Tragically sexy.
You've written numerous short stories over the years, so I'm not surprised that we now get the joy of an entire collection of your work. (Squee!) How was it putting together an entire anthology rather than a short for various different anthologies? What's your preference? Was it challenging to keep them tonally and/or thematically connected?
I really enjoy contributing to anthologies—it's a wonderful, collaborative experience. That said, putting together my own collection has been amazing. It's given me a chance to following narrative threads and possibilities that you just can't in a single story.
As for keeping them tonally and thematically connected, I was lucky in that the setting provided a contextual link that united the themes in a very natural way. Same with the narrative tone, which is very different from my own. It's almost as if the Styx (the town the collection is set in) has its own voice, and that voice told each story.
What was your biggest challenge in writing this anthology?
Finding balance. Some of the stories are light and even funny, while others are darker and more serious, sometimes even challenging. It took me a while to balance the light and the dark so that each story stands on its own, while contributing to a larger whole. That's something that I was really conscious of—portraying a wide spectrum of kinks, sexualities and emotional contexts in a way that felt right and honest for each individual story, but also knit the stories together, even when one is about joyful sex in the back of a Camaro, and others are about everything from mortality and revenge to finding unexpected love.
You and I have talked a bit about craft. Would you share a little with readers how you develop a character, and then how you go about writing their tale?
I love our conversations about craft! This won't come as any kind of surprise, but, for me, it's all about the characters. I was formally trained as an actor and spent the better part of my twenties on stage, so every story starts with a character and something the character needs. Whether they're male or female, straight or gay, the characters I write generally come to me like big blobs of clay. I have a general idea about shape and size, but I find out more as they take me through the story, so the story and the characters form each other, and I refine them both through revision. For me, drafting is a necessary first step, but the real writing happens in revision when the characters start coming to life.
Say one of your stories is auctioned off for a movie deal. Which one do you pick, and who are your lead actors to carry the roles?
Oh…that's a great question. Let me think…okay, I'm going to go with "Marlboro Man," only because it's the one I have the biggest soft spot for. There's a lot that gets implied but never quite said in that story, and I'd love to see how a film director went about unpacking it. Plus, I'd kind of love to see a young Paul Newman or Matthew McConaughey play Tom, and an actress like Emily Blunt play Maybelline. There's so much interiority to both of them. It would be amazing to watch good actors bring that interiority to life.
I have the privilege of knowing that a bonus story was added to this collection, late in your work. Can you explain more about this story and why it was important to you to add it in?
Absolutely. The story is called "Good Love" and it's the one I struggled with the most. It's about a woman named Leigh who experienced trauma in her childhood and her relationship to her childhood best friend (and first love) Sam. There were two challenging elements in this story. The first is that Sam is a trans woman, which took me out of my immediate experience, so it felt especially important that I get her right. Luckily, Lana Fox and Jake Traveres at Go Deeper were incredibly helpful and supportive as I worked through finding and portraying her.
The second challenge was far more personal. Leigh's struggle draws on my own experiences with trauma and recovery, so writing her was, at times, incredibly painful. In fact, I stopped more than once because of that. In the end though, it felt too important to leave out, so I made one last big push. Luckily, it worked and was able to go in.
Pick a line, any line…yes, one line that you really love from any story. Please share what it is and why you picked it!
Agh! That's hard! Not because I'm in love with my own prose (because gah), but because the stories have been whittled down to the point where each line feels like a little brick in a large wall…. Okay. Let's see. One line…. All right, this is the one that popped into my head. It's from "Love in the Time of War," which is about two women grieving the same man. Carly tells Sarah, her boyfriend's widow, that she was always the pretty one, and Sarah responds by saying,
"There's no pretty one, honey. Not between us."

That line says everything I wanted to say about how lovely sex between two women can be. There's a deep cultural emphasis on jealousy and possession in romantic relationships. Sarah's response to Carly's shy compliment subverts any notion of competition between them, and sets up the healing, comforting, meaningful sexual connection they then go on to make.
Any chance we'll see an offshoot book and/or short in the future with any of these stories/characters involved?
There's definitely a possibility. If nothing else, I love the setting so much that I could easily see writing something else set in that town. And just between you and me, I feel like Sam (from "Good Love") and I still have quite a lot to do.
All right…inquiring minds want to know. What's your favorite time of day to write and where?
My desk! I love my desk. I love my desk so much. As for my favorite time to write, it's late at night, when the house is asleep, but having a 6-year-old makes being a night owl pretty impossible, so I write after I drop her off in the mornings, until I pick her up in the early afternoons.
What's next for you?
It probably sounds boring, but the next thing for me is a little break. I put so much into writing this collection that it'll feel good to rest a bit and do something completely different for a while. I'll probably work on essays and stories in a different genre for a bit. Not that I'm closing the door on erotica. Erotica has been very good to me, and I'm definitely leaving that door open.
Wonderful! A giant thank you to Malin James for joining me today! Be sure to pick up your copy of Roadhouse Blues at one of the buy links below!
About Roadhouse Blues:
Welcome to Styx—a blue-collar, American town where people can do whatever they like, so long as they don't advertise. From a 1950s diner to the back of a rocking Camaro, the stories in Roadhouse Blues reveal sex that is by turns romantic, raw, triumphant, and desperate. Meet two women grieving the same man, a bartender looking for anything but love, and a hot, brash newlywed who knows she married a cheat. The local garage is run by a kick-ass woman who gives as fierce as she gets, and the strip club is a place full of whiskey and smoke, where memories are exposed as easily as skin.
"In the end," writes author Malin James, "sex is about people, and people have motivations, and sometimes those motivations surprise them."
This is Roadhouse Blues. Surprise is just the beginning.
About Malin James: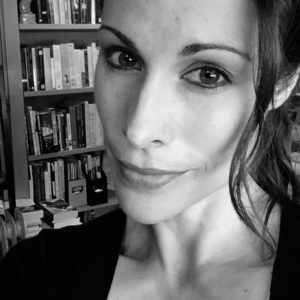 Malin James is an essayist, blogger, and short story writer. Her work has appeared in Electric Literature, Bust, MUTHA, Queen Mob's Tea House and Medium, as well as in podcasts and anthologies for Cleis Press, Sweetmeats Press and Stupid Fish Productions. Her first collection, Roadhouse Blues, releases this summer with Go Deeper Press.
Find a longer biography at malinjames.com.
Buy Roadhouse Blues at: