Up until about a month ago, things over here were—oh, how to put this?—really fucking cray-cray in the brain department. There was a lot of good going on (and more I'll get to shortly), and I tried to center my online attention to that—but offline, I was a wreck. This has all passed now, thank god, but things were pretty dark for a bit there.
I talked in a previous post about the sensory migraines that took over my life—but what I stayed pretty quiet on was the adjustment to the medication my doctor prescribed. Once it kicked in, it helped tremendously—but the month-long adjustment period was torture. My brain was definitely not my own for that wild ride, and, honestly, if you and I had a conversation anywhere in that month, I probably have no solid recollection of what we talked about. On top of that, other than one flash piece inspired by my migraines and a couple poems I scribbled in brief moments of clarity, I wrote little (coherently, anyway). It wasn't until after I signed off of Skype from my interview with the wonderful Rose Caraway about my story in Libidinous Zombie that I realized how wildly out of my head I felt. Yikes!
Fortunately, my doctor turned out to be a genius. After that month of adjustment—and practically overnight—everything turned…well, normal. My migraines damn near disappeared, and all the side effects I was experiencing completely vanished. I kee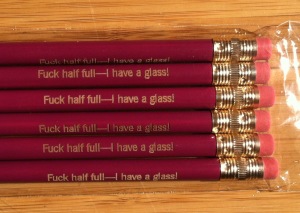 p describing it as the way the sky looks after a storm, when the clouds pull back to reveal a clear blue world—but I kid you not, it's what my head felt like after that period passed. My spirits soared, and my usual optimist Fuck half full, I have a glass! self was ready to go screaming from the rooftops about how damn amazing I felt.
And that's where I've been cruising for almost a month now—appreciating all the awesome things going on, and enjoying having my brain back to participate in them! Woo hoo!
So, let's move along to the good department, shall we? First, some book news—I've been cruising away on edits for The Assignment, book one in my forthcoming Lessons in Control series. We had to do a few schedule adjustments, but I'm pleased to announce that it will be released in December 2016—and hey, you can already pre-order it on Amazon! 🙂 There's no cover or blurb up yet, and I believe it might still say it's coming out in June, but that's soon to be fixed. I have much more to tell you about this book and the entire series as we get closer to publication, but let's just say that as I'm working on edits, I'm getting really excited. It doesn't hurt that I landed Rhonda Helms on this project, who is possibly the most enthusiastic editor on the planet and making me squeal. A lot. (Okay, and I admit—I'm one of those weird authors who loves editing almost as much as I love writing, so I'm having fun in this process either way.)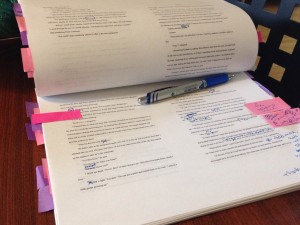 Meanwhile, I've still been keeping up on my poetry, and even wrote a piece loosely inspired by a scene in The Assignment. In the short story world, I got confirmation there will be a San Francisco reading for Best Women's Erotica, Volume 1 on January 19th at 6:30pm at the Good Vibrations Polk Street location (mark your calendars!). My BWE story "Ophelia the Second" is one I'm rather fond of, and I can't wait to tell you more about the it and to hopefully meet you at the reading!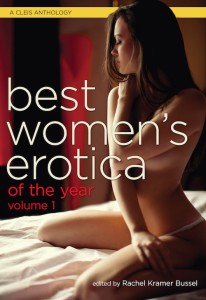 Speaking of reading…back in July, Rose asked me in my first KMQ's interview what I'd be doing if I wasn't a writer—and I told her I was looking into voice over as a future day job. Since then, I've taken a couple weekend workshops and learned all sorts of intriguing things, and decided this little dream will need to become a reality over the coming years. I even set up a recording space, which I officially used for the first time to record "Longing" in honor of the release of Coming Together: In Verse (a smokin' erotic poetry anthology)! This voice over adventure is on hold while I work on books 2 and 3 in the Lessons in Control series…but it's on my radar!
Finally, since it's nearly Christmas, I couldn't possibly skip mentioning my always free holiday short story, "Office Santa." It's about an office superstar named Kristi who has a major thing for the Santa suit—especially when it's worn by one of her very favorite colleagues. Kristi was a character I had way too much fun writing, so I hope you'll please check out her adventures. Also free for the holidays is a new flash piece called "Missing You," hosted over at Tamsin's Superotica as part of her hot annual advent calendar—please be sure to check out both my story and the others on this holiday countdown!
So, all in all, I'm thrilled to say things are looking up. WAY up.
Just in time for the start of a brand new (and super exciting) year, don't you think?
XX,
Jade