Well over a year ago, a close friend used a term that struck me as profound—so much so it's been simmering in the back of my head ever since. The truth is that it was said in reference to a relationship I'd experienced, but eventually, I realized how wide the scope of it was, and how very much I needed to write about it.
See, at the time of our conversation, I was wrapping up one of the most painful breakups of my life. I've had many relationships in two decades—some of them waking me in one way or another, others serious enough we nearly ended up engaged, and still others breaking me in ways that required many years of lightness to heal—but this was different. It was heavier somehow, more real, more intense. If I were to describe my past relationships as watercolor paintings, this one was made of oil—dense with color, small details, and texture, and labored over not just with brushes, but with rags and carving tools that molded the canvas of us. It started as a casual fling that should have meant practically nothing, but in the mere nine months we lasted—including four breakups, three standoffs, and two attempted months of silence—the impact still coursed through my blood and transformed me.
So on the night we chatted, this friend of mine listened while I cried to him for probably the third or fourth time, dragging myself in circles over this new kind of hurt, and this strange feeling of having had my heart and soul wrenched open in ways I couldn't understand. And in the midst of it, he said, very sweetly, "Honey, don't you see? You got turned out."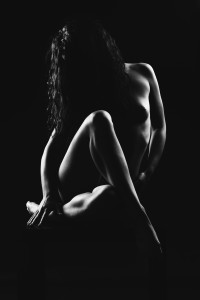 This friend has long been special to me for a variety of reasons, but his frankness—paired with his somewhat uncanny understanding of women—has always captivated me. Having never heard the term, I sniffled a few times and asked what the hell he was talking about. I'll take the liberty of paraphrasing his response, but the basic concept is this: getting "turned out" means someone has fully broken through to you—turned you upside down, cracked you open, and unraveled you completely. Sure, you may have had sex and love before—hell, you could have had endless sex and love, and believed you'd felt the magic—but this experience is not common, and when it happens, you know. It's more powerful than any love or good fuck or orgasm you've had before; it's like you've found that person who can sink right into your soul, delve into your pores, and bring you out into the world as an entirely altered, more phenomenal version of you.
When he said this, it clicked. I'd known love, lust, empathy, closeness, hurt, passion, and all of the feelings that connect us with one another—but this thing, even as short as it was, had me lost in an emotional and sexual haze all the way through and well after it ended. Truth be told, it's one of the most complicated things I've ever experienced, so uplifting and murky and amazing and excruciatingly painful, charging me even beyond the time it took to heal. This is why I strongly believe the last part of what my friend said in that phone call, too—that this type of experience will inevitably end in one of two ways: ideally, you and the person seize the magic and end up together for life, exploring this brilliance discovered together; or, you and the person call it quits, she who got turned out is hurt for a long, long time, and then—once all the pain dissipates and she can see straight again—she's essentially reborn with so much more sense, emotional power, and feeling than she'd ever dreamed of before.
A phoenix rising from the ash, if you will.
That's a big concept to pin on a relationship, I know, but I'd venture to guess a few of you know exactly what I'm talking about. Maybe while you're reading this, your hearts are thumping in your chests, your heads lifting and falling as you whistle to yourselves because you remember what this felt like. It's that feeling of putting your heart, your love, your soul, your very essence in someone else's grasp like you could never have fathomed before—and still being unbelievably okay with it.
Sometimes, it works out. Sometimes, it doesn't. But no matter what, you will never be who you were before.
So, that's what's been churning in my head for a while now, seeping into my work, my stories. I don't mean to do it, and then suddenly I do. The first time I saw it was in the last book I wrote—I'd drafted it early last year and then came back a month later to edit, following my character through her adventure in love and sex while I made my scribbles on the page…and then WHAM. I actually saw it in her character arc, and said it out loud:
"Oh, look at you. You got turned out, baby girl."
I thought it was just a one-time thing. Then the feelings kept resurfacing in other stories I wrote, essays I penned, and poems I posted, without me ever intending it. It was like in finding myself, my characters had to, as well. Even in the book I'm editing now, I saw it happening all over again—the protagonist shedding her old skin, embracing this new life and awareness she finds with the one who broke through to who she honestly was. It wasn't that she wasn't whole or happy before—only that, in a way, she had to set fire to who she was to leap into this vivid new self. In doing so, she's become richer, more powerful, and eager for every sensation and experience yet to be had.
She's been turned out.
Sometimes, I wonder if the intersection of my own experience happening shortly after I sent my first erotica story into the world was a coincidence, or if it was the Universe trying to give me a message. That in embracing my writing, I'd opened up a personal door. Or that in releasing the erotica I'd kept quiet for years, I was finally able to bare my heart and soul, even if it was going to hurt like hell. Or that, since I was going to explore so many things in real life, I would need to feed it all into my stories over time.
Honestly, I don't know the answer to the how or why—and like the phoenix, I don't think the past matters anymore.
When you get turned out, the only thing you need to do is soar on.
XX,
Jade