All right everyone, today is a special day—I'm excited to be the next stop on Alison Tyler's Never Say Never Blog Tour! Since this book is all about partners exploring their kinky desires, I've decided to pick my favorite chapters, mash them together, and share a little experience of my own…
So to start, I must confess: I am an exhibitionist.
*Sigh.* There, that feels nice.
It took many years for me to recognize that this turned me on, but now that I'm there, I can trace the desire back to an experience I had at 19. My then-boyfriend and I had been together for a while, and we'd spent several months trying to get me off. We'd tried everything—or what I believed was everything, at age 19—but it wasn't happening. Eventually we ended up working Renaissance Faire together (that's a story and a half for another time), where I started exploring and playing with what I liked and didn't. I also met all sorts of people open about their kinks and cravings—one of whom happened to be an extremely handsome and flirtatious friend of my boyfriend.
One day, my boyfriend and I escaped the noise that is Ren Faire—bells chiming, families laughing, choirs singing, trees rustling, and actors soliloquizing at the top of their lungs—for an afternoon adventure in our makeshift cabin. We had curtains to shield our bed from the trail running behind us, but that day, neither of us thought to close them. When my boyfriend went down on me, he had no idea that my heart suddenly raced less for what he was doing, but for the wonder that someone might happen to pass by… So imagine my surprise when I opened my eyes to discover his friend a few feet away on the trail.
He stopped cold, and slowly, silently, he smiled.
And then he watched.
He didn't move, and neither did I. In fact, I clearly remember holding rigidly still beneath my boyfriend's affections save for the curling of my toes, feeling my blood rise in my cheeks as my thoughts spun wildly over what was happening. And it was right as his friend mouthed the words You're beautiful that I came for the first time with another person…or apparently, in my case, two.
Years later, I recognize the desire to be seen as something I crave. It's one of a long list of "kinkier" things I enjoy, and voicing them is not as scary or taboo anymore—especially with the right partner. Instead, they form a potential adventure.
Which leads me to the point of this post: Alison Tyler's Never Say Never: Tips, Tricks and Erotic Inspiration for Lovers. The book is a how-to guide of sorts, but more than that, it's a wonderful blend of kinky adventures, tips, and tales designed to break couples out of vanilla inhibitions and into sexual exploration.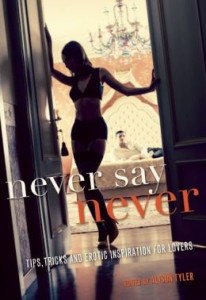 The book covers a ton of kinky ground, from voyeurism and exhibitionism (gee, wonder which chapter was my favorite), to spanking, role-playing, soft swapping, and much, much more. What I loved most was how Ms. Tyler managed to seamlessly weave tips with stories. Each chapter focused on one topic as introduced by her lovely voice, using story snippets to both rile and explain with clever commentary (I particularly loved that of the chapters entitled "Slippery When Wet—Cunnilingus," "Close Your Eyes—Blindfolds," and "Naughty, Naughty—Spanking"). Then after a summary of highlights for the section, she masterfully chose a sexy story to follow.
And what better way to get couples exploring than to explain and demonstrate?
The glory of this book is that one can pick a chapter or topic that appeals, absorb the tips, and then share the story with a partner as a first step toward broaching a fantasy or desire. The how-to voice crossed with fiction makes this book better than your average guide—it's almost like having a super sexy tour guide let you in on The Best Sexual Adventure You're About To Have Ever!…and then she opens up a big door of fantasy fiction to prove it to you. It's positively delightful.
There were numerous wonderful stories and snippets in here, but the full-length pieces that thrilled me most were "Savory" by Georgia E. Jones, "Afternoon Strip" by N.T. Morley, "Margarita Magic" by Thomas S. Roche, and Tyler's own "Is That Man Bothering You?" Still, it needs to be said again—Ms. Tyler's playful narration throughout the book is gold, and because of that, this book is sure to entertain, inspire, and revive…
And maybe even draw some new fantasies to the surface. 😉
To prove how delicious the merging of guide-with-snippets in this book is, here's a brief yet steamy excerpt from one of my favorite chapters, "Slippery When Wet—Cunnilingus":
I've written about oral delights in more stories than I can lick—I mean, count. Sometimes, my characters talk about what's happened in the past, like in this clip from "Burned":
I' d told him about the time she splayed me on the kitchen floor and licked my pussy for hours without letting me come, a candle in her hand, drip-dripping wax all over my body whenever I got too close to climax.
I've penned that first breath of a tongue on a lover's pussy, like in "Seeing Stars":
We were nine floors up. But we were on top of the world, on top of Los Angeles. His mouth crested over my pussy, not locking on, not licking in. He was teasing me. I was shuddering. 
And then I've moved on to the main event, as in "Zachary's Bed":
I moan as he spreads me with his thumbs, parts my nether lips like the petals of a flower. I moan again as his warm mouth opens and he slides his tongue in crazy circles there, where I need him, there, and I can't keep from shifting my hips to the rhythm he sets with his tongue, rocking with him while he laps at me. Laps and licks and kisses me with his magic tongue.   
"Zachary—" I am begging, beyond shame, straining at the ties that won't allow me to reach him. I need to touch him, need my hands on his skin, my nails digging down his back, my fingers twisting in his still-wet hair.
"Sh, Risa." I feel the words against my skin rather than hear them, feel the gentle motion of his mouth and tongue echoing inside me. 
"Please." I arch as I say it. Desperate.
"Sh, darling," he croons in the lullaby voice that has infiltrated my fantasies. "Sh, Risa," he whispers as I slide on the slippery sheets, pressing hard against his lovely mouth.
Of course, when things really get heated, I like pushing the envelope as far as settings go, like in this gang-bang piece, "Last Call":
Brody pulls my panties down then, and I raise my hips up to help him, but I don't stop stroking those cocks. I feel energized, as if I could do this all night. The low, hungry sighs of the men is payment enough. I am the center, the focus of attention, and I bask in the glow.
Brody dives back between my thighs, and I bend my knees and splay for him, back arching. He's so good. Declan knows how to eat me, knows all the tricks and turns I love best. But there's something unreal about having that magic moustache run over my pussy lips and against my inner thighs. 
"Burned" appeared in The Big Book of Bondage
"Seeing Stars" appeared in One Night Only, edited by Violet Blue
"Zachary's Bed" appeared in Naughty Stories from A to Z
"Last Call" appeared in Morning, Noon, and Night
**
So good! If you haven't picked up this book yet, I highly recommend you do. You can find it on Amazon by clicking right here.
After reading it, I hope you all find a fun new adventure to try in the near future…
XX,
Jade
About Alison Tyler:
Called a "Trollop with a Laptop" by East Bay Express, Alison Tyler is naughty and she knows it. Her sultry short stories have appeared in more than 100 anthologies including Coupling edited by Sommer Marsden and Sex for America edited by Stephen Elliott. She is the author of more than 25 erotic novels, most recently Dark Secret Love and The Delicious Torment, and the editor of more than 75 explicit anthologies, including Alison's Wonderland and 69. Visit www.alisontyler.com 24/7 as she's a total insomniac.