Okay, everyone…I told you this month was packed full of fireworks, and today I've got some serious sizzle!
Why? Today is my lucky day—not only is it my stop on the Those Boys Blog Tour, but I have a very special guest. And no it's not the brilliant author, the incredible Alison Tyler who wrote this delicious novelette. Nope, nope, nope. It's someone else.
See, one of the main reasons Those Boys (and the novelette that preceded it, Those Girls) is so amazing is because of Alison Tyler's authentic and rich portrayal of a true Dom. Did you catch us chattering about this on our Pillow Talk session on Tuesday? If not, here's a recap—Tyler has made Sandy engaging, hot, and compassionate. She hasn't made a two-dimensional stereotype of a Dom; instead she's written someone who cares about his subs, and who is interested in exploring not just their bodies but their minds. Because of all of this, she's done the number one most important thing that has made everyone stand up and take notice:
She's made him real—so real in fact, that Sandy is who I have here today!
Yes, it's true. And oh, am I excited to share this interview with you! So, please read on to hear Sandy's thoughts on some very pressing questions…
The Exclusive Sandy Interview
Oh, Sandy, Sandy, Sandy…thank you so much for joining me, and for answering all my questions. Let us begin…with where you started. How long have you been a Dom, and how did you get into the lifestyle?
That's like asking a person how he or she got to be tall. Or blue eyed. Or Irish. I am a Dom because I'm a Dom. That said… there is a story to the beginning. At least, to the time when I decided to embrace what I knew lived inside me rather than try to fight those intense desires. I surrendered. Perhaps most Doms won't admit this, but that's how it was for me. I gave in.
You'll hear all about my beginning in Those Days [the prequel]. It started with a girl—the way these stories often do. She slid me an opener. I grabbed it in my fist.
So tell me—what about the lifestyle most appeals to you?
Honesty is everything. Participants in the BDSM lifestyle are honest about what they want, need, crave, require. I demand honesty from my partners. That's the foundation on which I build.
And when you meet a new sub that you know you must connect with, what's the first thing that goes through your mind?
"What can I do for you?" Perhaps, that has a submissive sound to the cadence. But that is how I think. How can I help you? And of course: How can I hurt you?
[Catching my breath.] Um, Sandy, do you prefer a switch or a pure sub? Or does it even matter?
Doesn't matter. I want truth. I want to know what turns you on, what makes you hard or wet. I want to know. If you must exert your strength, your stamina, your power every so often, then so be it. I will bend. I will bow. I will be yours however you need me.
Let's say you could freeze a moment of your connection with your subs, Vanessa and Rem, in a photograph. What would it be? And would it be in black and white or color, and why?
A Polaroid. You knew I was going to say that, didn't you? But not just one Polaroid. A series. A strip-tease. Each click of the camera capturing a step forward. A kiss. A caress. A peeling back. Until we are undone and undressed. Naked in every sense of the word.
Wow. Your words are one of your greatest, most entrancing traits. Of all the things you've said to Vanessa, Jake, and Rem (or any other sub over the years), what have you said that has elicited the strongest response (in your opinion)?
Trust me.
[Gulping.] So…what's your favorite: paddle, belt, flogger, quirt, crop, or…?
The situation decides the weapon. Sometimes the feel of a paddle in my hand sings to me like nothing else. Other times, I know I can't go wrong with a flogger. But if I had to choose only one, I'd choose my belt. Utilitarian. Deceptively simple. With me at almost all times. For those hard-to-reach situations.
All right. You can take Rem and Vanessa anywhere for as long as you want. Where do you go, and why?
Dive bar on the corner with the neon sign in the window. Eleven o'clock tonight. Jukebox. Leather booth. Top-shelf tequila. Until last call.
I'm a simple man.
You rarely blush. What would make you blush, if anything?
I'll admit to making mistakes. Rarely happens, but I won't hide. The flush you'll occasionally see along my jaw is my anger at myself, not embarrassment for fucking up. Disappointment in myself. I'm far more lenient on others than I am when I turn my attention inward. Isn't it always that way?
True. Now, Vanessa and Rem would do anything to please you because you care so much for them. If you were to come home to the sweetest surprise from them—they anticipated exactly what you'd want without you needing to articulate it—what would it be?
A new playmate. Wrapped up in a silver ribbon.
Oh Sandy…I'm sorry to say it's time for our final question. What is your deepest desire—in ten words or less?
I want to live inside your head. Invite me in.
***
Oh my goodness…I don't know about all of you, but that last answer—wow. Sandy is, in my opinion, one of the greatest characters I've ever read. So in case it needs to be stated, this is 100% me: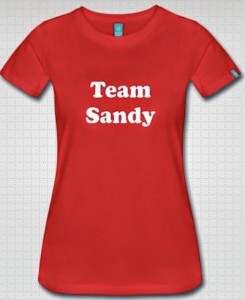 Need a little more convincing? Here's the official blurb:
What are the chances? Bisexual dom Sandy meets Rem in his local horse-and-tack store while shopping for a quirt. He's instantly taken by Rem's shocking good looks and the way he struts around in an old Western-style shirt. "A preening peacock" Sandy calls him, before announcing, in the hottest of ways, what narcissists like Rem deserve.
Sandy brings Rem home to Vanessa (Those Girls) where all three enjoy intensely erotic BDSM sex, with Sandy pushing everyone's boundaries in ways they want and he knows they need.
But Rem proves to be a mystery that even Sandy can't quite crack. What does the boy really desire? And if it isn't Sandy and Vanessa, what will the consequences be?
This novelette is divine, everyone. Be sure to pick up your copy as soon as you can. It officially comes out tomorrow, but you can get it from Go Deeper Press right now!
Do not miss out!
XX,
Jade
About Alison Tyler:
Called a "Trollop with a Laptop" by East Bay Express, Alison Tyler is naughty and she knows it. Her sultry short stories have appeared in more than 100 anthologies including Coupling edited by Sommer Marsden and Sex for America edited by Stephen Elliott. She is the author of more than 25 erotic novels, most recently Dark Secret Love and The Delicious Torment, and Wrapped Around Your Finger (soon to be released). She is also the editor of more than 75 explicit anthologies, including Alison's Wonderland, Never Say Never, and 69. Visit www.alisontyler.com 24/7 as she's a total insomniac.