Hi everyone! Today I'm thrilled to be the next stop on Rose Caraway's The Sexy Librarian's Big Book of Erotica tour! This book is positively fabulous—it mixes genres, sex, and one incredibly sexy librarian to meet all sorts of desires. Some of you may recall that I jumped on the live book tour and did a little reading with Ms. Caraway, so I admit, I'm a tad biased. However, this book has so many delicious things going for it, I had to share!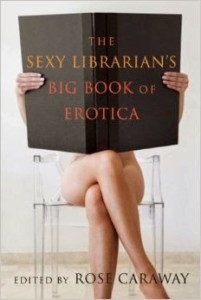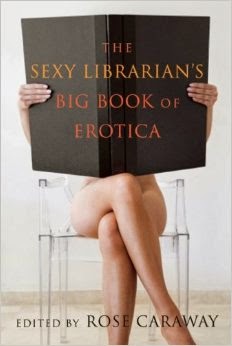 Here's the thing—beyond the sexy cover (on which the model is "wearing a book," according to the very clever Ms. Caraway), this isn't just a book of erotica. It's a collection of carefully curated stories containing massive variety, which is what's made it such a delightful read. It truly is a librarian's anthology, complete with an "old-fashioned" library catalog entry to classify each story. Take, for example, the card from one of my favorites: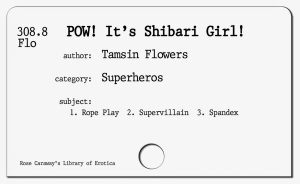 As you can see, this special touch not only makes the book fun, but it allows the reader to pick exactly what she or he is in the mood for. (Seriously, why has this never been done before?) In this case, I saw the name Tamsin Flowers (whom most of you know I adore), the category "Superheros" and then the subject "Spandex"—and hello. I was in!
But there's more than clever cards making this book so great. The sexy librarian herself, Rose Caraway, has done a wonderful job of collecting beautiful, artistic, and oft-literary pieces that take the erotica genre to a whole new level. Take "Mikhael" by Angela Caperton—this was another of my favorites written in an exquisitely dark voice, a voyeuristic supernatural/ghost story with some smoking f/f scenes to spice the whole thing up. Kristina Wright's "Vivi and the Magic Man" was another lovely twist, mixing fantasy and horror with such a rich gypsy feel I could picture Port City and everything that happened there (and you'll have to read it to figure out what, but my hint is straight from the catalog card: "Demon Orgy"). While I have a fondness for speculative fiction stories, there were other works in here that added something for everyone— "The Mating Chamber" by Caraway herself takes us on a journey through mating customs in a matriarchal (and seriously sexy) society; "Notes on a Scandal" by Kelly Maher paints a charming library romance complete with love letters; and Kate Maxwell's "The Skilled Technician" still has me wishing my car would break down, like, stat.
But you don't have to take my word for it. To whet your appetite, I have an exclusive excerpt to share with you!
From Kay Jaybee's "Taped":
Flinging the back doors of his transit van wide open, Ryan called to his girlfriend as she unlocked the industrial-sized greenhouse where they worked. "Are you still up for helping me do the deliveries today, Beth?"
"Sure am." Beth began to box up some plants ready for loading.
Ryan's lips curved up suggestively as he took the first tray of flowerpots from her outstretched hands. "Good. A bit of company could be fun."
Beth couldn't help but smile back when she saw the mischievous glint in his mahogany eyes. "No need to look so excited, I'm only going to be carrying boxes of flowers in and out of your van.
The That's what you think, stare Ryan gave her in reply sent a mild stirring of unease tripping down Beth's spine.
Holding Beth's gaze, Ryan picked up three thick blankets. "You can start by helping me lay these blankets on the van floor."
The memory of the fantasy Ryan had shared with her the night before, as they'd rolled around, limbs entangled, on his king-sized bed, suddenly loomed large in Beth's mind. "You aren't serious?"
Not sure she wanted to hear Ryan answer her question, Beth busied herself with wrapping extra strips of bubble-wrap around the bases of the flowerpots, giving herself time to remember how to breathe properly. She knew precisely what that dangerously sexy expression on Ryan's face could mean.
Two months ago, while walking along a beach, he'd shared a seafront fucking fantasy with her. The next minute Beth had been on her hands and knees, her lover's beautiful cock easing in and out of her, while her nub was tickled with the tip of a hermit-crab shell. The memory of how scared she'd been of someone spotting them while they rutted in the sand, and how aroused the thought of discovery had made her, sent quivers of confused longing through Beth's chest. The look he'd given her then, and the one Ryan was giving her now, were almost identical.
"You know I'm serious."
***
Sexy, hmm? So, what you'll want to do right now is pick up your very own copy of this book. You can buy it on Amazon, at Barnes and Noble, and at Cleis Press.
But wait! I have more news. Want to hear some of these stories live? Rose Caraway will be reading at Books, Inc. in the San Francisco Castro at 7:30pm tonight, and then again tomorrow, September 25th, at the Good Vibes Lakeshore store in Oakland, CA from 6:30 to 8:30pm. I'm extra tickled to be helping her read on this latter date alongside the talented Sinclair Sexsmith! If you can, please join Rose Caraway at one of these events—watching her read from The Sexy Librarian's Big Book of Erotica is quite a treat!
In the meantime, don't forget to pick up your copy.
XX,
Jade