Hi everyone! Great news—Chemical [se]X is out today! This anthology is the product of one crazy sexy idea offered up by the lovely Oleander Plume. See, once upon a time, Oleander wrote a story about a couple of scientists who stumbled upon a very special type of chocolate—an aphrodisiac chocolate, released into the world to improve the lives of, well, everyone.
So a bit after writing this, Oleander asked a randy crew of us if we'd like to write a story based on her chocolate idea. The answer was an easy yes, and the results are one gorgeous collection filled to the brim with chocolate, sex, chocolate, and…more sex! I'm tickled to have "The Connection" alongside the work of several other authors with whom I'm familiar—Tabitha Rayne, Annabeth Yeong, and Jacob Louder, and especially my Pillow Talk cohorts, Tamsin Flowers and Malin James—and then there are some up-and-comers who arrived ready to rock your world, such as Ella Dawson and Exhibit A. But that's not all! This baker's dozen all created something new for the chocolate theme, and their stories are released into the wild today. To celebrate, I'd like to share an excerpt of my story, plus a blurb!
"The Connection" is a story about a once-overtly sexual couple losing the spark in their marriage—until the wife, Aubrey, decides it's time to do something about it with a box of these special chocolates.
Read on for a morsel of "The Connection":
Heavy and taunting, the container had banged against her hip when she hoisted her purse over her shoulder, its presence as poignant as the need deep in her sex when she pondered what might happen after Terence came home. The wonder burned on as she waited for him, and when she ran her fingers across the top of the box, she tilted her head coyly to the side. Aubrey could actually smell the truffles through the cardboard and the wrapping, the scent definitively chocolate with a whiff of crisp mint and grass beneath. But there was something else, too. It was earthy and rich, she realized, much like arousal.
Her arousal.
Aubrey wanted to wait for Terence, but she ached to know what these chocolates could do. Lifting the lid, she admired the six candies inside, each piece tempting her from within the black and white polka-dotted foil cups. The store clerk had explained this decorative packaging as specific to the premium box, "guaranteed to satisfy" or her money back tomorrow.
How could she resist?
Quickly, Aubrey grabbed a chocolate and took the smallest nibble, then nested the candy back in its cup. The dark chocolate tingled along her tongue and down her throat when she swallowed, the sensation peculiar and warm. It had to be her imagination, but the lid was barely back on the box when the feeling spread through her neck, her breasts, and her arms. It was powerful, overwhelming and sweet—exactly how she felt when Terence thrust inside her, making her whimper and writhe in passion.
Aubrey gasped.
That. Yes, that.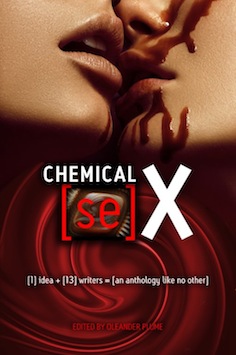 *
Taste the blurb:
Sex and chocolate! Was there ever such a marriage made in heaven? Isn't the thought of it making you bite your lip? Chocolate melting on your tongue…desire pooling in your gut… Pheromones, endorphins, theobromine…there's a chemical connection between sex and chocolate that makes our craving for the pair together far more than the sum of its parts.
Oleander Plume has always been obsessed by this coupling and so, inspired by her wicked short story Chemical [se]X, she corralled a baker's dozen of erotica writers and force fed them chocolate until they complied with her wishes. Each one of them has turned in a mini-masterpiece of chocolate, seduction and red-hot sizzling sex that will have your cheeks burning and your fingers reaching for just…one…more.
All of the writers Oleander selected are at the top of their high caliber game. From seasoned writers who've already proved their mettle to a number of extraordinarily gifted newcomers, you'll find so much satisfaction between these pages. In every story, the aphrodisiac chocolates developed in Oleander's original story put in an appearance—causing a submissive to turn Domme, kicking off an orgy at a roller disco, rekindling a long-dead marriage, and playing havoc within the repressed confines of religious order. Men jump on men, a woman jumps on her husband's boss, twosomes become threesomes become foursomes… These chocolates need to carry a warning—just like this book—too hot to handle!
Naturally, each copy of Chemical [se]X should come with its own small gold box of aphrodisiac chocolates. We're so sorry it doesn't! But rest assured, the stories you'll find between these pages will leave you just as heated as any aphrodisiac could have done. Finger-licking good!
Partake of the feast:
Oleander Plume's "Chemical [se]X" kicked the whole thing off as a potent South American herb is developed into the most irresistible chocolate ever.
In Malin James's "Bittersweet," one taste of the sexy chocolates is enough for a submissive to come over all Domme with her married lover.
For her first published outing, Ella Dawson takes us back to the college dorm where the "Friendly Neighborhood Drug Dealer" is peddling candy that has a whole new affect…
In "Flat Warming," Exhibit A's lovelorn bachelor finds succor when a different kind of hunger drives new flat mates to set aside the sweets and start munching on each other instead.
For a long-time married couple, life in the bedroom has virtually ground to a halt in Jade A Waters' "The Connection." That is until the wife hears about a new brand of chocolate…
In Tabitha Rayne's, "The Dinner Guest," a couple unearth their secret kinky desires when an old college friend starts dishing out the chocolates.
When a temp lands a job in the offices of the chocolate manufacturer, she uncovers some unexpectedly sweet perks… It's "Chocolate Covered" by F. Leonora Solomon.
In "[du]X," Dario Dalla Lasta takes us for a testosterone-charged spin around the roller-disco courtesy of, you guessed it, some very special chocolates.
When her husband's boss comes for dinner, one woman's dessert turns into something extraordinary when she chooses a novel ingredient for making the ganache—"Dinner for Three" from L. Maretta.
In Jacob Louder's "Thursday Threesome/Birthday Foursome" the usual dynamic of a Thursday threesome is all shook up by the arrival of an extra guest and the ingestion of the aphrodisiacs.
C. E. Hansen offers us a sizzling journey home from work in "The Commute"—after all, why wait until you get home?
Disappearing into the woodshed usually means a horror story, but not in Tamsin Flowers' lethargic, Deep South encounter with "The Stranger."
In Oleander Plume's "Coffee Break," two young contractors take on more than they bargained for at the Mayor's residence—but then maybe they shouldn't have helped themselves to the chocolates!
The collection closes with "The Alleged Savage," Annabeth Leong's delicious novella of repressed lust, original sin and chocolate frenzy in a strict religious order.
***
I hope you enjoyed the excerpt for "The Connection," and also that this blurb has whet your appetite for some chocolate-infused erotica! You can find out more about Chemical [se]X and its authors right here, or, please head on over to Amazon to pick up your copy!
I assure you, it's one sweet surprise. 🙂
XX,
Jade