Happy New Year, everyone!
Well, we're on the second day of 2015, and to celebrate, Pillow Talk has a special New Year's Secrets for you! Today, Malin James, Tamsin Flowers and I recap the year that was and usher in the excitement of the next one. Tamsin is our host this time around, and she's thrown us some fun questions about our experiences as erotica writers, memorable writing moments, and other sexiness we've found in the industry. As usual, I've posted a bit of the session here with a link to continue, or you can hop on over to our site to read Secrets in its entirety.
Thanks so much for joining us—2014 was a great year, and we can't wait to share more secrets with you in 2015!
XX,
Jade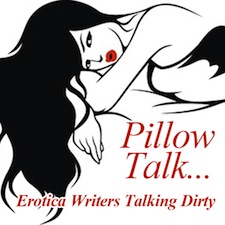 Pillow Talk Secrets
Tamsin: Hello ladies. How are you both doing today?
Malin: So good! How are you Tamsin? Jade?
Jade: Great! So nice to be here with you both.
T: It certainly is good to meet for the first time in 2015 – Happy New Year to you both and to all our readers!
J: Yes, Happy New Year! *Blows party whistles* *Throws confetti*
M: I love the New Year – it always feels good to start fresh. *removes confetti from hair* 😉
T: It is great to have a fresh start. Now, let's get going on today's business – our look back over 2014 and our look forward over 2015. I've got a few questions to put to you two – starting with what was the most surprising thing writing erotica taught you about yourselves last year?
M: Oh boy.. Well, I think the  biggest thing it taught me was that I'm far more comfortable with myself sexually now than I've ever been. I don't seem to have the hang-ups that plagued me as a younger, non-erotica writing woman.
J: It certainly does have that effect, doesn't it? Something about writing erotic things adds to one's erotic nature, I think.
T: I agree. And on a similar note, the more erotica I write the more comfortable I am with the fact that I'm an erotica writer. At first I didn't want anyone to know – but now I take the opportunity to tell more people and most of them receive it very well.
J: I just love that feeling! I find the reception being positive is true, too.
M: Yes! It's kind of funny to realize how much apprehension you can have about writing erotica when you first start playing with it. It's nice to let that go as you develop as a writer.
J: I wrote about that acceptance of myself as an erotica writer back at the end of 2013 – and this year, having been one with it and really truly loving it, I would say the most surprising thing I learned is what a damn work horse I can be. I mean, I know I go at it sometimes, but I've had to pull back from working myself to exhaustion a few times. That was a shocker. I'm sure you both can relate to that, too.
T: Absolutely – that was one of my answers – I've surprised myself with my sheer doggedness when it comes to getting stuff done!
M: I never would have called myself a workaholic until this past year, but I've been surprised, like both of you, by how much it's actually true. I guess loving your work brings that out!
J: Yes. But one of the things that's helped is that you both have been around to "talk me down" when I'm taxing myself. I think that's one of the greatest things we've done for one another (besides all the "talking up," of course).
M: Yeah – that support really has been critical. It's easy to push too hard, or get too low. Having two partners/friends who can offer that bit of perspective is just invaluable.
T: It is a wonderful thing, and I wouldn't be without you two! Now, what's the most interesting or surprising thing you've learned about the industry over the course of 2014?
M: For me it was a fairly general realization. I was surprised by how unstable the market has gotten recently, and yet, within that, how many other options writers have. That and how unfailingly supportive other writers are.
T: That was totally going to be my answer – just how fantastic the erotica community is. We might supposedly be competing against each other but every writer I come across is generous with their support.
J: Yes. It's a tight-knit group – probably the most lovable and delightful group of all the writer groups I've worked with. Considering how much flak the genre can get, it's wonderful to have that support.
T: If we don't help each other, who will?
J: Right!
T: Now, turning to what we've all been writing, tell me each of you, what was your hottest sex scene of the year?