Okay, everyone, confession time:
Rose Caraway, Malin James and I got sneaky!
Today we want to let you in on it.
See, the fabulous Lynn Townsend pulled together some kick ass stories for our recent release, Coming Together: Among the Stars. The book is a collection of sexy sci-fi erotica stories from fantastic authors, all of them curated in the name of charity—a good one, too, as proceeds for the book go to the International Still's Disease Foundation.
What's Still's Disease, you ask? The disease is a more severe version of juvenile idiopathic arthritis, and can affect both children and adults (though the disease is more prevalent in children under 16). It is characterized by, among other things, intermittent salmon-colored rashes, spiking fevers, and swelling of internal organs and arthritis. It also remains a bit of a mystery in terms of causes and risk factors. There is much more to learn about it, and if you would like to do so, please visit the International Still's Disease Foundation website.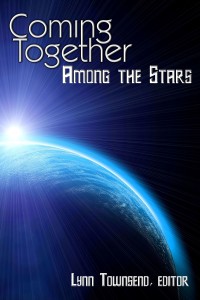 We of the book believe this is a great cause, which is why we're all thrilled to be included in its pages. Sex and space is already a stellar combo, but sex and space for Still's? Superb!
But okay, seriously, alliteration aside—Rose, Malin and I believed this was such a big deal, we wanted to do a little something extra for the book and its cause. Rose, in her infinite wisdom, gathered the three of us together to surprise Lynn Townsend with a special traveling SIGNED edition of Coming Together: Among the Stars. That is, this lovely book has been bouncing between us in California at various locales. It's been on the road, out to lunch, out to coffee, and, before its final trek home, it made a guest appearance at a picnic party in San Francisco!
I even have pics to prove it—here's me reading the book right next to the entrance of the Moon-Viewing Garden at the San Francisco Botanical Garden Park (appropriate location for a book set in space, wouldn't you say?):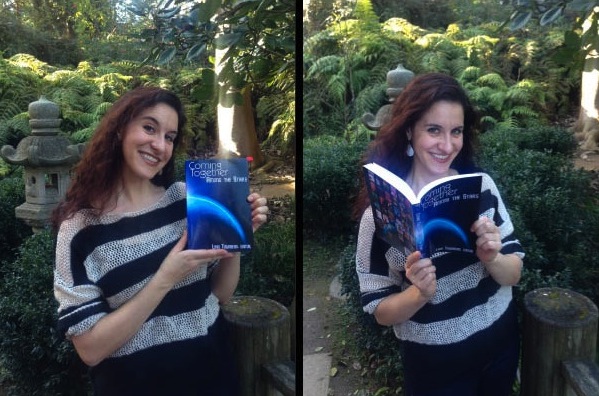 To be honest, I didn't get much reading in at this party—but I can definitely say the book got more viewing than the moon did in the middle of the day. 😉
So, there you have it: our big secret. The book is signed by all three of us, and Ms. Townsend, we're tickled to tell you it's on the next leg of its journey—in the mail to you!
Readers, if you haven't already, please check out this fabulous anthology to support a wonderful cause. You can read an excerpt and the back story for my contribution to the collection ("The Joy Ride") right here, and then we hope you'll pick up your very own copy on Amazon.
Thanks for your support, everyone!
XX,
Jade