I have always loved writing poetry. It's been a part of my life since I was young, and in the last few years, I've grown so fond of it I knew I needed to launch a secondary site to house all my poetic words. So, when the fabulous poet Ashley Lister put out a call for Coming Together: In Verse—a collection of erotic poetry to benefit Hope for Paws—I knew I simply had to take part.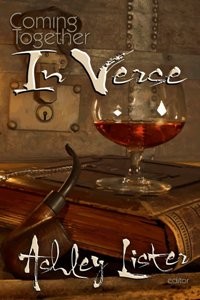 Coming Together: In Verse is a sexy new anthology out today, filled entirely with erotic poetry and risqué verse—be it sultry, comedic, romantic, or filthy. On top of that, the poets involved are ones who will surely rock your world, and sales proceeds go to support a cause that's dear to me, too—animal rescue! I'm thrilled to have three brand new poems in this anthology—"Colours," "Farther," and "Longing"—and to whet your appetite, I have some special surprises for you, too.
First, I'm revealing "Longing" over on my poetry site—it's the shorter of my three poems included in Coming Together: In Verse. But then, I'm reading you "Longing," too…because of course, poetry is meant to be heard. 😉 You can find the audio either on YouTube or on my poetry site.
Once you're finished with both of these book release treats, I hope you'll really make me purrrrr…by heading over to Amazon to grab your copy of this gorgeous new anthology. Sexy poetry, good cause—how can you pass it up?
I very much hope you enjoy "Longing," and thank you for your support!
XX,
Jade