New year, new sexy…and today I'm delighted to share that Best Women's Erotica of the Year, Volume 1 is out! Woo hoo!
To celebrate, I have some news for you.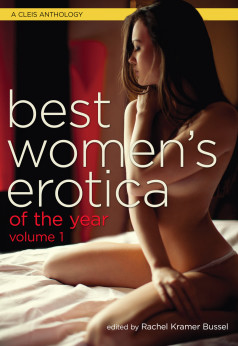 First, just look at that sexy cover. *Swoon!*
Then, our wonderful editor Rachel Kramer Bussel has been hosting some behind-the-scenes Q&A's about our stories in the anthology. My story, "Ophelia the Second," is a sweet little erotic romance set in the theatre world—specifically, the Hamlet backstage theatre world—and since I have my own past theatre experiences, I thought I'd put them to use for some inspiration. I hope you'll head over to the book's Tumblr page to find out more about what sparked this story.
I'm also thrilled to tell you that we'll be having a live free reading of a few stories in Best Women's Erotica of the Year, Volume 1 in San Francisco on Tuesday, January 19th. It will be in the Antique Vibrator Museum in the Good Vibrations on Polk Street—which, I have to tell you, is a fabulous space for a reading! I do hope you'll join us, since I'll be reading alongside Rose Caraway, Amy Butcher, Dorothy Freed, and Rachel Kramer Bussel herself! Be sure to find out more about this event right here.
And finally, what more to whet your appetite for this book than an excerpt?
Here's a taste of "Ophelia the Second":
"We always end up on a couch together, have you noticed?"
I laughed, trying to ignore the delicious smell of his post-show sweat, and the way the couch dipped under his sturdy, muscular body, almost pulling me into his side. He'd changed after curtain into jeans and a button-up shirt with the fanciest of shoes, and he looked even more impressive in his modern garb than he did in his lace-up leather doublet and boots.
"Guess so," I said.
I sipped the bourbon. It was hot going down, warming me more than I already was sitting in Philip's apartment with him staring at me with those heavy Hamlet eyes. I attempted to ignore the fight of my heart. I was usually so strong at resisting these terribly silly impulses around him, but it was impossible not to want him, not to imagine Hamlet speaking to me, or Philip taking my hand, pining for my love like his character did later on for Ophelia.
I suddenly felt like her—a naïve girl caught in the throes of some wild vision. It wasn't madness, though it felt like it as he surveyed me.
"Good show tonight, huh?" I asked, needing yet again to get out of my head.
"Yeah. Tammy was on fire."
I propped my elbow on the back of the couch and frowned. He knew I didn't want to hear about Tammy or her wonderful efforts playing Ophelia—I'd confessed it over brews a month ago when he took me out to celebrate a five-star review from one of the most critical journalists in the business. For some reason, Philip had been more surprised at the review than my frustrated comments with Tammy's rude backstage behavior.
"But it makes sense—whenever she's a maniac off stage, she's prepped for the role."
I snickered, a loose spiral of my hair falling in my face. Philip caught it in his fingers and brushed it back, and I stared at him, surprised.
"We should have been on stage together," he murmured.
I shrugged.
"Robert's going to come around, Nat. Hopefully with the next show. You've got the talent."
"You're sweet," I said. I took another swallow of my drink and placed the glass on his coffee table. Philip caught my hand.
"I saw you in the wings tonight."
I froze. I'd been subtle, and he'd been so into his role I couldn't imagine how he'd seen me.
"You know I see you there, right? Mouthing the lines, both mine and Ophelia's."
He clasped my hand in his and a fire sparked deep in my belly. Had the bourbon gone to his head?
Had it gone to mine?
"I'm convinced my best moments on stage are with you watching."
"That's silly," I said, but Philip nodded enthusiastically.
"You should have been Ophelia. You're perfect for the part. Your hair, your face. Everything about you, Nat—so charming and lovely."
I trembled in his grasp. Like Ophelia, I had to be going mad. Philip brushed back my curls, lifting the hair on the nape of my neck.
"Let's run lines for you."
"Why? Tammy is Ophelia, and she's never going to miss a performance. Remember?"
"Tammy is a terrible Ophelia. And one night, she will." He tapped my nose. "Come on. Let's practice."
"I need a script."
"No you don't," he said. He shoved back the table and crawled to his knees, ushering his husky off to his bed along the wall.
And then he started running lines, beginning with Act III, Scene 1, right when Ophelia meets Hamlet. He said his first line seriously, as if we were actually on stage, and I shook my head at him.
"You're crazy."
Philip frowned. "I'm trying to prove a point. You're an actress, let's go. Play along."
I'd been on the stage many times. I'd graduated with a theatre degree, after all, but my parts at Esquire had been minimal with Tammy being the star she was. Sometimes, her rants backstage and constant insults made it easy to forget that I was once a big part of productions, too.
"Well?" Philip nudged my leg and took my hand again, and I tried to ignore the peal of my heart.
"Fine," I said.
We ran through this scene, Philip's hand clasped around my shaking fingers the entire time. He was theatrical and gorgeous, his brow furrowing and his nostrils flaring at all the appropriate moments. When he peered into my face, I witnessed the same brooding depth he cast over the audience each night, except this time, it was directed at me.
This time, he was Hamlet—and I was Ophelia.
It was easy to fall into the part. I knew the lines, and he was brilliant, drawing emotion and depth into my voice that I could never do when I practiced on my own in my apartment. Not without someone acting against me, getting as into the role as he did. He was magnificent. When we finished the scene, he stroked his fingertips across my palm with an encouraging nod. Then his lips turned up to form the incredibly charming grin the audience never got to see.
"Lady, shall I lie in your lap?"
I giggled. "Okay, I get it. Great scene. We can stop, though, I know the lines."
"See," he said. "You are the perfect Ophelia."
I rolled my eyes and Philip leaned closer, the movement catching my breath in my throat. Both of us were quiet as he crouched on the carpet. For some reason, the way he'd touched my cheek at his front door crossed my mind. Then the way he'd grinned at me at intermission, and all the times we'd hung out backstage when he'd told me he loved talking to me. My pulse raced a little quicker.
Had I missed something in my Ophelia obsession?
Philip curved his hands around my knees, increasing the pace of my heartbeat.
"And what a fair thought to lie between this maid's legs."
"That's not the line," I whispered. The look on his face was different—not Hamlet. Not Philip. It was sweet and smitten, like the one I'd seen him wear as Romeo last year. I swallowed the lump in my throat as he inched his mouth closer to mine.
"You're right. It's not."
*
Intrigued?
Please be sure to check out the book's Tumblr page and order your copy now on Amazon. Thanks for checking out the inspiration for "Ophelia the Second," and I hope to see you at the reading!
XX,
Jade