Oh my goodness, everyone, I'm so excited. Today it begins—the official blog tour for The Assignment! Yessss! I could not be more thrilled not only for this tour to start, but for The Assignment to be in your hands in eight short days when it's released on December 12th. Woo hoo!
And, on top of that, I am over the moon to get to launch the tour in such a marvelous way today: with one of my favorite people, the incredible Rose Caraway!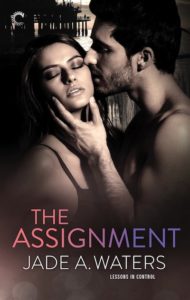 You may recall Rose Caraway interviewing me on The Sexy Librarian's Podcast before, and she's even narrated some of my short stories…but now, she's paid me the honor of launching the tour with an interview in her studio! We shared such a fun time at her place yesterday, starting with Rose surprising me with treats and wine to celebrate the book's forthcoming release—such a sweetheart!—and then moving us into our in-studio interview. Rose asked all sorts of questions about The Assignment and the Lessons in Control series as a whole, and I am so glad you get to listen in on it. Plus, Rose's stop is extra special because she gave me the opportunity to record a sexy snippet of The Assignment, right there in-studio! That's right—you'll get to hear our interview as well as me reading a scene from the book. I hope you enjoy listening as much as I enjoyed participating!
To listen, please hop on over to The Sexy Librarian's Podcast. And, as we continue the tour through December 23rd, filled with back info and details on the book, interviews, guest posts, excerpts, reviews, and giveaways, please keep checking back to the Official Tour Page to find each stop along the way.
For now, enjoy stop one—an interview between the fabulous Rose Caraway and me about The Assignment! I hope you enjoy it!
Be sure to pick up your copy of The Assignment, available for pre-order at…
Amazon US     Amazon UK      Barnes & Noble      Google Play      iBooks      Kobo
Happy reading!
XX,
Jade