It's that time of year—and Christmas is nearly here! Can everybody feel it? I don't know how it is for other people, but living in the San Francisco Bay Area, we don't get what one tends to call "winter weather." I know many a Californian who will tell you it's damn cold up here this time of year, however, having spent the first 13 years of my life in Nevada—Sparks, Reno, Gardnerville, and Tahoe, to be precise—I have experienced some actual winter weather. I was even quite the young snow bunny in my day (yes 21st place out of 250 kids is bad ass in my mind, thank you very much). But, since I've been here in California, I have to say I definitely don't get that winter feeling at Christmas time anymore.
Truth, though? I don't miss it. Not one bit! I'm a fair weather kind of gal, so I appreciate the sun and a little warmth outside making chestnuts not roasting on an open fire not a problem for me. Part of it is that I don't connect winter weather to Christmas cheer. In fact, reflecting on what actually makes it feel like Christmas for me is a very specific and short list: time with those I love and cherish, the smiles on my niece and nephew's faces during gift time, and, without a doubt, baking.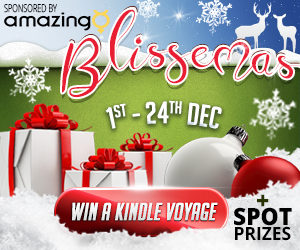 Yes—to me, Christmas translates into mad baking!
I'm going to go ahead and blame this one on my dad—he's a brilliant cook and also the crafter of some wickedly delicious cookies, and I can't tell you how many holidays I'd watch him take over a kitchen to bake cookies for a bunch of people at his work…and wouldn't you know it? Somewhere in my twenties, this became a thing for me, too. Whenever Christmas time came, my brain automatically reprogrammed for a kitchen takeover in the form of insane baking sprees. And since I've always been an overachiever, I couldn't just make one batch for each recipient. No, no, no, that would never do. I'd make at least five types of cookies (hitting as many as ten one year, I'm not even kidding) and then go and spread that love to upwards of two dozen people. I loved it…all the way through the entire weekend I'd spend living in an apron and considering eating nothing but cookie dough at every meal.
That is, until, I messed up a wrist and wasn't able to bake one year. That was a funny experience—because all of a sudden, I learned out how calm my life got when I wasn't making 8,000,000 cookies around the holidays. Go figure.
Still, on occasion, and for super special people, I'll make a batch (or four). Today, in honor of Blissemas at my place, I thought that since I can't exactly make a batch for you, I could at least pass along one of my favorite recipes. I got this easy one off the back of a butterscotch chip bag once upon a time, and have been using it ever since. Brace yourself. This is a good one!
Heaven Help Us We're Going to Pay For It Devil's Food Chocolate Butterscotch Cookies
(Aptly renamed years ago by me.)
Ingredients:
One boxed package devil's food cake mix
2 eggs
½ cup vegetable oil
One package of butterscotch chips
Steps:
Preheat oven to 350 degrees.
Mix together cake mix, eggs, and oil. Add chips.
Plop those babies in tablespoon sized dollops onto ungreased cookie sheets.
Bake for 8-10 minutes.
Enjoy.
Yum. Oh, I should make those right now. So easy, and so good!
Speaking of right now, the holiday is a fine time for some new reading and book buying, in my opinion. While my new release, The Assignment, doesn't take place during Christmas, I can tell you that you'll find some holiday cheer in the next installment of the Lessons in Control series, The Discipline. For now, though, I thought I'd leave you with a spicy excerpt to complement the sweet recipe above, and after, a chance to win your own copy of the book. How's that for Christmas spirit? 🙂
Let's start with an excerpt from The Assignment:
I fetched two glasses and the pitcher of water I kept in the fridge, and Dean followed. He remained quiet as I poured the water and replaced the pitcher on the shelf, but when the fridge door shut, he sidled behind me. It took less than a second, the heat of his chest jolting my core.
Dean hooked his hands on my hips and rested his chin on my shoulder, then he pressed his lips to my cheek and inhaled. "You smell like pussy. Musky and sexy."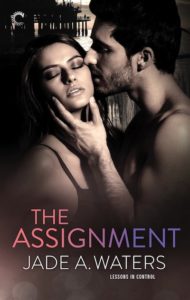 He wrapped his hands around me, bearing against my stomach and pulling me back into him. The thick bar of his crotch nudged high on my ass. Most of the near-orgasmic haze I'd felt in the restaurant bathroom had subsided in our ride, but Dean roamed his hands up my belly and over the silk covering my chest until my body filled with need. He cupped my breasts, and after pinching my nipples through the fabric, he wedged me against the fridge.
"Your reward has two parts." The words came out a rumble through the strands of my hair, and he yanked the skirt of my dress up around my ass. The stainless steel of my fridge fogged with my breath, and I shuddered when he guided his hand between my thighs. Having handed over my panties, I had no barrier to stop the greedy search of his fingers. Dean slid his fingertips along my crevice, and I gasped. "Christ, you're wet."
I bowed my head, the thrum of excitement pounding through me. He took away his fingers and left me empty. "Dean—"
He whipped me around and slammed me back against the fridge. I cried out in surprise, but he dropped to his knees. He hitched my dress up with both of his hands, his eyes glazing as he buried his face in my cleft.
I moaned, my pleasure racing back with the hungry licks Dean made at my folds. I dropped my hands to his head and closed my eyes while he licked at me then sucked hard. My legs began to shake. It was impossible to stand in my heels and I sank down, desperate for his tongue all the way in.
Dean responded. His fingers slipped deep to reach the bundle of nerves inside me. He stroked in and up, his tongue wild and skilled, bringing me ever closer.
"I'm going to come," I growled. Dean pummeled me with his fingers, lapping at my juices. "Oh, God!"
I fisted his hair when release tore through me. He groaned as my spine bowed, his mouth latched on to me no matter how vigorously I bucked against his face. I shrieked, my legs threatening to give, but Dean didn't cease. He swiped at my clit with his tongue, his fingers working through the contractions inside me.
"Stop, please." I peeled open my eyes, my body heaving. The denial at the restaurant, the tense hold on the dance floor—all of it had brought such intensity over me that I started to collapse.
Dean shook his head, his tongue gliding back and forth. "That was part one," he said.
I tried to scoot away but he nibbled on my clit. I shoved back his head. "Stop!"
"Feisty girl." Dean leaned away, his face bright with amusement. "Too much sass for one girl."
My breathing wavered. I squinted to clear my vision, my body too overstimulated for him to continue. "I need a break, please. I can't."
Dean planted one last kiss on my mound, then tongued the crease. The moment I thought he'd pull away, he sucked my clit back between his teeth and murmured, "Your break is as long as it takes me to set up part two."
*
Mmmm. Feeling your naughty and nice yet? I sure hope so!
To pair with an extraordinarily easy cookie baking recipe I am naturally providing an easy way for you to win a copy of The Assignment for the holiday. You'll simply need to comment below with your favorite type of holiday treat by the end of the day (December 16, 2016, 11:59 pm PST), being sure to leave your email when you register the comment. Do that, and boom! You'll be entered to win. I'll put the email addresses of all comments received in a hat (Santa hat, even?) and draw one winner for a mobi file copy over the weekend. It could be you!
So, after scribbling down the recipe above that I know you're going to try for yourself, please be sure to comment below with your favorite holiday treat. I will announce winners in the comments after the contest has closed and will be notifying this person as soon as I draw.
However, if you're itching to get your hands on The Assignment today, please do so at any of the following locations:
Amazon US     Amazon UK      Barnes & Noble      Google Play      iBooks      Kobo
Until then, thanks so much for stopping by my site for Blissemas, and please keep on following the fun right here.
XX,
Jade