EVERYTHING
by
Jade A. Waters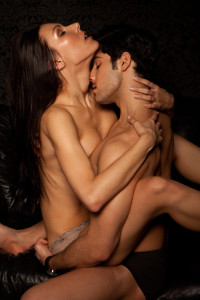 He was everything. Everything. The flight of my soul, the fire of my heart.
It's all I can think as I bury my head in his shoulder, bearing my teeth to his skin, feeling the wild bursts of his pulse as I rock above him. His breath tumbles out into my hair, quiet gasps that tell me how much he needs this. How much he needs me.
Just as I need him.
"You," he says.
The word breaks on his lips as I arch, sliding farther in his lap, taking him deeper into me. There is no sound in this room but ours, no thought between us but this, no awareness of anything beyond the sweet thrust of his cock as his fingertips dig into my back and steer me closer, like he's never forgotten me.
I trail kisses up his chin and over his mouth. He sucks my lip between his teeth, his eyes open as he thrusts once, then again. That look, that one, saysI will never leave you again. I will never let you go. I can feel it inside as I whimper and slide against him, feel it in my heart as his fingers tease their way up my flesh. He's so deep inside I swear he's penetrating my very soul, and I tilt back my head with a throaty moan.
I close my eyes then and he twines his fingers in my hair, staying deep despite his movement to lay me on my back. Our bodies are one on this mess of sheets. He wasn't supposed to come here again, but then our life together had always been a disaster of shouldn'ts and shoulds.
But deep down, we knew what it was supposed to be.
"You," he growls.
His kisses find my face as he presses closer, and our stomachs grow slick at the meshing of our bodies. The sway of our hips amplifies, a rapid pounding so intense I couldn't see straight if I tried. And it's with this motion—teeth locking on my earlobe, fingers clawing at my breast and down between us, grazing the swollen nub of my clit as he drives inside—that I can feel myself flying like I did, then. He leans back, watches as I gasp and moan, my lips numb as the spasms tear through me, making me shake uncontrollably as he continues to thrust, and thrust.
To love me like only he can.
When I finish shuddering, he releases the loudest groan. It's the surrender that tells me he needed me then, now, forever. He comes inside, filling me with heat, and as we lay there it's clear we've found our peace again.
"Always, you," he pants.
His kisses are soft like raindrops from the corner of my eye down my cheek.
"And you," I say.
Because he's everything.
*